Weekend Forecast for November 28-30, 2014
By Reagen Sulewski
November 26, 2014
BoxOfficeProphets.com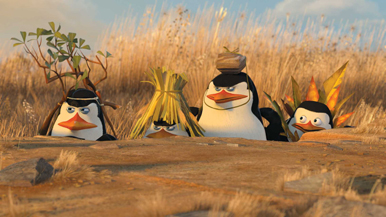 ---
Thanksgiving weekend is upon us, and while there may not be a true bounty of new releases, the two that we do get represent a couple of emergent franchises – one a follow-up to a surprise hit, the other a spin-off of a previously lucrative animated franchise – that will test audiences' loyalties but could also provide box office fireworks.

The best part of the otherwise fairly lifeless and tame Madagascar movies over the course of three movies has been beyond a doubt its ancillary characters, the penguins who escaped along with the original four zoo animals. A group of four scheming and hyper-intelligent (well, at least a couple of them) flightless birds, they've been on the sidelines of the previous three movies so far, participating in ever manic adventures that end up influencing the main plot in subtle ways. In Penguins of Madagascar, they now get their own story detailing just how they became such dashing international birds of mystery.

Starting with a bit of an origin story, the four penguins are inducted into a international animal spy agency led by a wolf (voiced by Benedict Cumberbatch) named Agent Classified (not his real name, but, you know), as they battle the forces of Dr. Octavius Brine (voice of John Malkovich) with his plan to something something, does it really matter? It's all about wacky, over-dramatic penguins who generally refuse to take the events around them seriously, even as they hatch fiendishly complicated schemes.

The Madagascar series has trended a bit younger than several other animation franchises, as anyone who's had to suffer the scourge of a pre-teen yammering along to the first film's use of Reel 2 Real's song I Like To Move It will know. Penguins threatens to skew even younger, but through its ads may be able to pass as acceptable family (as opposed to kiddie) entertainment. Several knock-out jokes plus a dynamite James Bondian sequence in the trailer have the promise of an animal-themed Incredibles film, albeit with a higher comedic quotient.

That's probably well off the mark, but sell the sizzle, not the steak, right? The three previous Madagascar films have been consistent domestic earners, at around $200 million each, with the last two opening to mid-60s. This likely can't compete with that figure thanks to lackluster reviews and the previously mentioned skewing of demographics, but for something that was essentially thrown into the first film as a lark, it's a great example of leveraging property to find a new angle on a franchise. Look for about $44 million over the weekend and $60 million over the holiday.

Horrible Bosses was a mild surprise in the summer of 2011, opening to $28 million on the strength of Jason Bateman (suddenly a comedy star 20 years after The Hogan Family), Jason Sudeikis, Charlie Day, and a trio of A-listers playing way against type. Horrible Bosses 2 reunites most of the group, including Jennifer Aniston, digging deep into her role as a way-twisted dentist, Kevin Spacey as the now-incarcerated former boss of Bateman, and introducing Christoph Waltz into the mix as a slick investor who swindles the lead trio out of an invention.


Attempting to get revenge, they kidnap Waltz's son (Chris Pine) in a scheme that of course goes horribly awry, or else there wouldn't be a movie. Much of the first film was based around their inept attempts at blackmail and criminal activity, and this film seems to follow much of the same pattern. It even brings back one of the film's best stealth comedy moments with Jamie Foxx as [Expletive Deleted] Jones.

The big concern here is Hangover Syndrome, where a surprise comedy hit follows its first script so closely for the sequel that all life is dragged out of it. That typically sets in on the second weekend, though, so with Horrible Bosses 2 at least appearing on the surface to have a couple of new tricks up its sleeve, it should be fine at least to start. That it's been handed over to an entirely new set of director/writers isn't a great sign, but it's not as if Seth Gordon to Sean Anders is some great earth-shaking move. "Who?" and "Wha?" you say, and you're right. I expect an opening weekend of about $31 million, and $40 million over the holiday period.

This means that Katniss and company get another weekend to run in first place, even if its $122 million opening weekend ranks as a disappointment and boy aren't we spoiled about things. Reception to Mockingjay Part 1 has been fairly brutal, and the film's table setting nature is in part responsible for the $30 million fall off in opening weekend, as well as what appears to be a bit of a backlash against splitting films.

While this has undoubtedly affected the bottom line of this particular installment, maybe knocking as much as $100 million off its total, it has also affected the potential earnings of the conclusion of the series, and that is possibly the more important story here. A weak sequel can kneecap a franchise, and this is a lesson that many YA adaptations could stand to learn, to say nothing of films like The Hobbit, or, if we had a time machine, The Matrix, which saw its third film eviscerated by poor word-of-mouth. Since it's already a front-loaded sequel, this could mean a rather precipitous drop is in store, to around $57 million over three days, and $71 million over five.

Big Hero 6 finds its family demographic impinged slightly by the Penguins this weekend, although it shouldn't have that big of an impact on a Holiday weekend, in which time is less of a factor in movie-going. After you're finished trampling your neighbors for a $4 crockpot, go see a movie! See two, even! Disney's superhero film should pass the $150 million milestone easily, with about $13 million over three days.

Following behind it is Interstellar, which is holding up well to criticism, with a little over $120 million in the bank. Watch for it to earn around $9 million over the weekend, on its way to around $175 million total.

Dumb and Dumber To took a significant header, possibly causing brain damage, to $14 million after a $36 million start. This is not a recoverable position, and even with the benefit of holidays, this film is going to crash. Even if Horrible Bosses 2 isn't great, it's better than this, so go see that instead. Give it $6 million.