Weekend Wrap-Up
Mockingjay Part 1 Catches Fire
By David Mumpower and Kim Hollis
November 23, 2014
BoxOfficeProphets.com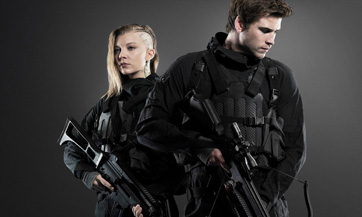 ---
What has been a grim 2014 box office campaign has demonstrated signs of life in recent weeks thanks to high-profile releases such as Big Hero 6 and Interstellar and lowbrow populist fare like Dumb and Dumber To. This weekend, however, has been the one circled on the calendars of Hollywood insiders as the presumed biggest opener of 2014 finally debuts. To the surprise of absolutely no one, The Hunger Games: Mockingjay Part 1 has dominated the box office landscape. Whether or not the result is impressive is in the eye of the beholder.

The question this weekend was obviously not if Mockingjay Part 1 would win but by how much and with what amount. The answer to one of those questions is that its box office approximately doubled the rest of the top ten in combination. Mockingjay Part 1 grossed an estimated $123 million, thereby becoming the largest debut of 2014. It easily surpassed Transformers: Age of Extinction, which held the previous top spot with $100 million. In the process, Mockingjay Part 1 became the 15th largest opening weekend of all-time. It is also the third Hunger Games title in the top 15, meaning that the franchise claims a full 20% of the best weekends ever.

Any film that becomes the biggest opener of the year and one of the greatest ever has done a lot right. Cynics will be quick to point out the pink elephant in the living room, though. Mockingjay Part 1 opened $35 million lower than The Hunger Games: Catching Fire, which debuted to $158.1 million. It even fell far short of the $152.5 million opening weekend for The Hunger Games. The discussion becomes whether the movie audience for The Hunger Games is shrinking. The explanation is opaque.

A few years ago, movie studios developed a new tactic for maximizing revenue. Since the weekend after Thanksgiving is a dead zone at movie theaters, movies that debuted over the holiday struggled after their first few days of glorious box office. In order to earn more money while still being in theaters during Thanksgiving week, major releases started launching the week prior to Thanksgiving. It's a clever strategy, but there is a blessing and a curse with it.

The Hunger Games: Catching Fire actually followed this release pattern. After earning $71 million on its first day and the afore-mentioned $158.1 million for the weekend, that film earned $138.2 million during Thanksgiving week. That is the beauty of the pre-Thanksgiving release pattern. Mockingjay Part 1 should experience a similar hold, which should add another $105-$110 million over the next seven days. We are discussing an anticipated 10-day take in excess of $225 million domestically for a title that cost $250 million to produce. Better yet, that budget amount is for both parts of Mockingjay. When the final release enters theaters, it will essentially be free money for distributor Lionsgate.

Why didn't the film match its predecessors? Consider the particular case of the The Hunger Games: Mockingjay Part 1. The third novel from which it is adapted has been divided into a pair of feature films, again to maximize revenue. The franchise will effectively double its gross income from the final book. That sounds great in theory. In execution, splitting the story into two titles lessens the drive to watch the third but not final movie. Why would a consumer rush to see Part 1, knowing that they will lack resolution for 12 months? In addition, why would there be urgency to see the film prior to Thanksgiving week? Potential movie-goers are already aware that seeing the movie faster does nothing for them, and they will have ample free time in the coming days and weeks to catch up.

The previous Hunger Games projects had been marketed masterfully, fostering a sense of urgency to discover why the stories are so hyped. The opposite is true of Mockingjay Part 1. In a post-Neflix society of binge watching, consumers trained to enjoy as much of a story as they want are now being provided exactly the opposite. The latest Hunger Games movie delays gratification in a culture that is no longer tolerant of such behavior.

The same issue has undercut Peter Jackson's attempt to stretch out The Hobbit into three films. The good news for the producers of The Hunger Games is that all of this will probably be forgotten by the time the final film arrives. Well, the good news is actually the bonus windfall of money gained by splitting Mockingjay into two projects. The bad news is that Mockingjay Part 1 may become the first film in the franchise to not earn at least $400 million domestically.

The domestic decline will be offset by the exploding international market that has already embraced the latest film. You may not realize this, but The Hunger Games was not a massive hit overseas. In fact, it earned only $285 million abroad compared to $408 million domestically. The Hunger Games: Catching Fire expanded somewhat with roughly $440 in international revenue. Mockingjay Part 1 has already grossed $152 million overseas. We are probably looking at another instance where a franchise title earns its lowest total domestically while becoming the strongest overall performer in terms of global revenue.

With regards to film quality, Mockingjay Part 1 is well received but not as popular as the first two films. It managed an A- Cinemascore and has a Rotten Tomatoes score of 67%, 65% among top critics. The Hunger Games was 84%/79% with an A Cinemascore. Catching Fire is currently the best of the three with 89%/88% and an A Cinemascore. The grim nature of Mockingjay has proven a bit divisive, which is a concern for Lionsgate since the climactic story is not exactly puppies and rainbows. No matter what happens next, The Hunger Games is already the prototype for franchise building in the modern era, having become more financially successful and critically acclaimed than the last iteration, Twilight.

In a very distant second place is the Disney animated film Big Hero 6, as it takes advantage of skewing younger than Mockingjay to capture some of the overflow audience in theaters this weekend. Even though it's a more family-friendly product, Big Hero 6 still was hit hard by the presence of Mockingjay. It declined a fairly hefty 42% to $20.1 million, and brings its domestic box office total to $135.7 million. It's barely gotten started in international venues, but should see stellar numbers once it starts to roll out in more locations. The long Thanksgiving weekend should be a financial bonanza for this film, as families will find time to spend in theaters both on this and new arrival Penguins of Madagascar.

Although it was in fourth place when Friday numbers were released, Interstellar rallied somewhat over the weekend to finish in third place once again. Its Friday-to-Sunday total of $15.1 million represents a 47% fall from the previous frame. The Christopher Nolan science fiction think piece has now accumulated $120.7 million during its domestic run to date. More impressive, of course, is Interstellar's overseas take of $225 million plus, which means it has worldwide earnings of almost $350 million. With a reported budget around $165 million, Paramount would probably like to see it around $500 million plus before it's all said and done.

Last week's top film, Dumb and Dumber To, has a precarious drop down to fourth place as it sheds 62% of its opening weekend audience. The Jim Carrey/Jeff Daniels/Farrelly brothers comedy venture earned $13.8 million this weekend, bringing its cumulative domestic total to $57.5 million. Clearly, there was some level of fanboy rush to get out and see this film early, but since it likely had only about a $35 million budget, it's done what it needed to do. The film has also seen $13 million from international theaters.

Fifth place goes to the persistent Gone Girl, which keeps hanging around in the upper echelons of the top 10 thanks to a weak set of recent releases. The Academy Award hopeful added another $2.8 million this weekend, bringing its domestic total to an impressive $156.8 million. Its overseas total has now passed the $170 million mark, meaning that it now has a worldwide take of over $325 million. It did decline a steeper-than-usual 38%, but this blip can obviously be attributed to the box office Godzilla that is Mockingjay.

Relativity's Beyond the Lights finishes sixth, and if you thought that some excellent word-of-mouth might benefit it, you'd be mistaken. The romantic drama from Gina Prince-Bythewood sank 58% from its debut frame and earned $2.6 million. Still, its reported budget was just $7 million, so no one's going to be hurt too badly here. Its total after two weekends is $10.1 million.

Seventh place is the Bill Murray dramedy St. Vincent, which has been hanging out in the lower rungs of the top 10 for several weekends now. Its Friday-to-Sunday earnings of $2.4 million brings its total to $36.6 million so far, and sets it up nicely to be a popular choice once it is released on home video.

The World War II film Fury takes eighth place, though the Sony flick is now seeing its day in the sun come to an end. The Brad Pitt project earned $1.9 million, a 50% decline from the previous frame. Fury now sits with a so-so domestic total of $79.2 million, with almost $60 million additional coming from international locations.

We close out the top 10 with two films that are definitely in the hunt for Oscar in Birdman and The Theory of Everything. Fox Searchlight's Birdman, featuring Michael Keaton in a role that is drawing accolades, earned $1.9 million and fell 25% from its previous frame. The total so far for the Alejandro González Iñárritu film is $27.2 million, a number that is likely to rise as more nominations and/or wins come in. The Stephen Hawking biopic The Theory of Everything expanded from 41 venues to 140, and in the process also increased its box office take by 104%. This film is just getting started, and has a total so far of $2.8 million in limited release.

The top 12 at the box office for 2014 earned $187.2 million, which is down from last year's $218.4 million when The Hunger Games: Catching Fire earned $158.1 million in its opening frame. We start Thanksgiving early as Wednesday openers include Horrible Bosses 2 and Penguins of Madagascar.