Weekend Wrap-Up
Dumber Outsmarts Big Hero 6, Interstellar
By John Hamann
November 16, 2014
BoxOfficeProphets.com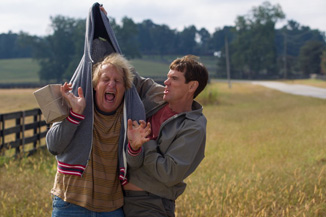 ---
Obviously, everybody loves a clown. Dumb and Dumber To debuted this weekend, taking down the heavy-duty holdovers Interstellar and Big Hero 6.

Sandwiched between a weekend where Big Hero 6 and Interstellar took in almost $105 million and a frame where The Hunger Games: Mockingjay, Part 1 will earn a lot more than that, the sequel to 1994's Dumb and Dumber was hoping to rock the boat for at least a weekend. It's been 20 years since Harry and Lloyd arrived on screen, and the question going into the weekend was whether anyone still cared.

1994 was the year of Jim Carrey, as he had three films released that year and each one was bigger than the last. February 1994 saw Ace Ventura: Pet Detective earn $72 million (against a $15 million budget), The Mask earned $120 million in July (against a $23 million budget), and December saw Dumb and Dumber earn $127 million domestically, and almost $250 million worldwide (against a $17 million budget). Could lightning strike twice before Katniss Everdeen would show up and slaughter Harry and Lloyd?

Earlier this week, tracking was indicating a close race between Dumb and Dumber To and the two big holdovers, but Interstellar stalled, leaving a showdown between Big Hero 6 and the comedy sequel. Dumb and Dumber To got started on Thursday, earning $1.6 million from previews, indicating there was still strong memories of Lloyd Christmas and Harry Dunne. Friday was also very strong, with Dumb and Dumber To winning Friday. It earned $12.6 million on its opening day, or $14.2 million with those Thursday previews included. The combined Friday was just short of what the original earned over its entire opening weekend ($16.4 million). Moving into the weekend, the real question was just how front-loaded this throwback would be. How would Saturday and Sunday compare to the busy Friday?

Over the weekend proper, Dumb and Dumber To earned $38.1 million from 3,154 venues, giving it the number one spot for a few days before The Hunger Games delivers its decimation. It earned $13.9 million on Saturday, behind Big Hero 6, and had a weekend multiplier of 2.7 when we use the full Friday number. When we pull out the sneaks, it rises up to 3.0, which means that the film wasn't quite as front-loaded as many were anticipating. Dumb and Dumber To almost matched its $40 million production budget after only a single weekend of release. For Jim Carrey, the result is a return to glory, as the funny man hasn't had this big of a live action opening since Bruce Almighty earned $68 million in May 2003. Carrey has struggled in recent years, delivering films like Kick-Ass 2, The Incredible Burt Wonderstone, and Mr. Popper's Penguins to middling results at best.

Dumb and Dumber To did not get the love that the first one did from critics or audiences, so its lifespan is likely short. Critics gave the first Dumb and Dumber a 65% fresh rating at RottenTomatoes, but the sequel earns only a 27% fresh score from all critics and a 15% rating from the site's "top critics." The Cinemascore came in at a dreadful B-, the same score that Nic Cage's Left Behind earned a few weeks ago. This tells me that word-of-mouth is going to be rough, but it still may provide effective counter-programming versus Mockingjay next weekend and will likely be huge overseas.

When Jim Carrey does straight ahead comedy, he sells very well in international venues. Mr. Popper's Penguins earned $68 million domestically and $120 million overseas. Bruce Almighty earned about $240 million both domestically and abroad, and the original Dumb and Dumber earned $120 million over there in 1994, when foreign box office didn't carry the weight it does today. Dumb and Dumber To is an experiment that worked for Universal, and should pay off handsomely. Can Ace Ventura 3 be far behind?

Finishing second is the $165 million Big Hero 6, and after a stunning $56.2 million start last weekend, the Big Hero falls back to earth a bit this weekend. The Disney/Marvel release earned $8 million on Friday (third place, off 49% from its first Friday), but was able to take advantage of kid-friendly matinees on Saturday and Sunday to finish the weekend with a $36 million take, off 36% from its opening frame.

Wreck-It Ralph, which opened to $49 million over the same weekend in 2012, fell a similar 33% in its second weekend to $33 million. Is this cause for concern for Disney? I don't think so, as Big Hero 6 had a big Monday and Tuesday (Veteran's Day) this week, where it earned $15.7 million over those two weekdays, keeping it well ahead of its similar boy-targeted predecessor in Wreck-It Ralph. Big Hero 6 has amassed $111.7 million so far, crossing the $100 million mark on Saturday, only its ninth day of release. For comparison purposes, it took Wreck-It Ralph 12 days to reach $100 million. Overseas, Big Hero 6 is only out to eight territories, but has picked up $37 million already.

Third is Interstellar, which was number two on Friday, but then dropped well back as the weekend wore on. On Friday, the Mathew McConaughey film earned $8.3 million and was able to turn that Friday into a weekend take of $29.2 million. It dropped 39% from last weekend's opening take of $47.5 million, which has to be considered a decent hold as there is a very strong love-it-or-hate-it response from moviegoers. After two weekends, the Christopher Nolan release has earned $97.8 million stateside, but the response overseas has been even bigger. Before the weekend began, Interstellar had already racked up $136 million from overseas theaters for a combined worldwide score of over $200 million. Keep in mind that Interstellar will likely need to finish close to a half-billion worldwide in order for Paramount and partners to see a profit.

Fourth is Beyond the Lights, a small, multi-cultural release from Relativity. Made for only $7.5 million, Beyond the Lights got off to a decent start, earning $6.5 million from only 1,789 venues. This is a well-made movie, earning an 84% fresh rating at RottenTomatoes and an A Cinemascore. Should word-of-mouth get out, this one could see some legs going forward, and looks to be a decent investment for Relativity.

Fifth is Gone Girl, which is now in its seventh weekend of release, and this weekend is its first not in the top four. This weekend, the Ben Affleck thriller earned another $4.6 million, off 26% from last weekend. It has now earned $152.7 million stateside, and the overseas take continues to match the domestic, which means it has a worldwide take approaching $315 million against a budget of only $61 million.

St. Vincent is sixth as the broad comedy of Dumb and Dumber To cuts into its audience. The Bill Murray dramedy earned $4 million, giving it a drop compared to last weekend of 26%. This one cost $13 million and has now earned $33.3 million for The Weinstein Company.

Fury is seventh. The Brad Pitt tank movie earned another $3.8 million this weekend, giving it a drop of 32%. The $68 million Sony war movie has now earned $75.9 million domestically and has earned more than $50 million overseas.

Nightcrawler is eighth, as the Jake Gyllenhaal flick continues its descent. Nightcrawler earned $3 million in its third frame, but the Open Road flick looks to be securing a profit as it cost $8.5 million to make and has a domestic gross so far of $25 million.

Ouija thankfully slides from fourth spot last week to ninth this week. Ouija earned $3 million this weekend for a drop of 49%. The thriller, made for $5 million, has earned $48.1 million stateside and has crossed the $60 million mark worldwide.

Birdman finally ascends to the top ten this weekend following four weekends of limited release. Quasi-wide this weekend at 857 sites, the Michael Keaton starrer pulled in $2.5 million, giving it an increase of 6%. Made for $18 million, Birdman currently has a domestic take of $11.6 million.

In limited release, Jon Stewart's Rosewater opened on 371 screens for Open Road. It got off to an okay start, earning $1.2 million from that smattering of screens. Rosewater earned a venue average of $3,325.

The Steve Carrell, Channing Tatum Oscar bait film Foxcatcher also debuted this weekend but only at six venues, where it picked up $288,000. That gives it a venue average of $48,000 and is a strong start for this drama, which will likely be in this column for many moons to come. Tommy Lee Jones' The Homesman also opened in limited release this weekend on four screens, and earned $48,000, giving it a venue average of $12,000.

Overall, the box office this weekend was up against a tough frame from last year, as Thor: The Dark World was enjoying its second weekend and The Best Man Holiday debuted to $30 million. The top 12 last year earned $118.8 million. Given our top three this weekend earned almost $100 million, the writing was on the wall for the win, as this weekend's top 12 brought in a strong $134.6 million.

That brings us to next weekend, where The Hunger Games: Mockingjay, Part 1 opens, looking to exceed the $158.1 million that Catching Fire earned over the same weekend last year. We know it's going out to 4,000+ theatres, just like the last two, but will this Hunger Games be able to enter into the top five openers of all time, joining Batman, Harry Potter and The Avengers? Check back next weekend to find out!