Weekend Wrap-Up
Nerds Unite! Big Hero 6, Interstellar Take Off
By John Hamann
November 9, 2014
BoxOfficeProphets.com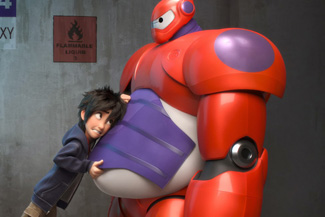 ---
You may hate me for saying this, but with Halloween behind us, it's time for the holiday movie season, despite it being only the first weekend in November.

Kicking off this year's holiday movie season is Chris Nolan's Interstellar, the $165 million sci-fi epic that has either enraged or enraptured critics. Also at the plate is Big Hero 6, the $165 million animated flick that combines the power of Marvel and Disney (but more of the latter). Both films are primed to not only be domestic powerhouses, but also designed to be huge international players. They also should roll over some of the 14 wide domestic releases being rolled out between November 14th and December 25th. To be profitable, both films will need a worldwide gross approaching a half billion dollars, so the domestic debuts this weekend are key to their successes. If these two films play successfully in North America they should show similar box office behavior everywhere.

Before we get started, let me say that both openers this weekend were successful, and it's almost too bad we need to delineate a first place and second place film. Both Interstellar and Big Hero 6 were predicted to open around $55 million, so there isn't a winner and loser. One film is going to win the weekend at the box office, and the other will live with having one of the biggest opening weekends of all-time while still not finishing at #1. Remember that films like Frozen didn't open at #1, and only seven films in history have earned over $50 million and finished second. The one-two punch this weekend equals $106.2 million, so after being eviscerated over Halloween weekend, karma is coming around for theater owners.

After opening on Friday in the #2 position behind Interstellar, our number #1 this weekend is the comeback kid flick, Big Hero 6. The Walt Disney Animation feature (Wreck-It Ralph, Frozen) got started on Thursday night, earning $1.4 million from previews. This in itself was a strong number, as the core audience would have been in school the next day. The preview number indicated that more than just kids might come out for Big Hero 6, which could be good news going forward for the blockbuster. The Friday amount was $14.4 million, but with Thursday night added in, it became $15.8 million. That's a few million more than what Wreck-It Ralph debuted to in 2012, as the video game themed film had a first day gross of $13.5 million. I think Wreck-It Ralph and Big Hero 6 are perfect comparisons, as the two films seem to target boys than more girls and also opened in the same spot in the calendar. Wreck-It Ralph turned that $13.5 million into an opening weekend of $49 million, along with a strong opening weekend multiplier of 3.6.

Big Hero 6 was able to turn its $15.8 million Friday into a weekend gross of $56.2 million, and had a weekend multiplier of 3.6. There is nothing here to disappoint Disney, as Big Hero 6 earned more during its opening weekend than Wreck-it Ralph, Tangled ($48.7 million opening) and Ratatouille ($47 million opening). It wasn't even that far off from the debut weekend of Cars ($60.1 million). None of these comparisons had to deal with a buzz-heavy film like Interstellar, which took the big IMAX screens some of the bigger theaters away. Interstellar also took up a lot of space in the media leading up to the weekend, so I think Disney should be extremely happy with this debut.

Going forward, Big Hero 6 should be in a good position to cash in over the Thanksgiving season and throughout the next seven weekends. Reviews were stellar. Big Hero 6 is currently 91% fresh at RottenTomatoes, with only 11 bad reviews out of a possible 118. That's currently a better score than Wreck-It Ralph, which had an 86% fresh rating, and it was a few points better than Tangled, which finished with an 89% rating. Both Tangled and Wreck-It Ralph earned about four times their opening weekend domestically, and went on to earn $390 and $281 million respectively overseas. Big Hero 6 also earned an A Cinemascore, the same as Wreck-It Ralph, and just short of Tangled's A+ score. My early prediction for Big Hero 6 is to earn $200 million domestically (it has no animated competition until Penguins of Madagascar on November 28th). It should also surpass $400 million overseas, given the Asian look and feel. Big Hero 6 already has $23 million in revenue from international venues.

Second is a silly word for Interstellar, but that's where it is despite an expectedly huge opening weekend. The Christopher Nolan flick got started on Wednesday and Thursday on IMAX and large format screens, earning $2.2 million before the weekend began (Nolan is a huge IMAX fan). Then Friday hit, and Interstellar earned a stellar $17 million, but that contained some Thursday preview grosses. That's just a little bit less than the $17.5 million first Friday for Gravity last year, but again, the Sandra Bullock Oscar-chaser did not have a Big Hero 6 lurking in the background. I have been extremely curious to see how this one was going to play over the remainder of the weekend. It's a long film with a running time of two hours and 49 minutes, and every review fights with itself ("deeply flawed but wholly absorbing," "thrilling to watch but unmemorable" – and trust me, I could go on and on). Critics love it and hate it at the same time, and the response reminds me a lot of Steven Spielberg's A.I. Artificial Intelligence.

The rest of the weekend for Interstellar was strong, but it couldn't keep up with Big Hero 6. The animated film was a full hour shorter than the Chris Nolan flick, was out to 200 fewer venues, and had those rabid kids on its side. Still, the weekend number for Interstellar came in at $50 million, a very strong number for its running time. It becomes the eighth biggest second place film of all time, and given the critical response, should become the water-cooler discussion piece for the next few weekends.

For Chris Nolan, this is more of a Batman Begins type of opening weekend ($48.7 million opening), and is his first non-summer debut since The Prestige opened to $14.8 million in 2006. The Rotten Tomatoes score currently sits at 73%, but Interstellar earned a strong Cinemascore at B+. Keep in mind that Gone Girl earned a B Cinemascore and had killer legs. Interstellar will play well overseas as well. An apt comparison is Gravity, which earned $442 million from theaters outside of North America.

For both Big Hero 6 and for Interstellar, their success will not be noted by their opening weekends. Normally, studios wouldn't release two $165 million films over the same weekend. The release strategy is all about the holiday season, and tapping into that wave that Frozen and Gravity found last year. Those two films are the imprint for this year's two films, and both Big Hero 6 and Interstellar should be able to play with The Hunger Games: Mockingjay Part 1 when it opens on November 21st. Also at play is the overseas gross, with Interstellar happening right away (it has already earned $80 million from international locations), while Big Hero 6 rolls out over the next few months.

The rest of the top ten is a bit of a joke compared to the top two, with the third to seventh spots within a million of each other. Currently, Gone Girl is third and is still holding brilliantly despite being in its sixth weekend. The Ben Affleck thriller earned another $6.1 million this weekend, dropping only 28% from the Halloween deflated frame last weekend. Gone Girl has now surpassed Good Will Hunting to become Affleck's third biggest film of his career and has a total so far of $145.4 million. Additionally, the overseas amount has now surpassed the domestic take, which means Fox is reaping a strong profit from its $61 million feature. It should remain a top ten film until December.

Ouija is fourth, and it holds better than it has any right to. The 8% fresh Ouija earned another $6 million this weekend, dropping 44% compared to last weekend's number one finish. The $5 million, PG-13 rated "horror" release has now pulled in $43.5 million and has earned about $13 million overseas.

St. Vincent is fifth and also continues to see decent legs. The Bill Murray dramedy pulled in another $5.7 million, dropping 21% compared to last weekend. Made for $13 million and distributed by The Weinstein Company, this smaller film now has a gross of $27.4 million.

That puts Nightcrawler down to sixth despite the fact that it finished only $300,000 away from first place last weekend. The dark crime drama that was destined to struggle to find an audience earned only $5.5 million in its second weekend and was off 47% from its opening frame. This only further shows what a good move Open Road Films made by opening Nightcrawler on Halloween. Made for $8.5 million, Nightcrawler has a domestic total of $19.8 million, as well as another $2 million from overseas.

Fury is seventh, as it earned another $5.5 million this weekend, dropping 38%. The $68 million Sony feature is a slight disappointment on the domestic side, as it has tallied $69.3 million after four weekends. It has also earned about $55 million overseas, but is going to need another $75-100 million worldwide in order to see a profit after marketing costs are thrown in.

Eighth is John Wick, the Keanu Reeves' revenge thriller. It earned $4.1 million and fell 49% from the previous frame. Made for $20 million, the Lionsgate release has now picked up $34.7 million stateside and $8 million from overseas cinemas.

Alexander and the Terrible, Horrible, No Good, Very Bad Day is ninth, earning $3.5 million. Kneecapped by Big Hero 6, Alexander declined 47% and has a cumulative total of $59.2 million against a $28 million budget. Also decimated by the newcomer is Book of Life, which finishes in 10th. The Fox animated musical earned $2.8 million and dropped 66%. The $50 million Fox feature has earned $45.2 million stateside, and is approaching $35 million away from North America.

Birdman added 231 screens this weekend to pull its slow build total up to 462, and ends up barely losing a step compared to last weekend. The Michael Keaton Oscar chaser earned another $2.3 million this weekend and fell a tiny 4%. Birdman has now earned $8.1 million and has yet to earn wide release status.

In limited release, The Theory of Everything got started on five screens. The film about Stephen Hawking did $207,000 on those five screens, giving it a strong venue average of $41,400. The Focus Features release will do the slow build as November continues, but this is a strong start.

Overall, the box office was strong, but had to compete with the same weekend last year when Thor: The Dark World opened to $85.7 million. During the same weekend in 2013, five films earned more than $10 million, leading the top 12 to $160.3 million. This weekend, even with a very powerful top two, the top 12 earned $149.5 million. Next weekend brings the lowbrow and the highbrow, as Dumb and Dumber To opens in wide release along with Beyond the Lights. In limited release, Jon Stewart's Rosewater debuts, along with the Steve Carell/Channing Tatum flick Foxcatcher and The Homesman with Tommy Lee Jones.