Friday Box Office Analysis
By Kim Hollis
November 8, 2014
BoxOfficeProphets.com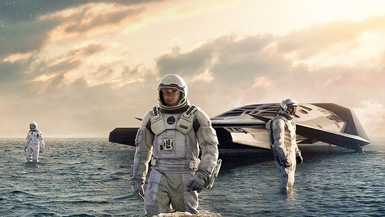 ---
November begins with a bang, as Paramount's Interstellar and Disney's Big Hero 6 do battle for the top spot at the box office. Expectations were high for this weekend to become the fourth in history with multiple $50 million openers. The film that won on Friday is the one that will need to hold up its end of the bargain in order for that to happen.

Yes, Interstellar won the battle, but it appears likely that it's going to lose the war for box office supremacy. Its Friday number is reported as $17 million, which includes $2.7 million from Thursday evening previews. The film also earned an additional $2.15 million in early sneaks from IMAX 70MM sneaks that began on Wednesday. So, if you look at the actual box office for Interstellar yesterday, it came in with $14.3 million.

Because there are more limited showings for the film due to its length (169 minutes), it should have extended demand over the weekend even though there was surely an early rush to see the film from Christopher Nolan fanboys. That may be counterbalanced by its mixed reviews. Although it registers fresh on Rotten Tomatoes, its positive rating is on the lower end, with 72% positive from all critics and 70% from top critics. In reality, the film seems unlikely to finish over the $50 million mark, as even the most generous weekend multiplier would put it at $49 million. Nonetheless, Paramount will probably estimate it right at $50 million for the headlines it will generate.

That means that our weekend box office winner is going to be Big Hero 6, Disney's animated Marvel adaptation with a lovable robot at its center. It earned $15.8 million on Friday, which does include $1.2 million from its Thursday previews. That means that if you're looking at real Friday numbers, Big Hero 6's $14.6 actually was more than Interstellar's $14.3 million. Since kids were in school yesterday and the film is receiving rapturous reviews, it should bring in steady and enthusiastic business over the remainder of the weekend.

Big Hero 6 is likely looking at a weekend multiplier in the area of 3.8, which means that it should finish the weekend with an estimate right at $56 million. While that number is a bit lower than what forecasters were predicting, it still gets the film off to a solid start during a season where it will have long and prosperous legs.

Our lone holdover from last weekend in the top 10 is Nightcrawler, which declined 47% to $1.7 million. Despite rave reviews for the film and Jake Gyllenhaal in particular, it's going to be only a small-scale success for Open Road films. Look for a finish around $6.2 million.