Weekend Wrap-Up
Halloween Friday Makes Nightcrawler #1
By John Hamann
November 2, 2014
BoxOfficeProphets.com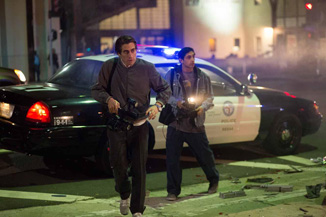 ---
Who was scared the most over this Halloween weekend? Movie studios and box office analysts.

Welcome to the weirdest weekend at the box office since October 31, 2008, when High School Musical 3 earned $1.7 million over its second Friday (off 90% from its opening day) before going on to earn $15.3 million for the weekend. Regular readers of this column understand the "internal weekend multiplier," a calculation of how a movie performs over a weekend. We divide the Friday box office number into the weekend number, and usually end up with a range between 2.6 (horror or extreme fanboy films) and beyond 4.0 for kids films. When it comes to movies for children and families, school impacts movie attendance on Friday and then the rugrats eat up matinees on Saturday and Sunday. Over Halloween weekend in 2008, High School Musical 3 had an internal weekend multiplier of 9.1, meaning that almost no one saw that film on Halloween Friday, and then they came in droves on Saturday and Sunday. This shows how impossible it is to forecast winners and losers without the actual data from the weekend.

This weekend is a little different than in 2008, as there are no non-horror movies aimed directly at teens in their first or second weekend. The scheduling of High School Musical 3 to open the weekend before a Halloween Friday is probably the stupidest scheduling move in box office history, and studios have learned from that mistake. We are left with a bucketload of R-rated films in the marketplace, and as Scott Bowles and Deadline Hollywood called it, some "disposable horror." New films this weekend include Nightcrawler, a creepy-looking thriller with a title made for Halloween, Before I Go To Sleep, another thriller attempt with a title that potentially could have worked on Halloween weekend, and the 10th Anniversary of release of Saw, as Lionsgate re-released it on 2,000+ screens. The disposable horror is Ouija, the Hasbro release that tricked the kids into attending last weekend to the tune of $20 million.

Our number one film by a nose is Nightcrawler, the Jake Gyllenhaal release with fantastic reviews. Considering that this is 94% fresh and the marketing campaign was strong, this is an odd weekend to release what could be an Oscar contender. However, with very little competition, a movie that should have been a platform release is now our #1 film and will take the press prize that goes with it. Nightcrawler got started on Thursday, earning a solid $515,000 from previews. The Thursday number indicated that the marketing had worked, and that Nightcrawler could be in line for a decent opening.

The Friday number came in at only $2.7 million, though that total does come up to $3.2 million when combined with Thursday previews. Normally, I would expect Nightcrawler to earn about 2.8 times its total Friday number, or about $9 million. However, with Halloween falling on the Friday, the Saturday and Sunday are stronger days, and Nightcrawler is estimated to have earned $10.9 million, giving it an 3.4 internal weekend multiplier. Given the Halloween calendar configuration, Open Road Films should be ecstatic about this opening. Tracking was looking for $11 million and potentially a second place finish behind Ouija. For Jake Gyllenhaal, this is a typical start for an actor who makes brave choices (Brokeback Mountain, End of Watch, Prisoners), as his films tend to open in the $9-$14 million range.

Jake Gyllenhaal could be on the receiving end of his second Oscar nomination, as critics love Nightcrawler. The thriller is currently 94% fresh at RottenTomatoes, a better score than Gone Girl (88%), St. Vincent (75%) and even with the current favorite, Birdman (94%). The film earned a B- Cinemascore, again, not far off from the score that Gone Girl received (B). These scores indicate division amongst audiences, good for creating water cooler conversations that can propel these films forward. Nightcrawler was made for only $8.5 million, so it will be in a profitable position before it starts its second weekend. Considering Halloween was going to cause real trouble at the box office, Nightcrawler made out pretty well.

Thankfully, that just barely puts Ouija into second place despite it being the number one film on Friday. Estimates have it losing by $9,000, so it will be interesting to see where updated actual box office reports put the two films. As a "supernatural thriller" (you know, for kids), Ouija's internal multiplier was not affected by Halloween, as audiences would lean towards scares on October 31st. After earning $3.5 million on Friday, the Universal/Hasbro creation took in $10.9 million over the weekend proper, and fell an expected 45%. Made for $5 million, Ouija was profitable after last weekend, so anything earned since then is simply gravy. So far, the horror-for-teens has earned $35 million and will hopefully fold before it hits $55 million.

Fury is third as the Brad Pitt starrer rolls into weekend number three. After earning $13.4 million last weekend, Fury took in another $9.1 million this weekend, giving it a drop of 32%. The World War II tank movie has still yet to eclipse its production budget stateside, as its domestic total sits at $60.4 million against a $68 million production budget. Overseas, it has picked up about $38 million but is still just getting started.

That puts Gone Girl in fourth in its fifth weekend, and it continues to put up strong holds as the weekends fall away. This weekend, the Ben Affleck thriller put up $8.8 million, off a terrific 20% compared to last weekend's haul of $11 million. Gone Girl is now the biggest domestic release of David Fincher's career, as it surpassed The Curious Case of Benjamin Button's take of $127.5 million. It still has a ways to go to match Button's worldwide total of $303 million, as Gone Girl has earned $136.6 million domestically and sits with about $280 million in worldwide sales.

Fifth is The Book of Life, the animated musical from Fox. While no huge hit, The Book of Life has done what it needed to over its first three weekends. After earning $10 million in its second frame, this kids' flick about The Day of the Dead earned another $8.3 million this weekend, giving it a drop of 17%. Made for $50 million, The Book of Life has earned $40.5 million stateside and has pulled in another $29 million from overseas audiences. Given a few more weekends of release, this one could make it into the win column for Fox, a difficult task in the animation world when you are not Disney, Pixar or Blue Sky.

Sixth place goes to Keanu Reeves' mini-comeback film, John Wick, as it tries to hold during a difficult weekend to do so. After debuting last weekend to $14.4 million, John Wick fell 44% over Halloween weekend to $8.1 million, a number that Lionsgate should be happy with. This is another low budget ($5.5 million) R-rated release that is doing well versus both its budget and its expectations. So far, John Wick has earned $27.6 million, and is just getting started overseas, where it has earned $8 million. The foreign rollout is slow, as John Wick doesn't open in the UK until January.

Bill Murray's St. Vincent is seventh and sees an extremely good hold compared to last weekend, despite the mess on Friday. Last weekend, St. Vincent went wide and earned $7.7 million; this weekend held exactly even, earning that same $7.7 million in its second wide frame. The Weinstein Company added 270 venues to the film's run, which would have helped the hold, but word-of-mouth is also pushing this one forward. Made for $13 million, The Weinsteins could have something here, and St. Vincent could play as solid counter-programming as some big films hit over the next couple of weekends. So far, St. Vincent has pulled in $19.5 million.

That puts Alexander and His Very Bad Day down to eighth, with a gross this weekend of $6.5 million. It fell 10% compared to last weekend, and all drops since opening four weekends ago have been below the 40% mark. For a film that cost only $28 million to make, Disney ends up with a solid result, as Alexander has a running total of $53.6 million stateside. It has pulled in almost $16 million from overseas theaters.

Ninth is The Judge, Robert Downey Jr.'s attempt at serious drama, which hasn't worked out so well. The Judge earned $3.4 million this weekend, off 22% from the last frame when it earned $4.4 million. It doesn't look like it will earn the $50 million Team Downey spent to make the film, as it has a domestic total so far of $39.6 million. Overseas audiences will prop it up though, as it has earned $29 million from those venues.

Dracula Untold is tenth this weekend and had faded long before Halloween arrived. The Universal release earned $2.9 million and fell 33%, as the $70 million production has struggled domestically. Overseas, though, it has done remarkably well, saving it from the write off, as it has picked up $136 million from foreign cinemas.

The Nicole Kidman, Colin Firth thriller Before I Go To Sleep failed to crack the top ten this weekend, as it earned only $2 million for upstart Clarius Entertainment. It debuted at 1,902 theaters and is another miss for the studio that brought you And So It Goes and Legends of Oz: Dorothy's Return. Clarius has had three wide releases over its short lifespan and has yet to earn $30 million from those three.

The biggest implosion this weekend was the re-release of the original Saw. Lionsgate put it out to 2,063 venues for a one weekend only release, and it earned only $650,000, giving it a venue average of $315. Now that's scary.

Overall, this weekend could have been much worse. The top 12 films earned $90 million this weekend, which is better than the last time Halloween fell on a Friday. That time was 2008, and the top 12 earned $74 million. All the gains made in October disappear almost instantly, though, as the same weekend last year pulled in $119.3 million. Next weekend should be huge. Interstellar opens on 3,700+ screens, as does Big Hero 6, so we should have a one-two punch approaching $100 million.