Weekend Forecast for October 31-November 2, 2014
By Reagen Sulewski
October 31, 2014
BoxOfficeProphets.com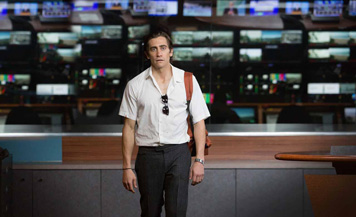 ---
With the worst possible calendar configuration for Halloween, the studios deliver very little in the way of scares this weekend. Instead,our new releases are a couple of thrillers that will hope to capture a slightly older audience that isn't partying as much.

The most promising of the two new films is Nightcrawler, directed by Dan Gilroy and starring Jake Gyllenhaal as an amoral freelance news camera man, hustling around the streets of Los Angeles at night for footage of crime scenes to sell to news stations with slightly looser ethical standards. The closer to them happening the better, and even better is as it happens. Gyllenhaal, cutting a gaunt, creepily-unblinking figure for this film, decides that when business is thin, it might help to drum up some business independently by creating some gore of his own.

Playing just this side of satire, like Network, Nightcrawler aims to be a thriller exposing the seedier side of TV news production, which isn't exactly the kind of thing that screams blockbuster. However, the film's take on the material, with a gritty, you-are-there (irony alert!) style and a chilling, widely hailed performance from Gyllenhaal that borders on sociopathy could bring in a wide audience on a quality basis. Reviews, in fact, have been tremendous, and Gyllenhaal has been stealthily building a reputation as a small box office draw over the past few years.

While his attempt at big budget stardom, Prince of Persia, did not really connect, his more modest efforts have hit their targets, including Source Code, End of Watch and especially last fall's Prisoners. While some of that latter film's $20 million opening weekend could be attributed to Hugh Jackman, that's still a sizable number of people who paid for a Gyllenhaal-starring thriller and may very well be interested in this one, which is being looked at by some as his breakout acting role. With Halloween Friday sucking away some of the film's opening weekend, Nightcrawler likely won't match his figures from last fall, but a decent $16 million weekend could be in the cards.

Opening on a not quite full slate of around 1,900 venues, Before I Go To Sleep sees Nicole Kidman return to multiplexes for the first time on any grand scale since 2011, and just the second time since 2008. While she hasn't been retired by any means (she has a half dozen or so indie films on her resume), she's stayed away from films that have had a lot of commercial appeal, either deliberately or through studio indifference to her. This more straightforward take on Memento probably isn't the way back to big box office bucks, but that may not even be her real priority.

In this film, she plays a woman with retrograde amnesia suffered after a brutal beating, and who forgets everything she learned the previous day. Her husband, Colin Firth, is apparently trying to help her through her issues, but his anger seems to mask something else. Her therapist (maybe?), Mark Strong is also working to help her recover her memory, but there may be some other motives behind his actions. Add in that Kidman's past behavior might not have been all that fantastic, and we have a thriller in which no one may be quite what they seem.

On some level, of course, these twisty films can just be exhausting, as the plots can usually be defeated with "...and that's when someone stopped being mysterious for no reason and it was all a bit of a misunderstanding." A bit too clever for its own good, in other words, and without the critical support to back it up. With a cast that no one is really clamoring to see, we should get around a $5 million opening weekend.

While there is one horror film out there already, Lionsgate is attempting to milk one last bit of relevancy out of its catalog with a 10th anniversary re-release of Saw. And now you feel old. This seems like a really wrong-headed move on a couple of levels – with the horror audience moving away from this kind of torture porn of late, this feels like a forced attempt at nostalgia far too soon. Additionally, and you may not remember this, but Saw was in fact a terrible, amateurly filmed horror flick, and should really hold no re-watchability unless it's to marvel that Cary Elwes continues to get acting gigs. Re-releases are rarely that lucrative in the first place, and this should see only about $3 million this frame.

This brings us to this week's holdovers, led by, in all likelihood, John Wick. Keanu Reeves' return to respectability in box office, it came from an unlikely source – a straight-up action flick, as his title character cuts through an entire mafia to avenge a murdered pet. Yeah, you read that right. It opened to just under $14 million, but following last winter's dismal failure of 47 Ronin (that's a lot of Ronin!) the notion that a Reeves-led action film could hit these modest heights might have been seen as fantasy. I see this as the rare somewhat-leggy action film with around $9 million this weekend.

Ouija likely exhausted most of its audience last weekend with its $19 million, and should see a huge drop-off even with/because of the Halloween weekend (as has been previously discussed, Halloween night is actually a terrible night for horror movies, for obvious reasons). Produced for the Hollywood equivalent of pocket change, this is still a wildly profitable movie even with a drop to $8 million this frame.

In a tale of two Oscar Hopefuls, Fury is sitting with around $50 million in the bank, while Gone Girl is sitting with $125 million plus (after a couple of extra weekends, but...). Both are likely to earn a similar $7 million this weekend. Money isn't everything when it comes to Oscars, but it's a big part of it, and particularly when big stars are involved. Things don't look so great for the WWII tank drama, but the literary adaptation is looking to be in prime position.

Family films continue to be handled by The Book Of Life, sitting right where a number of other stop-motion animated films have, and aiming for a $60-70 million final domestic total. Animation has matured somewhat as a genre, and these alternative offerings are giving us a number of robust family options. It should earn about $6 million this frame.

Rounding up this week's notables, we have St. Vincent, Bill Murray's latest curmudgeonly dramedy and Alexander and the Something Something Bad Day, each earning about $5 million. Murray's film is a bit of a triumph for what could be a very off-putting performance, and may throw him in as a dark horse Oscar candidate should this develop any kind of legs.