Weekend Wrap-Up
Ouija Wins; Wick Stronger Than Expected
By John Hamann
October 26, 2014
BoxOfficeProphets.com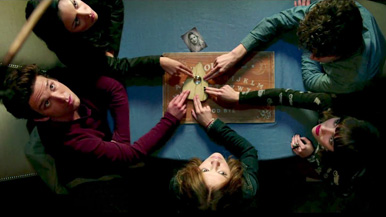 ---
It's the pre-Halloween weekend, so it must be time for a horror flick. However, it's 2014, so the horror title this year is from Hasbro, and somehow we've gone from torture porn to toys.

Following a successful flood of R-rated product into the marketplace over the month of October, it's almost Halloween, so one might expect Jason Voorhees, Freddy Krueger or the producers of Saw to show up with a bloody hack-and-slash-type film to take advantage of the spooky season. Not this year, as the big film of the pre-Halloween weekend is Ouija, based on the Hasbro game that is, you know, for kids. So instead of blood and guts, we get Ouija, an 89 minute PG-13 "supernatural-thriller" from Michael Bay, Jason Blum and Universal. More confection than horror flick, this sounds worse to me than the idea behind Battleship, and we all know how that one went down.

On the bright side, also opening this weekend is John Wick, the return of Keanu Reeves to a wide-release, R-rated actioner – his first since the little seen Street Kings in 2008. This one has some solid reviews and strong buzz, but the question is whether folks would come out for Reeves after his flopping around since the first Matrix movie. Also worth watching are Bill Murray's St. Vincent and Michael Keaton's Birdman, both adding screens after limited release.

Our number one film of the weekend is, unfortunately, Ouija. I find it understandable that no studio wanted to drop a big horror title this weekend. The next frame has Halloween on a Friday, and horror or not, just about anything is going to implode next weekend, as people won't be at the movies on Friday night. Because of this, Universal trots out Ouija this weekend, the $5 million board game supernatural-thriller that really only needed one day of release to see a profit (not including the ad spend). Ouija showed up and did its business, much like what my dogs do in the backyard. It earned $20 million from a subdued venue count of 2,858 after earning $8.3 million on Friday. It hit the low end of tracking and had earned its production budget back by Saturday afternoon. The advertising spend is of course a different story, as it likely cost Universal eight times more to market this one than it did to make it.

Ouija is not a very good film, or an offensive film, or a funny/bad film. It is horror for kids and earned a 10% fresh rating at RottenTomatoes, with only 49 reviewers finding this one even worthy to write about (Gone Girl has 243 reviewers). One critic called it "as scary as an intense game of Candy Land", which likely describes it very well. It earned a C Cinemascore (a couple of steps down from the B- Left Behind earned) and really should be seen by no one. If you think that this looks and smells like a Michael Bay film, you nailed it, and should know what to do.


Finishing second is a better, happier story about redemption. It's John Wick, the revenge thriller starring Keanu Reeves, who's been in the collective penalty box since 2003, serving time for The Matrix Revolutions. John Wick is rare bird from Keanu Reeves, a critically-loved, well-made action film that looks like it will make some money. Given the release date, I don't think Lionsgate and Summit Entertainment had much faith in this one, but a glowing 86% fresh rating boosted John Wick to $14.2 million, and while it certainly didn't break out, this small, $5.5 million budgeted revenger did what it needed to this weekend. In fact, this one doubled up on expectations, as tracking was looking for only $7 million. It would appear that adults bypassed Ouija and came out for John Wick.

For Keanu Reeves, this puts the whole 47 Ronin saga behind him. 47 Ronin was the 2013 Christmas movie that flopped badly, earning only $38 million stateside against a $175 million budget. Ronin did go on to earn $112 million outside of North America, but even the worldwide gross failed to match the production budget. The Day The Earth Stood Still was another much anticipated but largely disappointing feature from Reeves. It cost $80 million to make and had a gross that failed to match the production budget stateside, despite opening beyond $30 million. John Wick brings Reeves back to the smarter films he used to make (The Matrix, A Scanner Darkly, My Own Private Idaho).

Finishing third is Fury, which manages to stay ahead of Gone Girl for a second straight weekend. After debuting last weekend to a decent but not spectacular $23.7 million, the Brad Pitt WWII flick fell 45% in its second weekend, earning $13 million. Like the opening, the second weekend result is neither really good nor really bad, but the box office keeps the film on pace to at least match its $68 million production budget stateside. Overseas results will be coming in shortly, as it rolled out to a number of territories this weekend. So far, Fury has earned $46.1 million for Sony's Columbia Pictures.

Fourth place goes to Gone Girl, now four weekends old and running out of new sets of eyeballs to display to. This weekend, the Ben Affleck R-rated thriller earned another $11.1 million, dropping 37%. It's a massive hit both domestically and abroad, as David Fincher's shot at Oscar has earned $124.1 million stateside,and had a little over $100 million from overseas theaters heading into the weekend. Domestically, $150 million isn't out of the question, a great score versus a $61 million budget.

The Book of Life, the animated film about The Day of the Dead, falls to fifth and tumbles hard for a kids' movie. After debuting last weekend to $17 million, the Guillermo del Toro produced film finds only $9.8 million this weekend, giving it a surprising drop of 42%. Made for $50 million, this 20th Century Fox release is all of a sudden in a bit of trouble, unless overseas audiences prop it up. Domestically, The Book of Life has pulled in $29.9 million, along with $8 million overseas, albeit from a very small handful of markets.

Bill Murray's successful platform release St. Vincent went wide this weekend, expanding from 68 venues last weekend to 2,282 venues this weekend. St. Vincent was not expected to dominate anything this weekend, and did what it was expected to do, earning $8 million. It earns an okay venue average of $3,53`, and will need some strong word-of-mouth to keep it from dropping off. It earned an A- Cinemascore, which joins decent reviews (75% fresh at RottenTomatoes), so its prospects are decent going forward. It is distributed by The Weinstein Company, and cost $13 million to make.

Seventh goes to Alexander and the Terrible, Horrible, No Good, Very Bad Day. The family film earned $7 million and fell 39% after dropping only 37% last weekend. The Disney production has now earned $45.5 million domestically, and is approaching $10 million from overseas theaters.

Eighth goes to The Best of Me, which falls on its head this weekend due to wildly bad reviews. After debuting to $10 million last weekend, the Nicolas Sparks adaptation earned only $4.7 million in its second weekend, dropping 53%. Made for $26 million, The Best of Me has now earned $17.7 million. The scariest thing you could do on Halloween weekend is to take in a double feature of Ouija and The Best of Me.

Ninth is The Judge, a film that does well on weekdays, but then fades badly during the weekend. Following a few days last week in third, The Judge falls on the weekend, earning only $4.3 million, a drop of 45% versus last weekend. The $50 million Robert Downey Jr. flick has now earned $34.4 million stateside, and will need a good push overseas to keep from being in real trouble.

Tenth goes to Dracula Untold, as the king of vampires isn't going to make it to Halloween weekend. After earning just shy of $10 million last weekend, Dracula Untold (and unseen) earned only $4.3 million this weekend, giving it a drop of 57%. The $70 million production has earned $48.3 million in North America and is being bailed out overseas where it has put $117 million in in the kitty already.

In limited release, Birdman remains the big story, as the Michael Keaton Oscar seeker earned another $1.4 millionfrom only 50 venues, giving it an average of $28,720. Roadside Attraction's Dear White People expanded to 384 screens, and pulled in $1.3 million.

Overall, the box office faded a bit this weekend, but is still either on par with last October or ahead. The top 12 films this weekend earned $102.7 million – a decent score in October – and was slightly ahead of last year's top 12, which took in $94.9 million, thanks to $32 million from Bad Grandpa. Next weekend the brakes go on, as Halloween falls on a Friday. New releases contending with the schedule include Nightcrawler, with a crazy looking Jake Gyllenhaal, Before I Go To Sleep with Nicole Kidman, and a re-release of Saw on its 10th Anniversary.