Friday Box Office Analysis
By Kim Hollis
October 25, 2014
BoxOfficeProphets.com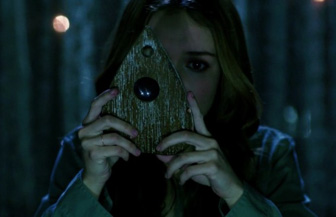 ---
Since Halloween is on Friday next week - a terrible calendar configuration for movie distributors and theaters - the studios decided to go ahead and start things early with a scary movie released this weekend. Ouija, another horror venture from Michael Bay's Platinum Dunes production company (and Hasbro!), will come out on top this weekend, but perhaps not by as much as it might have liked.

With a cast featuring absolutely nobody that you know (unless you watch a lot of MTV and ABC Family series), Ouija took advantage of its spooky nature to attract all kinds of horror buffs, but especially those of the teen variety since it's PG-13. With a Friday debut of $8.3 million (including $911,000 from Thursday night previews), it has already blown past its estimated $5 million budget and will be an easy moneymaker for Universal. They're probably thrilled about its prospects for the weekend, as the box office is going to fall off a cliff from here. It might seem like a Halloween Friday would be good for a horror flick, but people are generally enjoying parties and other activities instead. Ouija's debut number should be right around $19.9 million, but the studio will almost certainly round up to $20 million or above.

Second place goes to the new Keanu Reeves film, John Wick, which is probably being bolstered by some stellar reviews. Despite being in only 2,589 venues, it had a Friday debut of $5.5 million. With an 86% rating at Rotten Tomatoes, people are curious enough to check it out and see what the film is all about. With continued strong business throughout the weekend, the revenge flick should earn $15 million or so, which gets it a lot closer to the top spot than most forecasters were projecting.

Last weekend's winner Fury declined 53% to $4.1 million in its second frame. That's probably a bigger drop than Sony was hoping for, but this film probably does have a fairly narrow, specific audience since it's not really going to be an awards contender. Look for a weekend total of $12.3 million.

St. Vincent expanded from 68 venues to 2,282 and also expanded its Friday box office earnings by 1267%. That means that the Bill Murray comedy earned $2.6 million yesterday and should be headed toward a Friday-to-Sunday total of $7.8 million, a number that is probably going to make the Weinstein Co. very happy.

Our other new releases from last weekend, The Book of Life and the Best of Me, declined 52% and 61% respectively. Fox and Relativity were both probably looking for better holds, but will settle for weekend totals of $9.6 million for The Book of Life and $4.8 million for The Best of Me.