Weekend Wrap-Up
Fury Advances; Affleck's Girl Gone From Top Spot
By John Hamann
October 19, 2014
BoxOfficeProphets.com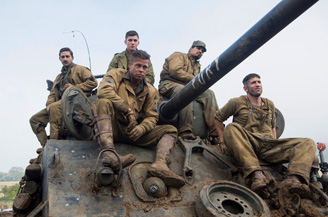 ---
It's time to do the A-list shuffle, as Brad Pitt's Fury has usurped Ben Affleck's Gone Girl from the #1 position at the box office after two weekends on top.

After a tough August and September at the box office where the only highlight was Guardians of the Galaxy, October has bounced back, dominating last year's totals. The credit for this success goes to something that the media thought was long since dead – the movie star – as films from Ben Affleck, Brad Pitt, Denzel Washington and Robert Downey Jr. are propping up the October box office, and pushing this year's October totals up versus last year to the tune of about $80 million over only the first three weekends. Bad news is coming, though, as Halloween falls on a Friday this year, and usually decimates the box office. New releases this weekend include Fury, the tank drama with Mr. Jolie; The Book of Life, the animated film from producer Guillermo del Toro; and The Best of Me, a Sparksian romantic drama that I understand could be the next big drinking game.

Number one at the box office this weekend is Fury, the film that deposits Brad Pitt back into World War II Germany, the same place where we enjoyed him so much in Inglourious Basterds. Fury is no Quentin Tarantino revenge fantasy. It is a gritty real-lifer from David Ayer, who also did the gritty real-lifer End of Watch, which swapped the battlefields of Germany for the streets of Los Angeles. The Brad Pitt fan base showed up this weekend, as the Sony/Columbia release drew a solid $1.2 million on Thursday night and $7.6 million on Friday for a combined first day effort of $8.8 million. While Fury didn't blow the cover off the baseball on opening day, it was a decent start, and was able to turn it into a weekend take of $23.5 million from 3,173 venues, giving it an average of $7,406. Five films earned more than $10 million this weekend, so the marketplace is crowded. The top ten is peppered with R-rated, adult-oriented product.

For Brad Pitt, this is his best non-World War Z opening since Inglourious Basterds earned $38 million in 2009 and Benjamin Button opened to $26.9 million in 2008. Had Sony chosen to put an unknown or even a lesser star into the tank, I believe the result here would have been much lower, as the marketing for Fury certainly did not sell this as a happy tale where Hitler gets it in the end. The strong supporting cast that includes Shia LaBeouf, Logan Lerman, Michael Pena and The Walking Dead's Jon Bernthal might have helped somewhat here, but let's face it - audiences came out for Pitt this weekend. Reviews were solid from all critics at RottenTomatoes at 80%, but top critics at the site were less kind, giving Fury a 68% fresh rating. The Cinemascore was also solid at A-, the same score that Sony's The Equalizer earned a few weeks earlier.

Given the opening frame, the decent reviews and the solid Cinemascore, Fury looks like it's in good shape. Financing company QED International spent $68 million bringing Fury to the screen, with Sony's Columbia Pictures distributing. Working with that $68 million number, Fury should see at least $75 million from North American theaters, and another $100 million plus from overseas venues, as even Brad Pitt's flops do well over there (Killing Them Softly earned $15 million domestically and $23 million overseas; The Counselor earned $17 million domestically, and $54 million overseas). Given the reviews, it doesn't look like Fury will be an Oscar player, but it could see some technical nominations should the studio push. For now, Fury should be satisfied that it is a successful picture. Next up for Brad Pitt is By The Sea, in which he stars with his wife, who also directs.

Finishing second this weekend is Gone Girl, as the David Fincher/Ben Affleck/Rosamund Pike release has another strong weekend at the box office, its third. Following its $37.5 million opening weekend, and its sophomore session where it earned $26.4 million and fell less than 30% in the process, Gone Girl has another strong hold as it pushes past the $100 million mark. This weekend, Gone Girl earned another $17.8 million and dropped only 33%, proving that this is the movie to see over the month of October. The $61 million release crossed the $100 million mark on Saturday, only its 16th day of release, and pushes its total up to $107.1 million. Overseas, the Fox release is just as strong, earning $74.5 million prior to the start of the weekend. At this point, it looks like Gone Girl will easily eclipse the $150 million mark, and push on toward $175 million before all is said and done. Also in its favor is that it will be a VOD title by the time Oscar voting comes around, which means some Academy members will be very familiar with it by then.

Finishing a close third is new release The Book of Life, an animated film that to me sounds more like an Oscar contending drama with Pitt or Affleck than a Halloweeen-ish kid's flick. The animation is the star in this one, with reviews noting the beautiful world these animators created. With its Spanish flavor, The Book of Life got off to a strong start on Friday, earning $5 million. It was then able to use its kid-friendly multiplier to turn that into a weekend gross of $17 million. From Fox and Reel FX (Free Birds), The Book of Life cost $50 million to bring to the screen. Given the solid reviews (79% fresh at RottenTomatoes), and A- Cinemascore, this music-infused feature should match its production budget stateside and then find further success around the world, especially in Latin countries.

Fourth, and possibly the reason why The Book of Life didn't open bigger, is Alexander and the Terrible, Horrible, No Good, Very Bad Day. After debuting last weekend to $18.4 million, Alexander held okay in its sophomore frame, as it earned $12 million. It fell 34% compared to opening weekend, likely a little higher than Disney was looking for; however, with its $28 million budget already matched at the box office by its second Friday, the Mouse House has little to complain about. After two weekends, the Steve Carell/Jennifer Garner film has earned $36.9 million, and should finish between $50 and $60 million from domestic theaters alone.

Fifth is The Best of Me, another piece of romantic drivel from the Nicolas Sparks factory. From what I understand, this one brings more unintended laughter than romantic drama, but it still managed to open above $10 million. The Best of Me pulled in $10.2 million from 2,936 venues for Relativity this weekend, not bad versus its $26 million production budget. It also managed to sidestep some hideous reviews, as this one was only 7% fresh at RottenTomatoes. These films do have a fanbase, though, because The Best of Me still managed a Cinemascore of B+ despite being a turd. This is the lowest opening Sparks release behind A Walk to Remember, the dripper that started it all back in 2002, which opened to $12.2 million.

Dracula Untold is sixth this weekend, as it slides badly from its second place result from last weekend. After opening to $23.5 million last weekend, Dracula fell hard, dropping 58% all the way down to $9.9 million. This one cost $70 million to make, so if it weren't for overseas audiences, where Dracula has already picked up $96 million, this one would be in real trouble. So far, the Universal release has earned $40.7 million stateside and will be limping by the time Halloween rolls around.

Seventh goes to The Judge, which got hurt by another R-rated, star-driven flick entering the marketplace. In its second weekend, the Robert Downey Jr. flick earned $7.9 million, off 39% from its opening frame. The $50 million release has now earned $26.8 million, and is going to need some help overseas to see profitability.

That puts Annabelle down in eighth, but the horror flick still earned $7.9 million despite the lower ranking. The extremely profitable Warner Bros. release fell 50% compared to last weekend, but brought its domestic take up to $74.1 million against a $6.5 million budget. On top of earning 11 times its production budget stateside, Annabelle has also earned more than $75 million overseas, making this one of the more profitable releases of the year.

The Equalizer is ninth this weekend, as so much strong product has pushed this Denzel Washington feature toward the bottom faster than I would have thought. The Equalizer earned another $5.4 million this weekend, off 44%, but pushes its domestic total up to $89.2 million. Overseas, the $55 million Sony release has pulled in almost $70 million.

Tenth is The Maze Runner, which is finally running out of steam. Now in its fifth weekend, The Maze Runner earned another $4.5 million and pushes its total up to $90.8 million. It has also earned a stunning $145 million overseas, all against a budget of only $34 million.

In limited release this weekend, Michael Keaton's Birdman got started at four theaters and earned a startling venue average of $103,750. We will be talking about this one for a long time, as some real competition for Gone Girl has arrived. In other limited release news, Bill Murray's St. Vincent expanded to 68 venues, and brought in $685,000, good for a venue average of $10,074. St. Vincent goes nationwide next weekend.

Overall, it was another stellar October 2014 weekend. The top 12 films brought in $122.3 million, yards ahead of the $93.2 million the top 12 found last year, when Gravity led with $30 million. Next weekend brings Keanu Reeves back to cinemas, and if early reviews are any indication, John Wick looks really, really good. Also opening is Ouija, a film that teams McG and Michael Bay (make your own jokes please).