Friday Box Office Analysis
By Kim Hollis
October 18, 2014
BoxOfficeProphets.com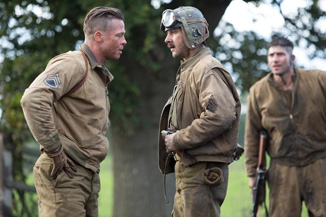 ---
After a couple of weekends at the top of the box office charts, Gone Girl will fall to a new contender. Fury, a World War II film featuring Brad Pitt, will easily take the #1 spot this weekend, while The Book of Life and The Best of Me are headed to a finish that is well within expectations.

Riding a wave of solid reviews and word-of-mouth (80% fresh at the box office and A- Cinemascore), Fury earned $8.8 million on Friday to easily take the top spot over Gone Girl and all other comers. It's not quite the lofty heights that Pitt's first World War II film, Inglourious Basterds reached, but then again that film had Tarantino and an revenge story driving more demand. Like Gone Girl, Fury is the type of film that should play well over the course of the weekend since it primarily reaches a more adult demographic. Look for a Friday-to-Sunday finish of $24.6 million.

That leaves Gone Girl in second place, though once again it's going to hold up quite well. Its $5.5 million represents a 32% decline from last Friday, a number that should only improve as the weekend goes on. With continued box office success, Gone Girl is definitely positioning itself to be in the Oscar conversation when nominations are announced. Its weekend total should be right at $18 million.

Another of our new releases, the Guillermo del Toro-produced The Book of Life, earned $5 million yesterday. An animated film with good reviews and buzz (its Rotten Tomatoes and Cinemascore tallies are almost identical to Fury's), this movie based around the Mexican Day of the Dead should play well both to families who have been missing quality cartoon films as well as adults who are drawn to its unique story and style. It's going to be extremely close between The Book of Life and Gone Girl, but because they share a studio, there's not much incentive to lie up for one or the other. The Book of Life should be looking at $17 million.

Nicholas Sparks has returned to unleash another of his weepy romances in movie form. The Best of Me, sitting at 7% fresh at Rotten Tomatoes, earned $4.1 million on Friday. Perhaps his formula (spoilers: I have not read the book, seen the movie, or read any synopsis of it, but I guarantee someone dies) is starting to at last wear thin. Usually, these Sparks films (or movies like them) die a bit over the course of the weekend, and I suspect this one won't be much of an exception. The fact that we're dealing with smaller numbers will help it ever so slightly, though. I would expect Relativity to give it a weekend estimate of $12 million.

That's going to open the door for Alexander and the Terrible, Horrible, No Good, Very Bad Day to move ahead of The Best of Me for the weekend tally. It earned $3.2 million yesterday, a 39% decline from its opening Friday. Since it's obviously a family film and they visit theaters more predominantly on Saturday and Sunday, that number is going to improve tremendously by the time the weekend tally comes in. I think it's going to just inch ahead of The Best of Me with a Friday-to-Sunday total of $12.3 million.

Dracula Untold may have finished in second last weekend, but no one should be surprised to see that it declined precipitously on its second Friday. A $2.9 total represents a 68% drop (and only $1.6 million more than it made in just its Thursday previews last week). It should have a weekend total of $7.5 million, a number that isn't going to give Universal much confidence or hope for their burgeoning monster movie franchise.

Another of last weekend's holdovers, The Judge, earned $2.5 million and fell 45% from last Friday. Let's just say that people were buzzing a lot more about Robert Downey Jr. joining the cast of Captain America 3 than they were about this film. Still, there's a slim chance it manages to jump over Dracula Untold when weekend estimates are released. I don't quite think that's going to happen, and it should come in with about $7.3 million.