Monday Morning Quarterback Part I
By BOP Staff
October 14, 2014
BoxOfficeProphets.com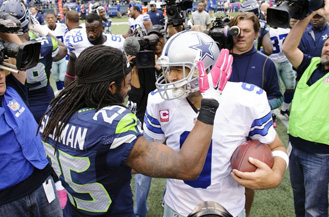 ---
Kim Hollis: Dracula Untold, a movie Universal was hoping would restore their legacy as the monster movie studio, debuted with $23.5 million this weekend. What do you think of this result?

Edwin Davies: It's not the disaster that it could have been (that quote is free for anyone who wants to stick it on a Dracula Untold poster) but it's far from being a success. For a biggish budget action/horror film (that's also not so secretly a superhero origin story) it's only decent, but as the opening shot in Universal's attempt to create their own Marvel-style interconnected universe but with monsters it doesn't bode well for their future plans. It could still recoup most of its $70 million budget at home and hope that overseas audiences cover the marketing costs, but it looks like the best the studio can hope for is for Dracula Untold to break even.

Matthew Huntley: Given the lackluster trailer and exhausted vampire-movie genre, I didn't expect Dracula: Untold's opening to be this high. It's mildly impressive, sure, but seeing as though the movie also cost $70 million to produce and probably another $35 million to market, it's probably not enough for Universal to seriously consider restoring their monster movie series, or perhaps with not as much financial investment. The movie suffered expectable declines as the weekend progressed, which indicates people either aren't liking what they're seeing or the fan base is limited/front-loaded, or a combination of both. It may stick around long enough to top $50 million or so, but I'm betting the studio is going to take a loss on this.

Felix Quinonez: I think the opening is better than it had any right to be. The movie looked terrible and the marketing was all over the place. It obviously isn't enough to justify the plans that they had for building an "universe" but it could (should) have been worse.

Bruce Hall: "We're going to do the same thing Marvel did, and we'll do it better!" I'll bet that was the pitch, and clearly nobody in the room was able to see how uninspired an idea that is. I tend to think that Universal underestimates the nostalgia everyone feels for their ancient pantheon of monster films. But I also think there's the nugget of a good idea here. I just think that it would have been a better idea to forge an independent path and embrace them as horror characters.

What makes monsters fascinating is what you don't know about them at first. The fun is in being introduced to them as myths and lifting the veil over time. This could have been a great opportunity to take inspiration from something that worked and do something new with it. Instead I suspect audiences in general weren't sure what to expect from Dracula: Untold and just stayed away. That said, I have to say I'm impressed with as well as it did.

I'm not sure if this is the kind of failure a la The Golden Compass, where you just quietly walk away whistling and hope nobody remembers it at all. But it's definitely not the kind of result that has you confidently green-lighting a sequel before sunrise Monday. Something tells me Universal doubles down on the idea that its too early to give up on such a big idea. Time will tell.

David Mumpower: I agree with Felix that based on the quality of the trailers, the opening weekend is nothing short of miraculous. I also want to head off any criticisms of Edwin regarding his seemingly harsh criticism of the film's potential profitability. Matthew is correct that the budget was reported to be $70 million. In reality, it became $130 million and the negative cost is just a shade under $200 million. That difference of a factor of nearly three fundamentally changes the dynamic here.

Yes, Dracula Untold surprised, nay, shocked with a $23.5 million debut plus overseas revenue of $63 million. Given the above, it is still going to struggle to break even worldwide, remembering that studios keep a much smaller share of international box office. The fact that the film has already fallen to third place domestically behind the Steve Carell Title That Never Ends is also alarming. At this moment, Dracula Untold is a temporary triumph but a (presumed) long term failure.

Kim Hollis: I'd echo Felix's comment that this movie looked just absolutely terrible, so I think it's pretty impressive that it made as much as it did. Dracula Untold's performance doesn't really justify the franchise Universal was hoping for, and in the long run it's not going to be overly profitable. It'll go down as yet another forgettable vampire flick.

Kim Hollis: Alexander And the Terrible, Horrible, No Good, Very Bad Day, a Disney film featuring Steve Carell and Jennifer Garner, opened to $18.4 million this weekend. What do you think of this result?

Edwin Davies: This is pretty solid, considering that movies like Alexander and The Unwieldy Title are few and far between these days. Between this and The Odd Life of Timothy Green, Disney seems to be determined to cultivate an audience for these kind of modestly budgeted live-action movies aimed at young kids and co-starring Jennifer Garner, and this seems like a marked improvement on that film's performance, both critically and commercially. It won't be a runaway hit, but with little direct competition it should hang around for a while and do okay business overseas, which will turn this into a solid, unspectacular win for Disney.

Felix Quinonez: This was a very good opening. The movie had a modest budget and it should have some decent legs so it will turn out to be a very solid investment. I'd consider it a win for everyone involved.

Bruce Hall: I'm glad to see both Carell and Garner in something both appropriate to their level of appeal and suited to their individual strengths.

Not a home run, just the good, solid success it needed to be.

David Mumpower: First off, please find the person who named this movie then slug them for me. I mean hard, too. Really give it to them. Now that I've said what we're all thinking, this story is Disney's wheelhouse. It's a comfortable story featuring a pair of likable stars, not unlike Garner's other recent Disney project, The Odd Life of Timothy Green. That film had a $40 million budget while earning about $52 million domestically.

Alexander and the BlahBlahBlah cost even less at $28 million, and it has already grossed $22 million domestically. It's going to be another quickly forgotten 2014 release that provides a solid but unsexy return on investment for everyone involved. Stop me if you've heard this one before.

Kim Hollis: Given that there haven't been many films targeted to families and kids recently, this is a slight breakout above what I would have expected for Alexander, etc. Disney has had a bunch of these live action flicks over the last 40 years or more, and this one fits nicely within that niche. It's going to do exactly what they want it to - which is make a bit of money in theaters before going on to find success on home video and ABC Family.