Weekend Forecast for October 10-12, 2014
By Reagen Sulewski
October 10, 2014
BoxOfficeProphets.com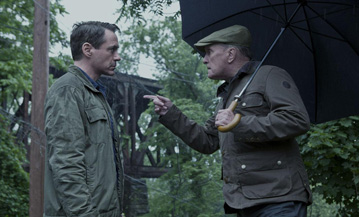 ---
It's a very Octoberish weekend, as we have a trio of films that have elements of what makes for an interesting movie, that could in theory appeal to mass audiences – and none look particularly bad – but neither do any of them have a real breakout possibility. It's a weekend for people who just have to see something new.

Leading the way in prestige, if not necessarily quality, is The Judge. Starring Robert Downey Jr. and Robert Duvall, it is surprisingly not a John Grisham adaptation, although it probably wouldn't disabuse you of that notion if you asked it. Downey plays an attorney who has an unusual client in a murder trial – his father, still a judge in his hometown. While the saying goes that a man who is his own lawyer has a fool for a client, a man representing his father is probably just going to be aggravated beyond belief. In returning to his home to help keep his aging father out of prison, Downey also has to confront old grudges and demons (not of the literal kind – this isn't another Conjuring spinoff, although that gives me an idea) of a town he thought he'd left behind.

The lovable scoundrel lawyer is a fairly standard stock character in cinema, and Downey is among the best casting choices to play one. Duvall is also your go-to guy for cantankerous old coots, which he's asked to play here and does so to a T. In fact, the whole film seems constructed entirely out of small town legal film cliches, crossbred with a daddy issues film. With this cast, which also includes Billy Bob Thornton, Vincent D'Onofrio, Dax Shepard and Vera Farmiga, that may just be enough to have it masquerade as a quality film for audiences despite the mediocre reviews.

This is Downey's first real test outside of franchise films since the career boost he got from Iron Man, as his films have been largely of the franchise variety since then. The Soloist is the one film in that time that really depended on his name that didn't have explosions, but even then, that was a film that wasn't released quite to the level of most blockbusters, not to mention that it had a challenging subject matter about mental illness and a non-prestige release date. With a few more things in its favor, The Judge should start with an opening weekend of around $17 million.

Live action family comedy can be a fairly rare bird, as it is a self-limiting genre – crowding out both older teens and very young kids, and banking on parents being willing to buy a ticket as well. Alexander and the Terrible, Horrible, No Good, Very Bad Day juggles both an unwieldy title and a limited demographic. Based on the popular children's book, it perhaps attempts to address that latter issue by bringing in Steve Carell and Jennifer Garner for adults to latch onto.

The story of a young preteen whose day starts out bad and ends up worse in a seemingly never-ending cascade of calamities, Alexander is set up as a slapstick comedy involving such rich comedy veins as property damage and escaped zoo animals. In some ways, it's a bit of a live action cartoon, but that's a style that's often difficult for audiences to connect to. However, it is Disney, and we can't rule out that they know what they're doing. Likely the hope is for something similar to the Wimpy Kid franchise, which opened two of its three films in the 20s, however that series had a lot more of a following. The concern could legitimately be that this is a thin book to build a movie from, but then again, The Polar Express is not exactly War and Peace and look what that film did.

But really, what's going to keep Alexander from having a great weekend is limited popularity of the source material and the squeeze of age. Reviews are just OK, and that's maybe what could have really helped it to it out. I'd give it $15 million this weekend.

Dracula Untold is the latest attempt to do a gothic-action reimagining of a classic horror character, depicting the theoretical origins of Vlad the Impaler and the circumstances behind him becoming the great and terrible Dracula of legend. Luke Evans stars in the title role, starting as a noble leader pushed to the brink in defending his people. After taking a pact with dark forces, he gains the power to turn into a swarm of bats and cut a destructive swatch through his enemies. Listen, it'd be really unnerving, OK? The drawbacks: a constant need to drink blood and a frightening tendency towards terrorizing everyone around him.

Pitched as a super-heroish origin story as Universal attempts to Avengers-up its roster of classic horror properties, Dracula Untold has some decent looking effects, but an utterly ridiculous plot and poor reviews. It's clearly hoping to be something of a blend between 300 and Snow White and the Huntsman, but it has neither the star power nor the track record of either of those to lean on. This looks to be headed for just $13 million in its debut.

The race for last weekend's box office crown was unexpectedly close, with David Fincher's Gone Girl eking out a win by less than half a million over a creepy doll horror movie. In some ways I judge us all. Gone Girl's second weekend should be quite interesting, in that it has some challenging elements to viewers and word-of-mouth that ranges from rapturous to disgusted and boring. Divisive films rarely get the leggy treatment, and Oscar contender that it is, it should still drop to around $19 million this frame.

Leggy horror, on the other hand, is rarely seen in the best of circumstances, unless it's a Paranormal Activity, sneak-up-on-everyone situation. So despite spinning off successfully from The Conjuring, it should see a pretty steep drop to around $15 million from its $37 million start. This is of course a crazily successful number for a horror film with a ridiculous concept starring no one, so maybe I should just shut up already.

Following in behind these films are The Equalizer, which should pull in about $10 million as it heads to around $110 million total, The Boxtrolls, which is proving to be a leggy family option and should grab about $8 million and The Maze Runner, which should hit about $7 million this frame.