Weekend Wrap-Up
Gone Girl, Annabelle Vie for Top of Box Office
By John Hamann
October 5, 2014
BoxOfficeProphets.com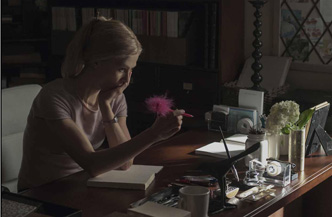 ---
It's October, R-rated films hold the top three spots at the box office, and the Seahawks play Monday night. It's a good time to be alive.

What a weekend at the box office it has been. New openers this weekend included the much-anticipated Gone Girl with Ben Affleck and Rosamund Pike (get used to hearing her name), as David Fincher delivers another electrifying conversation piece. Also debuting was Annabelle, the prequel to The Conjuring that starred no one you know, and Left Behind, another Nic Cage paycheck movie that will likely provide more laughs than drama. Holdovers also packed a punch, and included the second weekend for Denzel's Equalizer and Laika's The Boxtrolls, along with the third weekend for the surprisingly leggy Maze Runner. Can you tell September is over?

Our number one film of the weekend is Gone Girl, the new thriller from uber-director David Fincher, who is making a strong case for a third Oscar nomination. Starring the rebooted Ben Affleck, Gone Girl also features Rosamund Pike, Neil Patrick Harris and Tyler Perry in a movie that is already getting Oscar attention. Box office wise, Gone Girl got off to a solid start on Thursday night, earning $1.25 million from previews, an amount in line with other heavyweight adult dramas. On Friday, Gone Girl earned $12 million, and with the Thursday included, the Friday number was reported at $13.2 million. Considering tracking was looking for an debut in the mid-$20 millions, this first Friday was explosive, setting the stage for a huge weekend and an Oscar run with it. Despite all this good news, Gone Girl was second on Friday night behind Annabelle by $2.3 million, but the satanic doll from The Conjuring prequel was about to act similarly to the title of this thriller – gone girl.

Over the weekend proper, the Fox distributed, New Regency/Pacific Standard title blew apart expectations, earning $38 million from 3,014 venues, giving it a theater average of $12,608. Gone Girl rode an incredible marketing campaign towards success, using a series of strong trailers and TV ads to amplify the mystery contained in the film. Oddly enough, one of the first people involved with Gone Girl was Reese Witherspoon, who owns the Pacific Standard production company. The writer of the original novel, Gillian Flynn, adapted her own book into the screenplay, so instead of taking over a novel and abusing it with a committee of writers, the idea owner put her own book on the screen, and we are seeing that pay off this weekend.

For an early October release, the $38 million debut is very strong. Of the top 20 October openers, only five debuted in the first weekend of the month, the biggest being Gravity, which took in $55.8 million when it debuted last year on October 4th. Gone Girl is 87% fresh at RottenTomatoes, and with a film like this, it needed strong notices to succeed. It earned a B Cinemascore, and on paper that might look troubling, but because the film is dark and "Fincheresque," it is not surprising. Fight Club and Se7en both earned B- Cinemascores, and one could write a case study on the human condition from those two scores alone. Gone Girl is a water cooler movie and should easily hit $100 million domestically before all is said and done. It should also be a hit internationally since Fincher, Affleck and Pike all have strong followings overseas.

For Affleck, this is another step back into the light after so many baffling years with Reindeer Games, Gigli, and Surviving Christmas. Since the release of The Town ($23.8 million domestic opening, $154 million worldwide gross), Affleck has been unstoppable. 2012's Argo won Best Picture and also earned $230 million worldwide. Like Nuke LaLoosh, he can be going strong and still hit the bull some times (Runner Runner), but maybe just to keep us guessing as to where the next pitch is coming. His next film, of course, is Batman vs Superman, which I think will either be a big hit or the beginning of the end of the superhero era at the box office. Depending on quality, it could even put him in the tailspin witnessed in the earlier part of his career. For now, he should celebrate, as this $61 million feature is going to be a big winner for all involved. We could still be talking about it in February when Oscars are handed out.

The big financial winner of the weekend is Annabelle. It's a prequel to The Conjuring, the very successful horror flick from 2013 that earned a staggering $318 million worldwide against a budget of only $20 million. The creepy doll from that film is back this weekend, and audiences followed as Annabelle took in $2.1 million from Thursday previews. It then earned another $13.4 million on Friday to give it a combined first day total of $15.5 million. Thus, the $6.5 million budget was earned back after only one day, and the film – compared to production budget only – was likely earning real money by Saturday morning. Of course, with a film like this one, there will be a significant outlay of marketing dollars, likely of at least $35-40 million, which means Annabelle will have to play for a while to see a real profit.

Over the weekend proper, Annabelle earned a very healthy $37.2 million from 3,185 venues and against some serious, also R-rated competition. We end up with two films in the top 15 October releases of all time, released on the same weekend. Annabelle didn't receive great reviews (30% fresh at RottenTomatoes); however, we know that critical response doesn't matter as much for horror films. Its B Cinemascore was strong for the genre, considering other recent horror films fared much worse, like As Above So Below at C-, Oculus at C, and Paranormal Activity: The Marked Ones with a C. Audiences found something to like here, and it is a child of The Conjuring, so Annabelle's legs may be better than the usual for this horror outing.

Third spot goes to The Equalizer, a film that should have gotten squeezed hard by both Gone Girl and Annabelle, given that all three films are aimed directly at adults since they all had R ratings. After a strong $34.1 million debut, The Equalizer managed a solid second weekend despite the competition, earning $19 million and dropping an okay 44% compared to the previous frame. This is exactly what the Denzel Washington flick needed to do, keeping its nose above the 50% drop-off mark to keep its franchise hopes alive. Now, with a gross so far of $64.5 million, it maintains its $100 million domestic trajectory. Its overseas numbers are solid as well. With an international total of almost $40 million, The Equalizer is in good shape to easily recover the $55 million budget expenditure.

Fourth goes to the stop-motion animated flick The Boxtrolls, which had a fantastic hold in its second frame. Following a $17.3 million debut last weekend, the Laika-produced, Focus-distributed kids flick earned $12.4 million in its second frame, dropping 28%. This is better than we saw for Laika's previous film ParaNorman, which declined 38% in weekend two. After only 10 days of release, The Boxtrolls has earned $32 million stateside, and adds another $26 million from overseas venues. The other good news for Laika fans is that Focus Features has committed to releasing their next three films, which means we get to see their weird and wonderful creations for another decade.

Fifth is The Maze Runner, which has another solid hold, which completely goes against the grain of the usual YA book adaptations, even the successful ones. In its third weekend, The Maze Runner earned another $12 million, dropping only 31% from the previous weekend. The $35 million film has now earned $73.9 million stateside, and will at least approach $100 million. Overseas, The Maze Runner has already earned more than that prior to the weekend starting, as it had a $101.6 million going in to the weekend. The Maze Runner also gives Fox their second title in the top five this weekend, as Gone Girl was released by Fox as well.

Left Behind, the last of our new releases this weekend, was mostly ignored for good reason. Currently 2% fresh at RottenTomatoes, the latest Nic Cage joke earned only $6.9 million this weekend from only 1,825 venues. I was hoping for campy hilarity, and just got the camp. There is nothing to laugh at here, just more thinking on how Nic Cage could go so wrong after Moonstruck, Leaving Las Vegas and Bringing Out the Dead. Bring on the Razzies.

Seventh is This Is Where I Leave You, now in its third weekend. The dramedy earned another $4 million and fell 42%. The Warner Bros. release cost $20 million to make and has now earned $29 million. Considering the cast, it is surprising how quietly this one arrived and left.

Our eighth place film is Dolphin Tale 2, which earned another $3.5 million and brought its total up to $38 million, compared to its budget of $36 million. Guardians of the Galaxy, now in its 10th great weekend, takes ninth place. The Marvel flick earned another $3 million, declined 19%, and now has a domestic total of $323.4 million. It has now passed the original Transformers ($319.2 million) and Shrek the Third ($322.7 million) to move into 32nd on the all-time top domestic grossers list. Finally in 10th is No Good Deed, which earned $2.5 million and fell 45%. Its total has now reached $50.2 million, which is fantastic when compared to its small $13 million budget.

Overall this weekend, we have a top 12 group that earns more than $100 million for the first time since August 22nd. We also have a strong showing against last year, as the top 12 films this weekend earned $129.8 million compared to last year when the Gravity-led top 12 took in $114.9 million. The rolls should continue next weekend, as we have four new wide release movies. Debuting films include The Judge with Robert Downey Jr. and Robert Duvall, Dracula Untold from Universal, Alexander and the Terrible, Horrible, No Good, Very Bad Day with Steve Carell and Jennifer Garner, and finally Addicted, from Lionsgate.