Weekend Forecast for October 3-5, 2014
By Reagen Sulewski
October 3, 2014
BoxOfficeProphets.com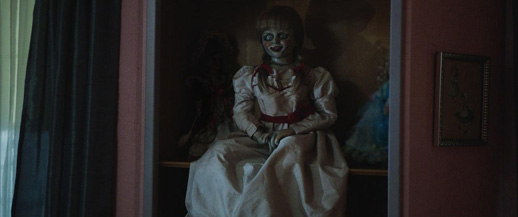 ---
While some of this year's Oscar-nominated Best Pictures have in all probability already been released, this is the weekend when the first real shot across Oscar's bow is made. No, don't get excited, Nicolas Cage.

Gone Girl is director David Fincher's second straight film based on a buzzy bestseller (that Dragon Tattoo sequel is coming, right? Right? I'll just wait here), this one based on a novel that covers the aftermath of a police investigation into a woman's disappearance, and how it becomes a media frenzy as it drags on. Ben Affleck plays the husband of the missing Rosamund Pike, who has left a diary that seems to place some suspicion on him, leading the narrative of the media story to shift from concerned husband to menacing suspect. Although nothing definitively points to Affleck as the murderer, or even that a murder has taken place, that doesn't stop the feeding frenzy. Everyone has something to hide, and under the worst circumstances, everything can look suspicious. But did he actually kill his wife?

In addition to Affleck and Pike, the cast also includes Neil Patrick Harris, Kim Dickens, It Girl Emily Ratajkowski and (sigh) Tyler Perry, but the real indication of quality here is Fincher's involvement. His stylish directorial vision should bring this story, which could tend towards the pulpy, to life and elevate it to something with grander social meaning, as well as just being a cracker-jack procedural film.

As successful a director as Fincher has been, he's never really been one for big opening weekends, with the $30 million of Panic Room being his high water mark. Of course, his two biggest films were released at Christmas time, which depresses opening weekends, and it's entirely that both Dragon Tattoo and Benjamin Button would have opened to significantly larger numbers on other weekends. That Gone Girl was a hugely popular book ought to make a difference, but then that was the theory on Dragon Tattoo as well. I think we've reached a tipping point, however, and with sky high reviews, heavy advertising that holds back just enough and a solid, attractive cast, this should be an easy winner for the weekend with about $37 million.

Horror would be nothing without the month of October, and the genre jumps on it as soon as it can this weekend with Annabelle, a spinoff of the Conjuring series. Apparently there's some spooky doll mentioned in the film, and it's given its own film to star in here, serving as a focus point for jump scares. This honestly feels more like a parody of a horror film than an actual commercial product, but then I've long since lost faith with the mainstream horror crowd about what looks like quality in the genre. While it shares no leads with The Conjuring, the connection has been marketed heavily, and this quasi-franchization seems to be what works in horror these days. A link, however tenuous, will make all the difference. This will undoubtedly be the crowning glory of cinematographer-turned-director John Leonetti, who has Mortal Lkombat: Annhiliation and The Butterfly Effect 2 to look back on. Score one for the Producer Theory of Horror, as this opens to $26 million this weekend.

Remember when Nicolas Cage was a respected actor who made sound choices? Neither do I. The remake of Left Behind is the third film opening wide this week – yes, the rapture novel series that starred Kirk Cameron (before he went completely off the deep end) in its first go-round. No doubt made to try and capitalize on the increased interest in religiously-themed movies in the last few years, it unfortunately seems to be only slightly concerned with the idea of quality. With an effects budget that is *at least* $39, this looks like a SyFy movie that somehow slipped its bonds and wrestled its way into theaters. I would wager that the possible percentage of viewers this weekend who are seeing it sincerely could be as high as 20%, with the rest just wanting to see how bad it can get.

The cast also includes such luminaries as Lea Thompson, Chad Michael Murray, Nicky Whelan and American Idol winner Jordin Sparks, who also provides an end-credit song. Reviews are quite savage, throwing it under the level of the original film, which is quite the feat. This seems to stem from the fact that the film focuses more on the action aspects of the story, as millions of people go suddenly missing (apparently the "R" word is never actually used, so...), and the aftermath of that chaos, what with car crashes and plane crashes and doctors disappearing in the middle of operations. Ultimately, the thing plays as the ultimate "you'll be sorry when I'm gone" wish fulfillment story. While some of these movies targeted at religious audiences have had decent openings, this does not seem likely to join them, and the only thing even bringing this to our attention is the presence of Cage. I'd expect around $6 million this weekend.

The Equalizer landed in the upper half of Denzel Washington's opening weekends with $34 million in its debut last frame, showing that he can really put his name on just about anything and get traction, as long as he beats people up in it. I've spilled gallons of ink on just how consistent Washington is in delivering, so I won't belabor the point other than to say: Denzel, he's good. This might be his first franchise ready film, and $20 million this weekend might push that along.

Still the only real family film out there, The Boxtrolls had a slightly better than expected start of $17 million, and should hold well because of its genre. Focus Features seems to be trying to single-handedly make stop-motion animation a thing, and is doing a decent job of it for a small studio. I'd expect around $12 million here.

In its third weekend, The Maze Runner should find around $10 million, as it has held up fairly well for being a YA adaptation, and relying on a young audience that should have been front-loaded. While $100 million is probably on the knife's edge for its final domestic total, this is a decent result for the cheaply budgeted film, and could justify continuing the series.