Weekend Wrap-Up
Denzel Propels Equalizer to Top of Weekend Box Office
By John Hamann
September 28, 2014
BoxOfficeProphets.com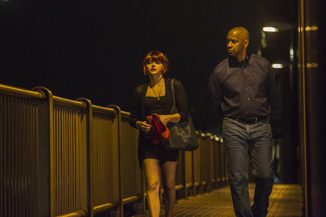 ---
Mr. Predictable, Denzel Washington, is at the top of the box office again with the Equalizer, his second consecutive film to open at number one after the actor saw four consecutive second place finishes.

Over the past two weekends there were seven new openers. There were only two this weekend, as studios made a little room for the most consistent star in Hollywood. Washington opened The Equalizer, a film based on the 1980s TV series starring Edward Woodward. The filmmakers left the TV series behind and turned The Equalizer into a violent, R-rated vengeance flick co-starring Chloe Grace Moretz. Audiences responded. Also opening this weekend was Laika's The Boxtrolls, a stop-motion animated flick from the people who brought you the awesome Coraline and the under-appreciated Corpse Bride and ParaNorman. These are films that some consider too dark for kids, so Focus Features and Laika needed to open Boxtrolls decently, although they wouldn't necessarily expect a breakout performance.

The Equalizer got started with an impressive (but expected) $1.5 million from Thursday night previews, which was almost a sure indication that Washington's opening weekend streak of eleven $20 million openers was sure to continue (I don't count 2007's The Great Debaters, as it was exhibited on only 1,171 screens). That winning streak goes all the way back to 2003's Out of Time, which still opened solidly with $16.2 million. The model of consistency, Denzel Washington may not be Hollywood's biggest draw, but he certainly is reliable – even in September. The Friday amount (combined with Thursday previews) came in at $12.6 million, more than the $10 million that 2 Guns did but less than the $13.6 million of Safe House, which went on to have a $40.1 million opening weekend. Anything over $10 million was going to be good news for Sony's Columbia Pictures, as The Equalizer cost only $55 million to make.

The Equalizer then did the expected over the remaining portion of the weekend, and finished the frame with an impressive $35 million from 3,236 venues, giving it an average of $10,816. The Equalizer wasn't even the widest release of the weekend, as its venue count was only the fourth highest, behind The Maze Runner, The Boxtrolls, and Dolphin Tale 2. For Washington, anything over $30 million is a strong result for the star. The majority of his films throughout his career have debuted between $20 and $25 million. He has only had three films – Safe House, American Gangster, and The Book of Eli - open beyond $30 million, with the first two of those earning over $40 million in their first weekend. The Equalizer, which joins that club, is also another film from Denzel made for adults – the star's top nine opening films are all rated R, with the only PG-13 rated film being Unstoppable, which started with $22.7 million.

The Equalizer now poses an interesting question for Washington, as this could be his first franchise should he choose to go in that direction. Despite starring in 43 films since breaking into the scene in the early '80s, Washington has never appeared in a sequel, despite almost half of those releases earning $50 million or more, and 14 earning $70 million or more. The Equalizer might be a good choice for the actor, as production costs were low at $55 million, and it should easily go on to earn $100 million plus, given the A- Cinemascore it received. The Equalizer had more positive than negative reviews at RottenTomatoes (58% fresh), so this may be a good franchise choice. Normally, Washington's films earn more in North America than they do abroad, but this one could change that dynamic and lead to a roman numeral somewhere in its future.

Second spot this weekend goes to last weekend's number one film, The Maze Runner. Following a strong $32.5 million debut, the YA novel adaptation was looking to hold in the 50% range this weekend – not to find a profit, but to further cement the likelihood of a sequel. It earned $5.2 million on Friday night, off 54% from its opening frame, but that included Thursday previews from the first frame. Over the weekend proper, The Maze Runner was able to come back somewhat, and earned a decent $17.5 million in weekend two. That gives it a drop of 46%, providing further evidence that The Maze Runner could be a franchise. Made for only $34 million, this Fox product is well on its way to profitability, as it has a gross so far of $58 million. It doesn't look like it will earn $100 million domestically, but it is doing some stunning business overseas already, as it already has $90 million from overseas venues. It should easily do $200 million worldwide before all is said and done.

Finishing third this weekend is our other opener, the Laika-produced, Focus-distributed The Boxtrolls. I always look forward to Laika releases, as they are so few, and I find the animation and storytelling quite amazing. Really, these films are made more for the young-at-heart than the young. Both Coraline and ParaNorman were on the dark side of the kid-viewing realm. Because they don't skew young, their films don't break out, and the same happened for The Boxtrolls this weekend. After a $4.9 million Friday (it didn't have Thursday previews), The Boxtrolls managed a weekend take of $17.3 million, meaning that it became the small animation studio's best opener so far (Coraline earned $16.8 million when it opened in February of 2009). Coraline finished with an opening to total multiplier of 4.5, earning a domestic total of $75.3 million. The Boxtrolls is going to need a similar multiplier, as the reported cost to make this one was $60 million.

The Boxtrolls is currently 71% fresh, down somewhat from Coraline's 90% fresh rating and ParaNorman's 87%, but critics were still enamored with this Laika outing. Eighty-nine critics found something to like, but there were 36 dissenters at the time of this writing, higher than usual for this kind of film. The Cinemascore came in at B+, a good sign for the animated feature, as ParaNorman earned the same score, and managed a 4.0 multiplier. Overseas numbers should be decent. Coraline earned $49.3 million in international venues, while ParaNorman took in $51.1 million. I would expect similar with The Boxtrolls – it has already earned $18 million overseas so far.

Fourth spot goes to This Is Where I Leave You, another of last weekend's new releases. After taking in $11.6 million over its opening frame, this star-studded dramedy held decently but didn't overwhelm. This Is Where I Leave You earned $7 million in its second frame, down an okay 39% compared to last weekend. The Warner Bros. flick cost just short of $20 million to make and has a current take of $22.6 million after 10 days of release.

Fifth is Dolphin Tale 2, which finally buoys up above No Good Deed and A Walk Among The Tombstones – but not by much. In its third weekend, this slight disappointment earned $4.8 million, off 45% compared to last weekend. The $36 million Warner Bros. sequel has now pulled in $33.7 million, and while it's going to match its production budget, it won't clear it by much domestically. The first Dolphin Tale earned $23 million outside of North America, and will need to do at least that for Warner Bros. to see a profit.

No Good Deed plunged (again) this weekend, because holdover thrillers were decimated with the arrival of The Equalizer. After a strong $24.3 million open, No Good Deed fell 60% last weekend, and it dropped another 53% this weekend, earning only $4.6 million. Still, this one cost only $13.2 million and has a gross so far of $46.6 million, so any worries about profit went away a long time ago.

Seventh goes to the Liam Neeson semi-miss A Walk Among the Tombstones. After a so-so debut of $12.8 million, the Universal release got hammered this weekend against a Denzel Washington film, earning only $4.2 million and falling a disastrous 67%. The good news is that this one cost only $28 million, a number it may reach domestically, with the studio then hoping for a strong international showing. On the domestic side, A Walk Among the Tombstones has earned $4.2 million.

Eighth goes to our old friend Guardians of the Galaxy, now in its ninth weekend of release. The Marvel flick earned $3.8 million and was off 28%, but these weekends are more now about where it finishes historically. With a domestic gross of $319.2 million, Guardians passes more iconic films, including Indiana Jones and the Kingdom of the Crystal Skull ($317.1 million), Harry Potter and the Sorcerer's Stone ($317.6 million), and Iron Man ($318.4 million). It's just two more weekends until Guardians opens in China, where it will add to its $325 million overseas take.

Ninth is Let's Be Cops, which will thankfully be gone after this weekend. This weekend, its seventh, Let's Be Cops earned another $1.5 million, and brings the total up to $79.6 million for this domestic hit. Tenth is Teenage Mutant Ninja Turtles, which earned $1.4 million and now has a cumulative total of $187.2 million.

Overall, the box office continued to stay at least close to last year's totals, thanks to Denzel's performance with The Equalizer. A year ago, Cloudy With a Chance of Meatballs 2 was on top with $34 million, leading the top 12 films to $95.7 million. This year, the top 12 was close, pulling in $99.5 million.

Next weekend, things could get really interesting. We will have the second weekend of both The Equalizer and The Boxtrolls, two films that could hold decently. Openers include Gone Girl, the much-marketed Ben Affleck thriller from uber-director David Fincher; Annabelle, the prequel to The Conjuring, which opened to $41.9 million in 2013; and the wild card may be Left Behind, the faith based blockbuster with Nic Cage, which could go down in flames, cross over, or be so bad that it's funny – either one works for me.