Weekend Wrap-Up
Maze Runs Box Office Up From Tombstones of Early September
By John Hamann
September 21, 2014
BoxOfficeProphets.com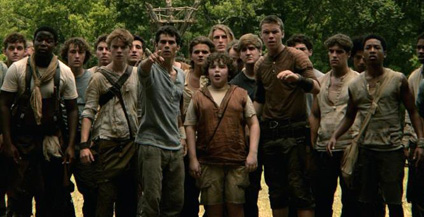 ---
Two weekends, six wide releases. Finally the stink has come off the box office and we are rolling again. If Seattle can beat Denver on Sunday, all will be right in my world.

Three new releases punctuate the top three this weekend, helping to push the old dusty summer leftovers toward the trash bin (The Giver didn't deserve to be in the top ten for five weekends, and I won't even bring up Let's Be Cops). New movies included The Maze Runner, a YA novel adaptation that actually looks interesting; A Walk Among the Tombstones, a Liam Neeson flick that looks darker than his usual action fare; and This Is Where I Leave You, an ensemble dramedy with a cast that makes it look more like Oscar-bait than a mid-September release. None of them are out and out dogs in the review world, but none saw stellar notices either, so things looked interesting box office-wise heading into the weekend.

The number one film this frame is The Maze Runner, another film pulled from a novel aimed at teenagers, but a little different this time, as this one is more targeted at boys. The Maze Runner got started on Thursday night, when it earned a solid-for-September preview amount of $1.1 million, signaling that it would be the leader throughout the weekend. The Friday number for The Maze Runner came in at about $10.2 million, but with the Thursday amount added, Friday was reported at $11.3 million. The ninth biggest opener in September, Eagle Eye, failed to earn $10 million on opening day, so we know The Maze Runner had a solid September opening just from that stat alone.

The Maze Runner managed an A- Cinemascore, which is solid but not exciting, in line with other YA flicks like If I Stay but better than The Giver, which earned a B+. Reviews were okay, but again not fantastic, and it was able to turn these notices into a weekend take of $32.5 million. This was slightly lower than what tracking was expecting, but a little bit more than what Fox was saying on Thursday, when they indicated they would be happy with anything that started with a "3." Depending on where the actual lands on Monday, The Maze Runner becomes a top six September release ever, ahead of the $30.3 million earned by Cloudy With A Chance of Meatballs in 2009, but less than the $33 million earned by Rush Hour way back in 1998.

In my opinion, The Maze Runner worked better than most because it had a premise that audiences could easily understand. This story is about a group of kids that wake up in a dystopian place with no memory and have to battle monsters in a maze. The Hunger Games worked because it was easy to explain – kids battle each other to the death in a dystopian society's game show. You can't explain The Giver or something like The Mortal Instruments in a similar way. The marketing for films like this really need to work just to explain the idea. The Maze Runner benefited from the interesting concept, and ends up having a very strong start against a budget of only $34 million, putting Fox in a very good position going forward. The Maze Runner also opened overseas in a few territories already, picking up $8.3 million before it was released stateside. A sequel is already planned, and with the upcoming schedule, The Maze Runner has a good chance at justifying that decision with solid legs.

Liam Neeson and A Walk Among the Tombstones slips into second this weekend, but not with the box office "pop" of a typical Liam Neeson release. I thought the marketing was really soft for this actioner, and the result is in the weekend box office as Universal dropped the ball with this release. After earning less than half a million from Thursday previews, Tombstones finished Friday with a gross of only $4.7 million, less than half of the first Friday of Neeson's last big action flick, Non-Stop ($10.1 million Friday, $28.9 million opening weekend). Given that Neeson is one of the bigger action stars on the planet right now, I'm not sure why Universal seemed to hold back on announcing this one to the masses.

With the soft Friday and the target demographic being older males, A Walk Among the Tombstones didn't come back much over the weekend proper, leaving Universal with a weak opening for a Liam Neeson film. Tombstones debuted at a muted 2,712 venues, and earned only $13.1 million, giving Neeson his second consecutive miss after appearing in after appearing in Seth MacFarlane's mistake, A Million Ways to Die in the West, which earned only $42.7 million domestically. It is also his lowest debut since 2010's The Next Three Days, in which he co-starred with Russell Crowe (and Crowe received top billing – Neeson was barely mentioned in the marketing material). That one debuted to only $6.5 million, and Neeson wasn't to blame.

Reviews for A Walk Among the Tombstones were the best of the openers, but weren't fantastic either. The Universal release earned a 66% fresh rating at Rotten Tomatoes, with "top critics" at only 56%, and the Cinemascore came in low as well. A Walk Among the Tombstones earned a B- Cinemascore, which is again very low for the lead actor, and will likely affect legs going forward. A Walk Amongst the Tombstones cost $28 million to make, so Universal and partners won't have to sweat this one too much. It should make a splash overseas after topping out domestically with about $35 million.

This Where I Leave You is third, and considering a cast that includes Tina Fey, Jason Bateman, Jane Fonda and Adam Driver and the fact that it was directed by Night at the Museum's Shawn Levy, one might have thought this should have done better and been a better film. This Where I Leave You earned $11.9 million from 2,868 venues for Warner Bros., a figure I see as low due to the cast and director, but one that will look good on paper considering the $20 million budget. This Is Where I Leave You had the lowest reviews of the weekend, with critics coming in at only 54% fresh, and "top critics" again lower at 44%. It did earn a B+ Cinemascore, which will be good news for the partners behind this one.

With three new releases, the fourth and fifth spots go to last weekend's number one and number two films. No Good Deed falls to fourth this weekend, and after blazing forward last weekend with $24.3 million, its fortunes plummet hard in its second frame as it can only pick up $10.2 million. That equals a big drop of 58%, but don't forget, this is from Screen Gems, so it didn't cost much to make. Its budget was $13 million, and the film has a gross so far of $40.1 million. It's going to end up just fine.

Fifth, then, is Dolphin Tale 2, which is not seeing the same sort of success the original did. After opening to $15.9 million last weekend, the sequel needed a second weekend above $10 million, but failed to achieve that mark, instead earning $9 million. That's a drop of 43% for the Warner Bros. release, which carries a price tag of $36 million. It will make that much stateside, but I doubt that overseas grosses are going to turn this one around, as the original earned only $23 million overseas, compared with a $72 million domestic gross. So far, the sequel has earned $27.1 million.

Guardians of the Galaxy dips to sixth, now in its eighth weekend of release. The Marvel breakout earned another $5.2 million and fell 36%. Guardians has brought its domestic total up to $313.7 million, moving it into the top 40 domestic earners of all time. This weekend, it passed iconic films like Return of the Jedi ($309.3 million – all editions), Attack of the Clones ($310.7 million) and Iron Man 2 ($312.4 million). Next weekend it will to work over the one that started it all, Iron Man, which earned $318.4 million.

Seventh is Let's Be Cops, the Fox comedy that won't go away. Cops earned another $2.7 million this weekend and declined 39% from the previous frame. This one cost $17 million and won Fox the lottery, as it has earned $77.2 million at the domestic box office alone.

Teenage Mutant Ninja Turtles hangs on to a spot for another weekend, but the film seems to be fading. This weekend, the Paramount/Nickelodeon co-pro earned another $2.7 million and dropped 45% compared to the previous frame. The $125 million film has now pulled in $185 million stateside, and over $140 million overseas.

The Drop does just that, as this small film wilts this weekend, despite adding a number of screens. The last film from James Gandolfini earned only $2 million this weekend, good for a drop of 50% despite Fox Searchlight adding 383 venues. Made for less than $13 million, The Drop now has a domestic total of $7.7 million.

Finally in tenth is If I Stay, the Chloe Moretz Kleenex puller. If I Stay earned another $1.8 million and fell 53%. The $11 million film has now earned an impressive $47.7 million stateside.

In other box office news, Kevin Smith's Tusk opened at 602 venues and earned $886,000. A film about a man turned into a walrus (Human Centipede anyone?), this one is likely too weird for general audiences to grab onto.

Overall, the box office is continuing to pull out of the depths of despair, and actually won a weekend versus last year. With The Maze Runner on top, the top 12 films garnered $93.3 million, ahead of the same weekend last year when the box office earned $73.1 million with Prisoners leading the way. Things get only more interesting next weekend, when Denzel debuts The Equalizer, and Laika brings us another creation like Coraline and ParaNorman with The Box Trolls.