Weekend Wrap-Up
Screen Gems' Deed Snaps Box Office Out of Doldrums
By John Hamann
September 14, 2014
BoxOfficeProphets.com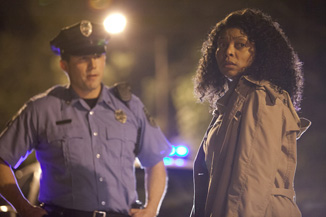 ---
Just as last weekend is the armpit of the box office year, this is the weekend where Sony's Screen Gems usually bails us out of the mess. This time around, the credit goes not to a Resident Evil movie but instead to a thriller called No Good Deed.

After one of the worst frames since 9/11, just about anything was going to pop at the box office this weekend. The aforementioned No Good Deed, a thriller starring Idris Elba and Taraji P. Henson, was the movie positioned to do so during this mid-September frame. No Good Deed was produced by recent hit-maker Will Packer (Think Like A Man and its sequel, Ride Along), the man who has produced 10 Screen Gems films, with all of them except one making big money for the studio.

Also opening this weekend is Dolphin Tale 2, which must be a relief for families, as finally there is something non-violent for the kids that is not Guardians of the Galaxy or Teenage Mutant Ninja Turtles. Dolphin Tale 2 sports a cast that includes Morgan Freeman, Ashley Judd and Harry Connick Jr., and is the sequel to the surprise September 2011 flick that earned almost $100 million worldwide against a $37 million budget. The final opener this weekend is The Drop, which is James Gandolfini's final film. It's also the best reviewed film we've seen since Guardians was released oh-so-long ago.

Number one this weekend is Screen Gems' No Good Deed, another film from this particular distributor that will see real dollars returned after about a week of release. Made for $13.2 million, No Good Deed opened on Friday (Thursday previews did not happen as the studio wanted to hide a "twist"), and earned a stunning $8.8 million from Friday alone. That Friday gross was more than any film in the top ten earned last weekend if you exclude Guardians of the Galaxy, which finished that frame with a total of $10.4 million. No Good Deed continued to thrive throughout the weekend, and managed a three-day take of $24.5 million or about $11 million more than its production budget. It's also about $5 million more than tracking was expecting. The weekend take puts it into the top 10 biggest September openers occurring in the first two weeks of September, with the big dog remaining Insidious Chapter 2, which opened to $40.3 million on during the weekend of September 13, 2013.

The thing that really throws me about No Good Deed and Screen Gems overall is that they can have these big hits without a saturation release. No Good Deed went out to only 2,175 venues this weekend, so it ends up with an absolutely stunning venue average of $11,264. Dolphin Tale, which didn't do badly this weekend, was out to 3,656 venues, and earned an average of only $4,527. This is fantastic news for exhibitors, as the last couple of weekends have been painful to say the least. Given the low venue count, No Good Deed likely had lower P&A costs, making this a huge financial win for the studio.

Screen Gems' biggest September opening came with The Exorcism of Emily Rose, the 2005 horror/thriller with Laura Linney and Tom Wilkinson. That one opened to $30 million and went on to earn almost $150 million worldwide, all against a budget of only $19 million. They have also released four Resident Evil movies in September, with the domestic grosses matching the production budgets ($200 million), but the foreign grosses have cleared $600 million. Then, they have smaller films released all year. For example, Easy A with Emma Stone earned $58.4 million domestically against a cost of $8 million. The Will Packer films for Screen Gems have earned about $475 million at the domestic box office alone against costs of $160 million. This is a studio that knows how to make money, and is doing so again with No Good Deed.

Finishing second this weekend is Dolphin Tale 2, the follow-up to the mildly successful 2011 release. As we've seen throughout the summer, an expected increase from the original's opening weekend to the sequel didn't happen for Dolphin Tale 2, as the sequel couldn't keep up to the original's $19.2 million debut. It got started on Friday with a softer-than-expected $4.3 million, but was able to use the family film bounce to get the weekend take up to $16.6 million. Still, it was off from the tracking expectations that had it opening to $20 million. The original Dolphin Tale was more about its legs than its opening, as it debuted in third behind The Lion King re-release and Moneyball before holding well in its second weekend, which catapulted it to number one. Over its first five weekends, Dolphin Tale never dropped more than 35%, which helped push it toward its $72.3 million finish.

Warner Bros. and Alcon Entertainment (The Blind Side) need the same lightning to strike this time around – and they have a shot at it. Reviews for the sequel were in the same ballpark as the original, with the sequel coming in at 73% fresh, compared to the original film's 82% fresh rating. The good news, though, is the Cinemascore, as Dolphin Tale 2 earned an A score. Again, it's not the same as the A+ the original earned, but still should be good enough for strong word-of-mouth from the core audience. This one cost $37 million to make, so it will need some decent holds should the studio and partners hope to see a profit.

That puts Guardians of the Galaxy in a position it has never seen before – a third place finish. Having been number one for four weekends and number two for two, it was time for Guardians to be replaced with new blood. Despite the new entries – including a kid-friendly one – Guardians still held remarkably well this weekend, earning $8 million and dropping 22%. It crossed the $300 million on Saturday morning, its 44th day of release, the same amount of time it took Pirates of the Caribbean: At World's End and Titanic. It took the original Iron Man 48 days to accomplish the same feat. With $300 million now out of the way, the question turns to where its final rank will be amongst Marvel films. It can still catch Iron Man ($318.4 million) and Iron Man 2 ($312.4 million), which will make it the third biggest ever, behind only The Avengers ($623.4 million) and Iron Man 3 ($409 million). The current total for Guardians has reached $305.9 million and the overseas total has surpassed $600 million, making this a ridiculously big first film in a franchise.

Fourth spot goes to Teenage Mutant Ninja Turtles, which will seemingly never go away. TMNT earned another $4.8 million this weekend, giving the Paramount reboot a drop compared to last weekend of 26%. Made for $125 million, the successful retooling of the franchise has now crossed the $300 million mark worldwide, with $181 million of that coming from the domestic side.

Fifth is Let's Be Cops, another film propelled upward because there is simply nothing else out there to take its spot. Let's Be Cops earned another $4.3 million this weekend, down a tidy 23% compared to last weekend. Made by Fox for only $17 million, this has been a top five film for five weekends, and now has a (ridiculous) running total of $73 million.

In sixth is The Drop, the Tom Hardy/Noomi Rapace/James Gandolfini drama that debuted this weekend at only 803 venues. The Drop managed $4.2 million from those theaters this weekend, a not-bad debut from what is essentially an art house release. Distributed by Fox Searchlight, The Drop was made for $12 million and is written by Dennis Lehane (Mystic River, Gone Baby Gone). It received extremely strong reviews, earning an 88% fresh rating at RottenTomatoes. If there is a film to recommend out there this weekend, it is likely this one, as this is a good, gritty film with a strong final performance from Gandolfini.

If I Stay tumbles from fourth last weekend to seventh this weekend. The Chloe Moretz starrer earned $4.1 million this weekend, giving the Kleenex-puller a drop of 27%. Still, the $11 million weeper is a strong earner for Warner Bros., as it has a domestic gross so far of $44.9 million.

The rest of the top ten are the leftovers from a sad late August/early September that we would all like to forget. Eighth is The November Man with Pierce Brosnan. It earned $2.7 million, fell 36%, and has a total now of $22.5 million against a $15 million budget. Ninth is The Giver, the movie based on the YA novel. The Weinstein Co. release earned another $2.6 million, declined 23%, and now has a total of $41.3 million.

Tenth this weekend goes to The Hundred-Foot Journey, Helen Mirren's leggy entry into the late summer box office. The Disney distributed film earned $2.5 million in its sixth weekend of release, and has now pulled in $49.4 million against a $22 million budget.

In other box office news this weekend, The Weinstein Company debuted The Disappearance of Eleanor Rigby on four screens, with the Jessica Chastain/James McAvoy flick earning $77,200, or $19,300 per screen. Finally, the Kristen Wiig starrer The Skeleton Twins debuted at 15 theatres, and pulled in $411,000j.

Overall this weekend, we have shaken off last weekend, but the box office is still struggling to match what happened last year. The top 12 films this weekend pulled in $78.8 million, 12% behind the $89.5 million earned last year when Insidious Chapter 2 opened to $40.3 million. Next weekend should bring some strength, as The Maze Runner opens, along with Kevin Smith's Tusk, Liam Neeson's A Walk Amongst The Tombstones, and This Is Where I Leave You, the comedy with Jason Bateman, Tina Fey and Jane Fonda.