Friday Box Office Analysis
By Kim Hollis
September 13, 2014
BoxOfficeProphets.com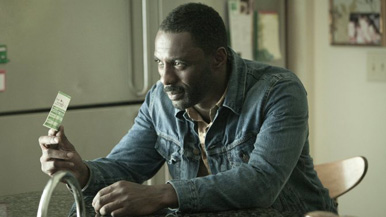 ---
Tumbleweeds are no longer rolling down the aisles of movie theaters. After a dreadful frame last weekend, the box office rebounds with a thriller that is performing above expectations and a sequel that will at least not be an embarrassment.

Guardians of the Galaxy will indeed fall from the top spot this weekend, but it will have its consolation by crossing the $300 mark today. Our new box office champion will be the Idris Elba / Taraji P. Henson thriller No Good Deed. Despite the slightly uncomfortable subject matter, which features Elba terrorizing Henson and her children, the film managed to earn a strong total of $8.8 million on Friday. We've seen several times this year that the underserved African-American demographic fairly consistently supports new product, and No Good Deed is another example of this type of success. Look for No Good Deed to come in with about $23 million for the weekend, which should make Screen Gems very happy considering that the film had only a $13 million budget.

Second place will go to Dolphin Tale 2, which won't quite match the opening weekend of the first film, but won't be hugely disappointing, either. The family-targeted movie, which saw all of the primary cast members return from the original, earned $4.3 million on Friday. The first Dolphin Tale had an opening weekend of $19.2 million on its way to a $72.3 million domestic total. Dolphin Tale 2 should earn right around $15 million this weekend, and thanks to positive reviews (73% fresh at Rotten Tomatoes) and good word-of-mouth (A Cinemascore), it should be able to chug along to a nice, tidy little domestic sum. Its budget was fairly conservative at $36 million, so Warner Bros. should have a winner here.

Our final new release this weekend was the James Gandolfini crime drama The Drop. Debuting in only 809 venues, the film earned $1.5 million on Friday. The film has been praised across the board, and provides audiences a final chance to see Gandolfini shine. Its weekend total should be close to $4.5 million, and may be another one of those small-scale releases that hangs around at the bottom of the top 10 with good audience retention for a few weeks.

There's more big news for Guardians of the Galaxy beyond the fact that it will pass the $300 million mark in North America today. It will also have a global milestone, as its worldwide take will pass $600 million sometime today as well. Although the Marvel film is winding down its run in the United States and Canada, it is just getting started in Japan and will open in China next month. There's still a lot of room to build on that worldwide total.