Weekend Wrap-Up
Box Office Labors Badly Toward Summer Finish
By John Hamann
August 31, 2014
BoxOfficeProphets.com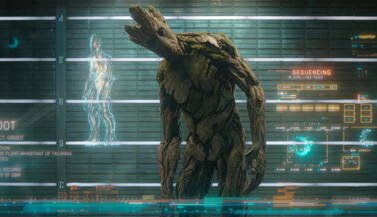 ---
Ugly does not begin to describe this Labor Day weekend at the box office.

As expected, the box office hit its lowest point since February over the Friday-to-Sunday portion of the Labor Day weekend, as both openers were soft, leaving it up to the Guardians-led holdovers to keep things from getting really ugly. The non-starter openers this weekend were As Above, So Below, the low-budget horror effort from Legendary and Universal, and The November Man, the Pierce Brosnan-led actioner that was a cheap pickup for Relativity Media. There wasn't a lot of risk for the newbies, which leaves us to celebrate – once again – the power of Marvel and Disney as Guardians of the Galaxy rules for the third time, in its fifth weekend.

Yes, our number one film for the second straight weekend is Guardians of the Galaxy, the Marvel release that has spent three of its five weekends in release at number one – and will likely have another next weekend. Guardians is one of the few good news stories in the top 10, as it earned another $16.3 million and dropped 5%. That hold is good considering this is weekend five, and also given the fact that the film has already earned more than $250 million coming in to the weekend.

The performance of Guardians of the Galaxy over the last two weekends (and the next) further reinforces the smartness of the release strategy. Disney and Marvel released it during the first weekend in August (after pumping advertising all summer) and didn't have the blockbuster competition to face immediately after their opening weekends like X-Men: Days of Future Past or Godzilla (just to name a few). With the softer competition, Guardians, after opening to $94.3 million, has seen drops of 55%, 40%, 32% and now 5%. Godzilla, another $90 million plus opener, saw drops of 67%, 61%, 49% and 46%. This shows that while opening weekend is important, what happens afterward shouldn't be dismissed, as Godzilla topped out at $200 million, whereas Guardians of the Galaxy is going to approach $300 million.

Guardians of the Galaxy becomes the biggest domestic earner (so far) of 2014, as it leapfrogged another Marvel title, Captain America: The Winter Soldier this weekend. Captain America 2 earned $260 million at the domestic box office, a number Guardians usurped on Friday night when it earned $3.8 million to bring its total to $262.1 million. Guardians has a long way to go still to win the worldwide battle, as Captain America 2 pulled in $454 million overseas for a global total of $714 million. So far, Guardians has earned $245 million for a global total of $547.7 million. Groot and friends still have yet to appear in some key markets like China and Japan, and the film debuts in Germany this weekend. Those three markets alone were worth $135 million to the Winter Soldier, and if Guardians does similar business, it would put it in the ballpark of the previous Marvel release for a worldwide total. So far, Guardians of the Galaxy has earned $274.6 million domestic, and unless something strange happens, it will be number one again next weekend.

That puts Teenage Mutant Ninja Turtles in second place, so after two weekends at number one, it spends two weekends at number two and will likely add a third weekend in the runner up spot next weekend. This weekend, Teenage Mutant Ninja Turtles earned another $11.8 million, declining a not bad 30% in its fourth weekend. The $125 million Paramount/Nickelodeon combo has now earned $162.4 million stateside and is approaching $100 million overseas, which unfortunately means we will be navigating around TMNT sequels for years to come.

Third place goes to If I Stay, last weekend's young adult weeper, with Chloe Grace Moretz having an out of body experience. After finishing a close third last weekend with $15.7 million and an A- Cinemascore, If I Stay has done better than some other YA novel adaptions, earning $9.3 million in its second frame. That gives the Warner Bros. Kleenex-puller a drop of 41%, and will push the $11 million picture toward profitability, with a gross so far of $29.8 million. No one will get hurt with this one, and If I Stay proves to be another decent choice for Moretz, who appears next in Denzel's version of The Equalizer, which opens in late September.

Fourth spot, if estimates hold, is the horror title As Above, So Below, the low budget release from Universal and Legendary Pictures. With only a $5 million budget, As Above, So Below didn't have to do much this weekend to be a winner. It's a good thing it didn't need a big weekend, because it grossed only $8.3 million from 2,640 venues. If it earns $25 million stateside and another $20 million overseas, it would be a strong entry for both Universal and Legendary. The problem, though, is that this one earned a C- Cinemascore, one of the lowest scores we have seen in a very long time. That score will likely push the domestic take down to $20 million tops stateside, and will bring into question how much was spent on marketing costs. In the end, money will flow from As Above, So Below, but maybe not to the degree these two companies were hoping for.

Fifth goes to Let's Be Cops, which is truly an "only in late August/early September" story. Let's Be Cops spends another weekend in the top five – its third. In any other month, this probably would have hit the curb a few weeks ago. Instead, Let's Be Cops earned another $8.2 million and managed to fall only 24% compared to last weekend, when it earned $10.8 million. Made for $17 million, the comedy has now earned a remarkable $57.3 million, which is likely $25 million more than it had any right to. Because of the release strategy, I would be very surprised if there wasn't a Let's Be Cops Again.

Sixth is The November Man, Pierce Brosnan's latest attempt at relevance. Both of our openers carry little risk this weekend, with The November Man being a $3 million pick up for Relativity, which purchased the US rights for this $30 million production. Good thing they didn't pay much more than that, as The November Man earned only $7.7 million this weekend from 2,776 venues. Reviews weren't great (36% fresh at RottenTomatoes), but it did have a decent Cinemascore (B+). Relativity will be hoping for an okay hold next weekend, where virtually nothing happens in the world of movies (if you thought this weekend was bad…). The November Man (and As Above, So Below) are the absolute definition of a good late August/early September release, as they carry such little risk that two weekends of playability should make the investment behind them look pretty good.

Seventh goes to When the Game Stands Tall, the faith-based football movie that opened last weekend. The small drama earned another $x.xx million, dropping 33% compared to its debut. Made for $15 million, the film still has some work to do if Sony's faith-based arm, Affirm, hopes to see a profit. So far, the Jim Caviezel starrer has earned only $16.3 million.

Eighth is The Giver, another YA adaption that thankfully for The Weinstein Company cost only $25 million to bring to the screen. In its third weekend, The Giver earned only $5.25 million, and fell 18%. It has now earned $31.53 million domestically, and will likely finish with about $35 million domestically.

Ninth is The Hundred-Foot Journey, the small film with Helen Mirren that is hanging on and finding success domestically. In its fourth weekend, The Hundred Foot Journey earned another $2.4 million, dropping a small 14%. Made for only $22 million, this small film has quietly earned $39.4 million, which will push it toward profitability. It should also do decent business overseas, likely outgrossing the domestic total.

Tenth is The Expendables 3, Lionsgate's franchise killer. After failing to open and then dropping 60% from that failure in weekend two, Expendables 3 falls off the cliff this weekend, earning only $3.5 million, and dropping 46%. Likely made for $90 million, this one now has a domestic total of only $33.13 million. If there is a good news, it's the fact that the overseas take has surpassed $50 million, and as expected, will remove the stink from the domestic failure (but profit is still a long way off).

In other box office news, the Mexican release, Cantinflas, did remarkably well this weekend, earning $2.63 million from only 382 venues. That gives the Lionsgate/Pantelion release a venue average of $6,872 and a strong start. This is the same weekend and strategy Lionsgate used last year with Instructions Not Included, the Mexican film that earned $45 million stateside, and almost $100 million worldwide.

Also in theaters, Sony released the 30th Anniversary of Ghostbusters and earned $1.65 million from 784 screens – not bad for a 30 year old film. It's only out for a week – so get out and see it on the big screen before it's gone. Lastly, Frank Miller's Sin City: A Dame to Kill For completed its implosion this weekend, earning only $2.17 million and dropping 66%.

Overall, the box office was lower than expected for the Labor Day weekend. The top 12 films this weekend earned only $xx.xx million, which marks the first time the top 12 has come in below the $100 million mark since February 21, when the top 12 took in $98 million. Last year, with One Direction: This is Us on top, the top 12 took in $93 million. Next weekend, there is only one new wide release, The Identical. It debuts on less than 1,500 screens, so it should be Guardians of the Galaxy on top once again.