Weekend Wrap-Up
Guardians Crowned Kings of Summer Box Office
By John Hamann
August 24, 2014
BoxOfficeProphets.com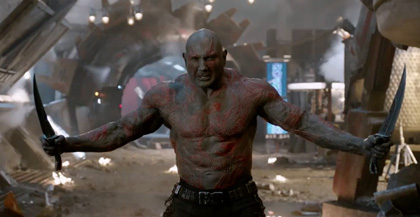 ---
Bow to the box office power of Marvel and the Guardians!

After winning the top spot at box office during the weekend of August 1st, Marvel's Guardians of the Galaxy are back on top and taking the summer box office crown at the same time. While it may seem like it was all planned, the box office heading into the weekend looked much different than it does this morning. The Warner Bros. film If I Stay had a decent Thursday preview run, and it looked like the YA adaption was heading toward a $20 million weekend. Considering Sin City 2's big cast and awesome visuals, it should have been in play as well. When The Game Stands Tall, a faith-based football movie based on a true story, was expected to have a quieter debut. Fortunately for Guardians, all the openers save one imploded somewhat this weekend, leaving the top spot open for either Guardians of the Galaxy or those pesky Teenage Mutant Ninja Turtles.

Our number one film of the weekend is Guardians of the Galaxy, Marvel and Disney's now 4-weekend-old space hero extravaganza. After a Monday-to-Thursday where it returned to number one (it fell to #2 on Tuesday, falling behind TMNT by about $2,000), it got dumped to second again on Friday, as it earned $4.8 million versus If I Stay's $6.8 million (If Stay's total included $1.1 million from Thursday previews). Still, teen boys are still heading to theaters to see Guardians, which gave it a boost on Saturday and Sunday. Meanwhile, If I Stay looked a lot like The Fault in Our Stars, with a strong Friday followed by a tail-off over the rest of the weekend. Guardians was ripe for a comeback. On Saturday, Guardians rose back into the number one spot, earning $7.5 million. Over the weekend proper, Guardians of the Galaxy earned $17.6 million, off an excellent 30% from the previous frame.

It is extremely rare for a film to debut at #1, then fall from the top spot on subsequent weekends before claiming the top spot again. The last time was with Disney's Frozen, which was #1 on December 6, 2013 then again a month later, on January 3, 2014. Skyfall followed a pattern more akin to Guardians. It opened on in first place on November 9, 2012 to $88.3 million, spent three weekends at #2, and rose back to #1 on December 7th with $10.8 million. Another is Chronicles of Narnia, which followed the same pattern as Frozen. It opened at #1 on December 9, 2005, was #2 for two weekends, and then rose to the top spot again again on December 30th. The last example I'll offer is the last time this happened in August, when Signs followed the Guardians pattern. It debuted at #1 on August 2, 2002, spent two weekends in second, and then had repeat weekends at #1 on August 23rd and Labor Day weekend.

With a blistering take of $251.9 million at the domestic box office, Guardians of the Galaxy has also won the summer box office crown. Transformers: Age of Extinction had been #1, finishing last weekend in 29th spot after eight weekends with $243.3 million. Transformers won't grow much more than that domestically, so on Saturday, Guardians became the king of summer 2014. It is also destined to become the biggest film of the year soon, as it prepares to take down Captain America: The Winter Soldier, which finished with $259.7 million, and The LEGO Movie, which earned $257.7 million. Overseas, Guardians has earned $237 million, but still has China and Japan to come.

Although estimates may change when the actual numbers are released on Monday, Teenage Mutant Ninja Turtles is currently listed in second place. TMNT earned another $16.8 million, off 41% compared to last weekend. Paramount's newest franchise has held up better than I expected since opening, considering it had to play side by side with Guardians, a film that is competing for a similar demographic. The Turtles movie cost $125 million to make, and with a domestic gross so far of $145.6 million, it definitely is on track to being a moneymaker for the studio. The film is also doing well overseas with a total so far of $93 million, and some significant expansion still to come.

Third is If I Stay, the film most analysts thought would be #1 this weekend. After a Thursday where it earned a rocking $1.1 million, it couldn't turn that volume into a big weekend success. Without the Thursday number included, the Friday for If I Stay came in at $5.7 million. Given the trend from Thursday to Friday, it only made sense that it would follow a similar pattern to The Fault In Our Stars, which earned more than half of its weekend gross ($48 million) from Thursday previews and Friday gross ($26 million). In the end, If I Stay earned $16.3 million from the weekend box office, a great result considering the tearjerker cost only $11 million to make.

If I Stay will wind up in the second tier of the YA novel adaptations, away from films like Divergent or The Fault in Our Stars, and more toward the The Host and The Mortal Instruments. Critics were mixed (42% fresh at RottenTomatoes), with some giving a thumbs up based on the performance by Chloë Grace Moretz, while the rest gave it a thumbs down due to the manipulative story. Audiences didn't mind the manipulation, awarding the film an A- Cinemascore. The Fault in Our Stars earned an A, but still collapsed after opening.

Fourth goes to the Fox comedy Let's Be Cops, which surprisingly drops only one spot at the box office this weekend. After debuting last weekend to $17.8 million over three days last weekend and $26.2 million over five, Let's Be Cops held quite well considering, earning $11 million and dropping 38%. All of a sudden, this small, $17 million comedy has pulled in an excellent $45.2 million after only 12 days of release. While it's not going to make anyone rich, Let's Be Cops could be the start of a small franchise.

Fifth goes to When The Game Stands Tall, the latest in a litany of faith-based movies, this one involving football. When The Game Stands Tall earned $9 million for Sony, not bad considering it was released to only 2,673 venues. The Game cost Sony $15 million to make, and with an A- Cinemascore, it could be picked up and carried down the field by grass roots word-of-mouth from its target demographic.

Finishing in sixth place is The Giver, last weekend's YA novel adaptation. After opening to $12.3 million, The Giver gave back 45% this weekend, earning a small $6.7 million. Made for $25 million, this Weinstein release will at least earn its budget back stateside, as The Giver has pulled in $24.1 million so far.

Seventh is The Expendables 3, which continues its crash and burn this weekend. Over its debut weekend, the Stallone sequel flopped with a $15.9 million debut. It continues its free fall this weekend with a 58% drop and take of only $6.6 million. Its foreign take is not even likely to save it now, as it debuted overseas to about $20 million last weekend. The domestic tally has now reached $27.5 million, all against a production cost of about $90 million.

That means that way down in eighth is Frank Miller's Sin City: A Dame to Kill For, as we have our second consecutive weekend with an out-and-out flop. Yes, after Expendables 3 quickly folded last weekend, it's time for another sequel to implode. I knew something was up when Thursday numbers weren't reported until well after If I Stay's came out. They were awful, with the film earning less than half a million from previews. Friday wasn't much better, as A Dame to Kill For earned only $2.6 million – but more like $2.2 million with the Thursday box office removed. Over the weekend, Sin City 2 didn't come back, earning a terrible $6.5 million from 2,894 venues. Considering the original opened to $29 million in 2005, the Weinsteins have to be scratching their heads this morning.

Why didn't it work? The most common reason I hear is that Robert Rodriguez waited too long to bring the sequel to the screen. Right after the original was released, we were told another was coming, and coming, and coming – then almost a decade passed. I also thought the marketing was soft, and there was no reminder of what a great film the original was. The film's quality was also a contributing factor, as reviews came in at only 43% fresh compared to the original's 78%, while the B- Cinemascore might as well be an F. The budget for the film is estimated at $60-$70 million, so unless something weird happens, this one is going to take a huge loss.

Ninth is The Hundred Foot Journey, as the Helen Mirren drama is one of the few bright spots in the top ten this weekend. The film from Steven Spielberg and Oprah Winfrey earned another $5.6 million this weekend, off 22% from the previous frame. While it's not going to blow the roof off anything, the small film with a budget of $22 million has now earned $32.8 million stateside, and is just starting to warm up overseas.

Into the Storm rounds out the top 10, as it earns $3.8 million, down 52% from last weekend. The Twister wannabe has earned just $38.3 million domestically, and its international tally is a slight $18 million so far. Since the budget was a relatively small $50 million, Warner Bros. isn't going to take much of a hit, but it's still not ever going to be considered a wild success.

The box office has taken a licking over the last two weekends, but it is still managing to tick ahead of last year. The top 12 films this weekend pulled in $105.4 million, which is still a little bit ahead of last year, when The Butler enjoyed its second weekend on top and Mortal Instruments flopped, leaving the top 12 with $90.1 million. Next weekend brings November Man with Pierce Brosnan and horror flick As Above, So Below, which means Guardians may have another shot at #1 next weekend.