Friday Box Office Analysis
By David Mumpower
August 16, 2014
BoxOfficeProphets.com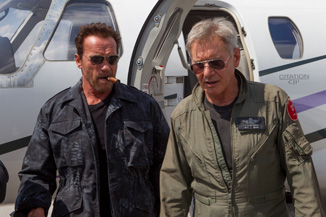 ---
Three new movies debuted this week, but audiences returned to the familiar yesterday. As a result, action stars from the '80s and '90s were soundly rejected while comedic actors from a Fox sitcom effectively matched them. This perplexing summer box office campaign is destined to surprise until the very end.

The number one film in North America yesterday was once again Teenage Mutant Ninja Turtles. The Michael Bay reboot is only $100,000 from being an eight-day box office champion. On Friday, the action flick earned $7.9 million, bringing its domestic total to $97.2 million. It will pass the $100 million mark by the time you read this today. The actual Friday-to-Friday drop is 62% from last week's $21 million (once $4.6 million in Thursday sneaks is removed from the calculation). That is a better hold than most analysts were expecting.

TMNT is projected to earn $23.8 million this weekend, which should bring its running total to $113 million. For a seemingly doomed $125 million production, this result is equal parts stunning and impressive. Everyone involved with the marketing for TMNT deserves a raise. And as much as his haters may resent the statement, the name Michael Bay in the credits undeniably inflates the bottom line of his projects.

Second place goes to the impending number one domestic movie of the year, Guardians of the Galaxy. The Marvel title dropped only 44% from last Friday, earning a shade under $7 million yesterday. The race between first and second is going to be incredibly close, as Guardians is looking at a weekend total close to $23 million. It has now grossed an almost incomprehensible $204.5 million after fifteen days of release. As a reminder, this is ostensibly a new movie property. New movie properties do not cross the $200 million mark in 15 days as a rule. Marvel deserves all the credit in the world for calling their shot about Guardians of the Galaxy and then making it a blockbuster.

The Expendables 3 is the best performer among the new films released this week. The third property from all the action stars you knew and loved in the 1980s - or at least heard about from your parents - is a bust, at least domestically. It earned $5.9 million yesterday, which puts it on track for a $16 million opening weekend.

For comparison, consider that The Expendables earned $13.3 million on its first day while The Expendables 2 grossed $10.5 million. What you are seeing is a blueprint example of a downward trend. The Expendables brand has already lost over half of its audience in just two films.

What is the problem here? Some will argue that a leaked screener has allowed movie pirates to watch the movie already. The Wall Street Journal reported that 2.2 million people downloaded the movie prior to its release. That is a significant number, but it is impossible to quantify how many of those people would have paid for an actual ticket to the film.

I view the piracy discussion as superfluous to the core issue. In reality, there have been three Expendables movies made thus far. The average Rotten Tomatoes score for the three films is 47%. Consumers have tried to like new movies combining all of the action heroes of their youth. These flicks simply have not been good enough for them to do so.

Last year, we chronicled several attempts by Sylvester Stallone, Bruce Willis and Arnold Schwarzenegger to re-assert themselves as movie stars. All of those films failed. People have realized that they got tired of these actors for a reason. The lackluster quality of The Expendables franchise simply reinforces the correctness of the decision.

Is the news all bad for The Expendables franchise? Absolutely not. The first two films averaged $200 million in overseas revenue. It is the foreign marketplace that is driving the release of further Expendables films. In this regard, the domestic failure of The Expendables 3 was predictable and even expected. The movie still stands a strong chance of being profitable, though.

The better new release this week, at least in terms of profitability, is Let's Be Cops. Perhaps ill-timed due to real life news events in Ferguson, Missouri, Let's Be Cops has survived and even thrived. This $17 million high concept comedy is critically reviled (11% fresh at Rotten Tomatoes) and not that well received by early adopters (B Cinemascore). Somehow, it is still doing well as a modern spin on Super Troopers.

Yesterday, Let's Be Cops grossed $5.6 million and has already garnered $14 million after three days. A weekend total of $16.8 million will allow it to surpass its production budget after five days in release. At this point, concept is king in the realm of comedy.

Believe it or not, there was one other new opener this weekend. The Weinstein Company released an adaptation of The Giver, based on the Lois Lowry novel that won a Newbery Medal. The utopian (or is it dystopian?) tale was directed by Phillip Noyce, whose resume includes a pair of masterpieces in Rabbit-Proof Fence and The Quiet American. Alas, his vaunted talents did not carry the project to glory.

Yet another poorly reviewed summer release, The Giver managed $4.7 million on Friday. Given that it targets a teen demographic as much as anything else, this title should be a bit front-loaded this weekend. I expect a $12 million weekend, which sounds terrible until we consider that its budget is in the $25 million range. The Giver is yet another summer 2014 release that will not lose any money, but will not earn as much as it should if it were good. "Make better movies" is the unofficial slogan of the summer.