Weekend Wrap-Up
Lucy Spanks Hercules
By John Hamann
July 27, 2014
BoxOfficeProphets.com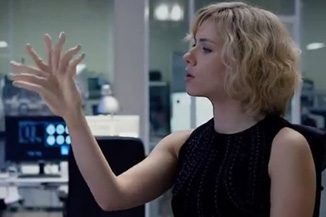 ---
Who wins a scrap between a Herculean demigod and the Black Widow? (Hint: Always bet on Marvel).

Admit it. If you've seen the early, absolutely glowing reviews for Marvel's Guardians of the Galaxy, the showdown between Dwayne "The Rock" Johnson in Hercules and Scarlett "ScarJo" Johansson might not be holding your attention. However, with a combined $73 million for our two big openers, the box is showing at least a little life this weekend in the lead up to another Marvel monstrosity.

Yes, it was Hercules versus a drugged up Lucy this weekend, as a battle of the middle-tier blockbusters took place this weekend. These are original, non-sequel movies with big stars, and two studios likely hoping to create franchises. A few years ago, my money would have been on The Rock to win this weekend's battle, but ever since Johansson showed up in 2010's Iron Man 2, her career has simply sizzled going forward, and not just as Black Widow. Her performances in Woody Allen's Vicky Cristina Barcelona and the Spike Jonze head-scratcher Her have further exposed her to new audiences. Dwayne Johnson made a shrewd move pushing himself into The Fast and Furious movies, appearing in Fast Five in 2011 and Fast & Furious 6 in 2013 (no comment on G.I. Joe: Retaliation). Outside of their franchise blockbusters, The Rock is more known for bringing the bigger openings, but today ScarJo stands tall, as she takes more of an action sci-fi ride with Luc Besson, the king of "the interesting female action type."

Our number one film of the weekend is Lucy, Luc Besson's sci-fi action flick about a drug mule who becomes one with the stash, and the consequences when those drugs provide her with mega brain power. Marketing was everywhere coming into the weekend, and audiences pounced. Lucy picked up $2.7 million in Thursday previews, beating Hercules' Thursday, and setting up what I thought would be a close race throughout the weekend. With the Thursday preview amount included, Lucy dominated Friday, sending Hercules to the side with a $17.1 million Friday gross. Outside of Marvel behemoths, large, not very good ensemble pieces (He's Just Not That Into You) and SpongeBob SquarePants, that Friday gross beat Scarlett Johansson's biggest weekend gross after only one day in release. For Universal, it was a reason to celebrate, as Lucy cost only $40 million to make, and that opening day is going to turn this one into a global smash.

Lucy was able to turn that $17.1 million into a huge weekend take of $44 million, easily taking down Hercules and all other comers this weekend. Released to 3,173 venues, Lucy had a hot venue average of $13,875, and gives us the biggest non-sequel summer opening since The Fault in our Stars earned $48 million in early June. It is becoming a big summer for female-centric films, as Lucy joins Fault in Our Stars, Maleficent, Tammy, Think Like a Man Too and The Other Woman (which opened April 25th) as decent earners at the summer box office. For Besson, this is by his far biggest North American debut as a director, as it more than doubles the first weekend of The Fifth Element, which debuted to $17 million way back in 1997. Besson has had many more releases as a producer, and even on that list, Lucy would rank between Taken and Taken 2, which opened to $24.7 and $49.5 million respectively.

While Lucy got off to a great start, it will be interesting to see where it ends up. Lucy received an unexpectedly low Cinemascore of only C+. Reviews were also mixed, but they definitely weren't awful. Of the 114 reviews counted, 67 were positive and 47 negative, good for a just-rotten score of 59%. That Cinemascore has to be much more concerning for the studio, as it could affect word-of-mouth over its run. Lucy has been called daffy and idiotic, so maybe audiences are having a tougher time buying into the concept than critics.

The real winner here is Universal, a studio that stays completely hot, as they have been all year. Lone Survivor, Ride Along, Non-Stop, Neighbors and now Lucy have all opened at #1, and The Purge: Anarchy did quite well last weekend in second with $29.8 million. Universal's low points have come with A Million Ways to Die in the West and Endless Love, but A Million Ways earned $80 million worldwide against a $40 million budget, and Endless Love earned $35 million worldwide against a $20 million budget. The successes have not been big $100 million gambles; they have all cost $50 million or less. The studio's current best, Neighbors, cost only $18 million to make and has a worldwide gross of $255 million. Lucy will continue that streak, as Johansson and Besson are both big hitters overseas, and Lucy should double its expected $125 million domestic gross overseas.

Finishing second is Brett Ratner and The Rock's version of Hercules, following the Legend of Hercules flop served up by Renny Harlin and Kellan Lutz earlier this year. I would usually expect a Dwayne Johnson vehicle like this to break out, but audiences may be tiring of this kind of sword and sandals silliness. Following a Thursday preview that netted $2.1 million, Hercules fell well back of Lucy on Friday, pulling in $11.1 million, leaving it a surprising $6 million behind. Over entire three-day weekend, Hercules earned $29 million, still more than three times as much as the Renny Harlin version did when it opened to $8.9 million back in January.

Hercules received better reviews (64% fresh) and had a better Cinemascore (B+) than Lucy, but with the baggage from the previous release and a marketing campaign that failed to provide a money shot, even Hercules couldn't overcome these drawbacks. Hercules cost Paramount $100 million to bring to the screen, but like Lucy, may have a better time of it overseas than it does stateside. Johnson, like Johansson, is a big hitter in international venues. Legend of Hercules finished with $18.8 million on the domestic front, but managed another $42 million overseas, as the story of Hercules is universal. Should this Hercules earn $75 million stateside, it will need $200 million overseas if it hopes to see a profit. I think it can make it. Early overseas returns are showing good traction - so far, the film has earned $28.7 from international theaters.

Finishing third is Dawn of the Planet of the Apes, a very strong mid-season performer for 20th Century Fox. With the powerful action combo of Lucy and Hercules this weekend, Dawn got pushed to the side, taking in $16.4 million. That's off a hefty 55% from its $36.3 million performance last weekend. The good news is that Dawn of the Planet of the Apes has raised its domestic haul to $172.1 million, and had about $110 million in overseas sales prior to the start of the weekend. This one cost $170 million to bring to the screen, so it's going to need a half billion worldwide to break even.

Reeling this weekend is the batch of openers from last weekend, led by The Purge: Anarchy. At least this one, being a horror title, was expected to slide heavily this weekend, and oh my it did. After opening to $29.8 million last weekend, The Purge: Anarchy fell a massive 67% in its second frame, dropping down to $9.9 million. This result is much like the original, which opened to $34 million and dropped 76% in weekend two to $8.3 million. So, in the sequel's case, the debut is smaller and the second weekend is bigger, once again blowing former theories on what BOP calls "sequelitis" (normally sequels open bigger and drop harder than the original). Still, it's important to remember that this is a Universal release, so it has a small budget ($9 million) and will have a fantastic result in comparison. The Purge: Anarchy has now earned $51.3 million against that $9 million. The original earned $64.5 million stateside and another $25 million overseas against a $3 million budget.

Fifth is Planes: Fire and Rescue, another brand-damaging release from Disney. I love it when people catch on to stupid (especially kids), and they seem to be doing so with this franchise. Planes: Fire and Rescue earned only $9.3 million this weekend, which is a drop of 47% compared to its $17.5 million debut last weekend. The first Planes film opened to $22.2 million and fell 40% to $13.4 million in its second weekend. The total for the Disney toon has now reached $35.1 million against a $50 million budget, so it will certainly need some help overseas for the movie to find a profit, but the merchandise sales will likely bury anything the film makes. Don't believe me? Go to Walmart.

Sixth is Sex Tape, with a drop so bad you might think it was called The Purge: Sex Tape. Probably the surprise semi-flop of the summer, Sex Tape earned only $6 million this weekend, giving it a second weekend decline of 59%. This is a movie starring Cameron Diaz with Sex in the title and it is going to struggle to get to $35 million – go figure. This debacle cost Sony $40 million to make and it has a gross so far of only $26.9 million.

Seventh is Transformers: Age of Extinction, which can't leave the top ten fast enough. After picking up $9.8 million last weekend, the Michael Bay love letter to China earned $4.6 million this weekend, giving it a drop of 53%. The $210 million production has now earned $236.3 million stateside, and had $285.7 million from China alone prior to start of the weekend. Its worldwide total is now $966 million.

The new release with that "gotta run out and see it" title of And So It Goes (zzzzzzz) opens in eighth. The Michael Douglas/Diane Keaton comedy earned only $4.6 million this weekend from 1,762 venues. This one is from Clarius Entertainment, whose $70 million Legends of Oz earned less than $10 million earlier this summer.

Ninth is Tammy, Melissa McCarthy's first quasi-miss at the box office. Tammy earned $3.4 million and fell 54%. Still, with a $20 million budget and a gross so far of $78.1 million, this comedy is looking pretty darned good for Warner Bros.

Our 10th place film is A Most Wanted Man, one of Philip Seymour Hoffman's final performances. The spy movie, based on a novel by John le Carré, earned $2.7 million from just 371 venues. The per location average was $7,526. The film has stellar reviews at Rotten Tomatoes, with a current fresh percentage of 91%. Roadside Attractions will be very pleased with this result, and it should hold one well in the coming weeks.

Overall, the box office maintains its middling run, but doesn't get spanked as hard by last year as it has in recent weekends. The top 12 this weekend pulled in $143.2 million, whereas last year the top 12 pulled in $158 million, led by The Wolverine. Next weekend is all about the G; Get on Up, the biopic about James Brown opens, along with Guardians of the Galaxy, which is set for 3,800 venues. How big will it be? Check back next weekend to find out!