Friday Box Office Analysis
By David Mumpower
July 26, 2014
BoxOfficeProphets.com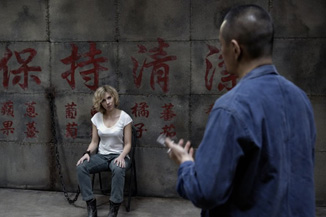 ---
A muscle bound mythological hero faced off against a science-fiction action queen yesterday. All apes were forgotten as the battle for first place became a match-up between a 6'5" man with 7% body fat and a 5'4" woman who weighs 150 pounds less. In the end, the lady who had unlocked the power of the man defeated the sword-wielding champion. And it wasn't even close.

North American audiences were introduced to Lucy yesterday, and they walked away impressed. $17.1 million worth of customers watched Scarlett Johansson level up her career once again. Johansson's first real attempt at becoming an action star occurred in The Island, the 2005 bomb from Michael Bay. Lucy has already earned more after one day than The Island managed during its entire opening weekend. In addition, Lucy will earn more in one weekend than the $35.8 million that The Island managed during its entire domestic run.

Of course, Johansson's career has evolved a great deal since then. The magic moment occurred when she was cast as Black Widow in Iron Man 2. The box office of The Avengers and Captain America: Winter Soldier combined with Iron Man 2 leads to some mind boggling totals. They have averaged an opening weekend of $143.5 million and a domestic tally of $398 million. Johansson receives very little of the credit for that, of course. Still, any actress with a major role in the number one movies of 2012 and 2014 plus the number three film of 2010 becomes much more famous by default. Johansson was already a superstar.

Lucy cleverly capitalizes on Johansson's ascent by placing her in the lead of a movie that takes the best elements of Limitless and The Matrix, and develops them into a unique action property. Lucy features spectacular special effects sequences while advertising a bit of mystery about how the title character becomes so powerful. In a summer campaign inundated by a ton of shameless sequels, Lucy represents the best original concept. Consumers took advantage of a refreshing opportunity to watch something new and different featuring one of the most recognizable actresses on the planet.

During such a down summer campaign, the success of Lucy has been a foregone conclusion for a while now. Even so, an estimated opening weekend of $46.2 million is better than even its most optimistic supporters had projected. It is a spectacular performance for a $40 million production.

This has been quite a week for Dwayne Johnson. The man the world knows as The Rock was hailed by Forbes as the second highest paid actor in the world in 2014. As the former wrestler decides how to spend his latest $52 million, his latest movie debuted in theaters yesterday. Somehow, he feels like a bigger star right now than he did when the Forbes list was published a few days ago.

Hercules featured some of the most laughable trailers since, well, The Legend of Hercules in January. What Lionsgate has learned from this turn of events is that Kellan Lutz is no The Rock. The January release earned less than $3.2 million on its first day in theaters before winding up with $8.9 million over opening weekend. Its final domestic take was $18.8 million.

These numbers are particularly relevant now, because the consensus is that Paramount's version of Hercules looks no better than the Lutz catastrophe that cost $70 million to produce. Johnson's version costs $100 million, so there is still some question about whether the studio will get what it has paid for. What can be stated unequivocally is that The Rock is worth every penny of his asking price. His name alone sold $11 million worth of consumers enough that they took a chance on the identical concept that they skipped six months ago. The latest version of Hercules is poised to earn roughly $28 million this weekend, almost $10 million more than the January version managed during its entire domestic run. No matter how bad a movie he stars in, people love The Rock. And they vote with their wallets.

You'd be forgiven if you didn't know that Michael Douglas and Diane Keaton are featured in a Rob Reiner comedy this weekend. Not many other people did, either. And So It Goes earned an unimpressive $1.4 million, which isn't too surprising since distributor Clarius Entertainment was only able to get 1,762 venues for exhibitions. I'd say that the film will be forgotten by next weekend, but it's not like many people were aware of its existence in the first place.

The news for last weekend's openers is about what one would expect. The best of them, The Purge: Anarchy fell a predictably disastrous 74%. Still, it earned $3.4 million, and that would be a solid first Friday number for a title with a $9 million budget. Given that the movie has already earned $44.8 million, it is a huge winner for all involved.

Planes: Fire and Rescue behaved like an unwelcome sequel rather than a family film yesterday. Yesterday's $2.8 million in box office represents a 57% decline from last Friday. With $28.6 million already in the bank, it is by no means a disappointment. Planes 2 is a Trojan horse release where any box office is gravy in comparison to toy sales.

Finally, Sex Tape is performing like a real life sex tape of Roseanne Barr and John Goodman. It grossed $1.9 million yesterday, which is actually LESS than it earned on Tuesday. That is a terrible harbinger for its potential legs. It is also a 65% drop from last Friday, an absolutely terrifying drop for an adult comedy. With only $22.8 million in the bank, Sex Tape has been soundly rejected by the entirety of North America.