Weekend Forecast for July 25-27, 2014
By Reagen Sulewski
July 25, 2014
BoxOfficeProphets.com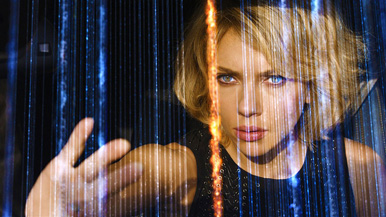 ---
The last weekend in July takes a particular bent towards action, with both a conventional and an unconventional lead headlining two very different movies in the genre. In some ways it's a bit of a referendum on action, as ailing as the genre has been this past decade.

It's the unconventional film that will likely triumph, based more on quality than anything. Lucy is the latest bonkers action film out of the Luc Besson film factory, starring Scarlett Johansson as a woman kidnapped into being a mule for a new synthetic drug. When the drug package bursts inside her, it starts to boost her brain power (relying on the stupid myth that people use only 10% of their brains), somehow leading her to develop superhuman powers, like learning Chinese in a day, reading electromagnetic waves out of the air, and telekinesis. I mean, okay, if you're going to go insane with your premise, might as well go all the way.

This being a Luc Besson movie, it somehow involves the newly hyper-powered Johansson battling Asian gangs of some sort, first with unnatural speed, then by simply swatting them like bugs, it would appear. Really, it feels like nothing so much as a hybrid of The Matrix and Limitless, another film about chemical brain enhancement. Morgan Freeman also appears to lend some credibility, as a neurological researcher who really ought to know better about the whole brain usage thing.

Lucy has caused a significant amount of buzz from the premiere of its trailer, thanks to its stylish effects and outlandish premise. Johansson doesn't have a ton of experience as an action lead, though she has built up some credibility in this department in the Marvel films as Black Widow. This is a slight departure from the heightened-reality spy that she plays there, but ultimately plays off the same image. That Luc Besson is actually directing this film might make some difference, instead of the usual farm-out job he does on these films, but really, it's more a matter of an effective-looking and epically-scaled action film with a lead people want to see. Not so hard, is it?

Female-centered action is a bit of a mixed bag, with positives like some of the Resident Evil movies, the Alien franchise, and recently Salt which come to mind, but it's rare to see a big time breakout a la the Bourne series. Johansson herself is riding an interesting streak of quality films (and this would fit nicely into a "Scarlett Johansson is inhuman" trilogy with Her and Under the Skin), and the more commercial nature of this could be just what's needed after a little priming of the pump. With a quality premise, heavy support and attractive marketing, this should open to around $31 million.

While unquestionably the more action-y action star of the two leads this week, Dwayne Johnson's Hercules is the film in more trouble at the box office. Why? It's the quality, stupid, as the Greek-myth themed and graphic novel based film about the life of Hercules after his 12 labors appears shoddily made and laughable in most respects, including the fact that it's directed by Brett Ratner, a name synonymous with douchebaggery in film.


While Johnson is certainly built to look the part, so was Jason Momoa built to look the part of Conan the Barbarian, and we can all see how that worked out. Hercules, while almost certainly better than the other film to tackle this subject this year (that one directed by Renny Harlin), looks to be a ridiculously serious and humorless slog of an affair through sword and sandal cliches. Likely, producers are hoping for something like the returns on the 300 series, but that at least has a unique visual style to recommend it, whereas this is offering all that the man who nearly killed the X-Men franchise can bring.

Johnson himself has kind of a mixed resume, swinging from the highs of the Fast & Furious series, which he obviously helped to propel, to drudge like Faster or Snitch, both of which failed to clear $50 million worldwide. While he may be a top action star, he's not invincible, and is very vulnerable to perceived quality. Only if this gets judged on a generous curve will Hercules have a financially happy ending. Based on all these factors, I would expect a modest $19 million opening weekend, and a quick exit from theaters.

Lastly in wide release, we have And So It Goes, the latest from the ever-increasingly-difficult-to-remember-as-great Rob Reiner. Michael Douglas stars as a cranky old realtor who has a long-lost granddaughter dropped off by his estranged son. After first attempting to pawn the child off on his next door neighbor (the at least age-appropriate Diane Keaton), he his then forced to confront his life and warm up his icicle of a heart. It's like the "awww" of a sitcom laugh track put to film.

Like Jersey Boys, but with a wildly different tone, this is a film that will be heavy on the senior's discount tickets, and offers very little in the way of a cinematic experience that really requires people to see it now, rather than wait three months to see it in their living rooms. With stars long past their time as box office draws, this looks headed towards a dismal $4 million opening weekend.

Returning films will once again be led by Rise of the Planet of the Apes, which won its second weekend against a number of challengers with $36 million. That represented a 50% drop off, but that's kind of par for the course these days even for well-received blockbusters. Legs appear to be an impossible quest for most films, except that we'll get the odd random film that takes off for no discernable reason. Keep those fingers crossed! I'd expect $19 million this weekend here.

The Purge was one of the least leggiest films in history last year, and The Purge: Anarchy is here now to try to challenge that film's record for futility. Opening to $29 million, the post... well not apocalyptic, but post-something horror film should see a cataclysmic drop to around $10 million this weekend, as it exhausts its limited fan base in one fell swoop.

Rolling in just behind this will be Planes: Fire and Rescue, which debuted with just $17 million last weekend; a poor mark for any animated film, let alone a Disney one. Even with the family float factor, it should only bring in another $9 million or so.

The failed comedy Sex Tape should rounds out the trio of disappointing openers last week that will also fail to inspire in their second frame. After a $14 million start, the Jason Segel/Cameron Diaz too-tame-by-half sex comedy should earn just $7 million this weekend.