Weekend Wrap-Up
Apes Not Purged at Weekend Box Office
By John Hamann
July 20, 2014
BoxOfficeProphets.com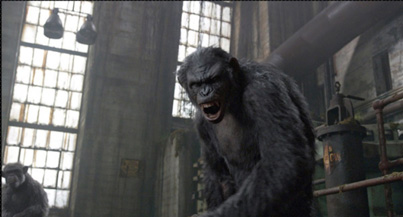 ---
Another weekend at the Summer 2014 box office, and another soft result. Other than Transformers: Age of Extinction (a movie most of us would rather not think about) and Dawn of the Planet of the Apes, June and July 2014 have been ugly at the box office to say the least.

For new films this weekend, the ugliness just continues. We have three new openers this weekend: The Purge: Anarchy and Planes: Fire and Rescue are sequels. Both of these films failed to match the opening totals of the originals, while Sex Tape, a comedy that sounds salacious, is limp both in content and as a box office result. We are left with a repeat winner in Dawn of the Planet of the Apes, and a top 12 total at the box office that resembles a March total, not a July total. The odd thing, though, is that studios are not hurting from this ineptitude. Budgets are low enough for the people making these dogs to survive. However, I wouldn't want to be an exhibitor in a summer like this.

Our number one film of the weekend is the holdover Dawn of the Planet of the Apes, as at least a good film repeats at number one instead of a dog like Transformers 4. Following one of the few high points at this year's summer box office when Dawn opened to $72.6 million last weekend, it stays on top despite three newcomers entering the marketplace. Dawn of the Planet of the Apes had a second Friday take of $10.4 million – where it finished second to start the weekend, $2.6 million behind newcomer The Purge: Anarchy. It was off a hurtful 62% Friday-to-Friday, which may seem large, but is actually better Friday-to-Friday drop than Transformers 4 (75%), X-Men: Days of Future Past (74%), Godzilla (77%), and Captain America: The Winter Soldier (68%). As Dawn of the Planet of the Apes is a holdover, the rush to see it isn't as evident this weekend, and with The Purge sequel being a horror film, the Matt Reeves blockbuster sequel had every chance to come back and slay the dragon this weekend.

Slay it did. Dawn of the Planet of the Apes had an 42% uptick on Saturday to $14.8 million, and finished the weekend with a decent, but not spectacular take of $36 million. It fell 50% weekend-to-weekend, which is much better than the bigger openers this year, where the standard drop for a blockbuster has been 65% plus. With smaller competition this weekend, and none as a direct competition for the PG demographic (new releases are either rated R or G this weekend), Dawn of the Planet of the Apes was able to hold decently, leaving Fox looking pretty good for a mid-July release strategy. Obviously moviegoers like it, given the A- Cinemascore and 93% audience approval rating at RottenTomatoes (37 points higher than Transformers 4).

Dawn of the Planet of the Apes crossed the $100 million mark on Thursday, its seventh day of release, the same amount of time it took Inception and I Am Legend. Both of those films finished with $250 million plus, and while I don't think that will happen here (the summer track record so far certainly doesn't support it), a gross beyond $200 million should be doable. Again, I thought Godzilla, X-Men and The Amazing Spider-Man 2 were all locks for $200 million plus, and Godzilla hasn't made it, while Spidey limped over the line. So far, Dawn of the Planet of the Apes has earned $139 million versus its $170 million budget stateside, and is seeing a slower rollout overseas, where it has picked up $101 million so far.

Finishing second is The Purge: Anarchy, the follow up to the June 2013 original that opened to $34.1 million. The original set a box office record for R-rated horror, and also was extremely front-loaded, with almost half the opening weekend box office coming in on Friday ($16.8 million), with $3.4 million of that coming from Thursday previews. This time around the numbers are a little softer, but still respectable. Previews for the sequel came in at $2.6 million, and the overall Friday earned $13 million. The weekend result was still front-loaded, but not as heavily as the original, as the Jason Blum-produced sequel earned $28.4 million over the weekend proper.

Considering the original opened to more, one might think Universal might be unhappy with the result, but this is not the case. The original Purge was made for $3 million, and earned almost $90 million worldwide. The sequel cost $9 million, and I wouldn't be surprised if it earned more on a worldwide basis than the original. The original earned a laughable C Cinemascore; this one did better, earning a B, which is actually a pretty good score in the world of R-rated horror. Critically, The Purge: Anarchy also did pretty good considering, as it earned 53% score at RottenTomatoes, yards better than the 38% rating the original earned. Still, this is just filler at the summer box office, as we wait for better, more interesting films.

Third is Planes: Fire and Rescue, the follow up to the Cars offshoot released last year. Neither very good nor very successful, Disney releases these like they release their Nature films - without much care, as they are only made to sell blankets, toys and pajamas. The original opened to $22 million, and thankfully this one opened to less, as parents can't take the pain twice in two years. Planes: Fire and Rescue opened to $18 million this weekend, lower than the original, despite appearing to be a slightly better film. Whereas the original was 26% fresh, this one pulled up a bit, earning a 45% fresh rating (still not very good). The kids seem to like it, though, and that's what's important. It earned an A Cinemascore and will give the tykes something to do until Guardians of the Galaxy shows up in two weeks, or Teenage Mutant Ninja Turtles the following weekend. Both Planes films cost $50 million to make and this one should top out with a similar worldwide gross of the original, in the $200 million ballpark. Still, this is just filler at the summer box office, as we wait for better, more interesting films.

Fourth is Sex Tape, and this one should have opened better at least due to Cameron Diaz's outfit in the trailer. Unfortunately, word got out quick that this is not a very good or very funny film, and not even Cialis is going to save it. Sex Tape earned only $15 million this weekend, lower than anyone expected. Reviews were abysmal (14% fresh) and even the Cinemascore was in the tank (C+). Sex Tape cost $40 million to make, and is going to have to work hard worldwide to make that back, but Sony won't lose its shirt on this one. Again, this is just filler at the summer box office, as we wait for better, more interesting films.

In the world of holdovers, Transformers: Age of Extinction is fifth with $10 million. The Michael Bay flick was off a not big enough 39% compared to last weekend, and looks like the film to beat for the summer title. This is a sad fact, as Age of Extinction has only earned $227.2 million thus far, but there have been no really big entries at the summer box office thus far. Transformers 4 has earned $262.5 million in China, and has $886 million worldwide.

Sixth is Tammy, summer's unfunny comedy that still keeps managing to make money. Tammy earned $7.6 million this weekend, off 39% from the weekend previous. Tammy may be stupid, but she knows how to play the financial game. Made for $20 million, Tammy has now pulled in $71.3 million stateside, and has a few extra million from overseas theaters.

The box office is so bad this summer that two six-weekend-old pictures remain in seventh and eighth. Seventh is 22 Jump Street, which earned another $4.7 million this weekend, dropping 28%. The running total for the $50 million release has now reached $180.5 million stateside and is close to $90 million overseas. Eighth is How To Train Your Dragon 2, which took in $3.8 million this weekend (off 37%). It has brought its domestic total up to $160.7 million, and crossed the $200 million mark overseas this weekend. It cost $145 million to make, and still likely needs another $75-100 million worldwide to find a profit.

In ninth is Maleficent, which opened on May 30th. Now in its eighth weekend, Maleficent picked up another $3.3 million, dropping 21%. The Angelina Jolie starrer has been one of the very few bright spots released this summer, as the quasi-original premise has played with big sequel and concept films all summer. Maleficent has now earned $228.4 million and will shortly move ahead of the domestic total of X-Men: Days of the Future Past, which has earned about $230 million. Worldwide, Maleficent has nearly reached $700 million, against a budget of $180 million.

Tenth is Earth to Echo, as it plays out its string. The Relativity pickup earned another $3.3 million and was off 41% compared to last weekend. The $13 million release has earned $32 million stateside.

Boyhood, Richard Linklater's very unique drama, continues its art house rampage this weekend as it expands to 33 theaters from five last weekend, when it earned a $77,500 venue average. On those 33 screens, Boyhood earned a box office affirming total of $1.2 million, giving it a venue average of $35,000. At least there are some bright spots at the box office this weekend – too bad it's out to only 33 venues.

Overall, the box office continues to flail versus last year (if that wasn't clear by now), falling another 27%. The top 12 films could only muster $134.5 million this weekend, compared to last year when The Conjuring led that top 12 to $181.1 million. In 2012, The Dark Knight Rises led the top 12 to $224 million. Next weekend, we try again as The Rock's Hercules debuts on 3,500 screens, and is joined by Luc Besson and Scarlett Johansson's Lucy on 3,200 venues. For the Jersey Boys crowd, the comedy And So It Goes with Michael Douglas and Diane Keaton hits theaters.