Weekend Forecast for July 18-20
By Reagen Sulewski
July 18, 2014
BoxOfficeProphets.com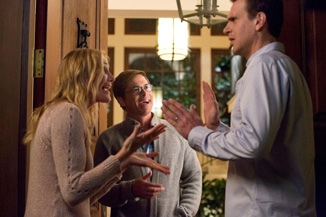 ---
A summer marked by soft box office doesn't get any better news this weekend, as mid-July gets an almost August-like slate of films, none of which inspire that feeling of needing to rush out to the movie theater RIGHT NOW. If you want a snapshot of why 2014 has felt so underwhelming, you could do a lot worse than this weekend.

The first of two supremely cynical sequels that will battle for the weekend title, The Purge: Anarchy is the followup to last summer's surprise horror (?)/thriller about a future America where for one night per year, all crime is permitted. Setting aside how unworkable and insane this idea is, it's a neat idea for a movie, and part of the reason that the first movie, which centered on one family hunkering down for the annual spree, was able to hook people for an opening weekend. I'm not ready to anoint Ethan Hawke with any box office pull given the results of Getaway, but the fact that it was fronted by a recognizable name probably didn't hurt.

Now, as a sequel and a "brand", it can go the no name route, with Zach Gilford from Friday Night Lights and Michael K. Williams being the only names that immediately jump out of the cast. In this version, we get caught outside in the real world while The Purge is happening, following groups of people who are just looking to survive with both their bodies and humanity intact. Keeping the budget to just $9 million basically guarantees a significant profit for the film, for those looking for something that gives action and vigilante groups what they want, though it's hard to say who is missing the point more – them or the film's director, who seems to want this to be a cautionary tale, but just succeeds at making wanton violence look cool. It's also possibly a bit of an assumption to say that people were really asking for this sequel, given that The Purge was one of the least leggiest films in box office history – opening to $34 million, and finished with just $64 million. Of course, as alluded to, this film could earn one third of that and still come out OK.

Commercials for the film have done a relatively good job of highlighting creepy little moments from life amidst The Purge, but in essence it's a horror movie with the beats of an action chase movie. We've seen that there's some appetite for this, but not a lot, and with how poorly the first was received in actuality, expect a decent drop in opening weekends, to around $22 million.

When the long history of the Pixar/Disney story is finally written, one expects there'll be a chapter that's just a picture of a guy shrugging, entitled "Cars and its spinoffs." Planes: Fire and Rescue is the sequel to the spinoff to the sequel that was supposed to be direct to video in the first place. As we've trickled downwards from the original flawed premise (where are all the people? Who made them? Why is no one else bothered by this?!?!), interest has definitely trailed off as well, with Planes earning a very un-Disney like $22 million in its opening weekend. Can we drive this further into the ground? Let's see!

Fire and Rescue has Dusty the plane (voice of Dane Cook – and boy are they probably rethinking that casting session now) sidelined from racing due to a mechanical problem, and shifted into the world of water bombing. Again, this makes *no* sense if you think about it for even one second (there's no animals! Why do they care about the fires!), but let's let them run with this. So yada yada yada, all the plane puns. And that's basically it, as it's a fairly generic looking adventure/coming of age story that practically screams little kids only. There is nothing about this film that does not have "cash grab" written all over it. The first Planes movie showed expected legs, so it's not as if its target audience thought it was terrible, but it's also a completely inessential film that has an extremely limited audience. Disney's quickly wearing out its welcome on this series, and the move to turn some of these clearly-meant-for-home-video sequels into theatrical features is definitely diluting the brand. Hopefully this is the end of pushing their luck, with about a $19 million opening weekend.

Comedy is handled this weekend by Sex Tape, starring Jason Segel and Cameron Diaz. The pair star as a married couple stuck in a rut who decide to spice up their bedroom with some taping action, then accidentally upload the video into the cloud where it somehow escapes to all their friends, and then basically the whole world. This spawns a frantic effort in one night to try and reclaim all the copies before their embarrassment becomes complete (proving only that the writers don't really know how the Internet works – as Newsradio once said, getting something off the Internet is like getting pee out of a pool).

OK, so it's not logic that we're looking for here, but rather raunch and laughs. That, I can understand. Except the film really doesn't deliver on that, with reviews calling it out for a tepid treatment of the subject. Few things are more disappointing than comedies that don't deliver on the promise, and there isn't even a sense from the commercials that there's some great bits that they just can't show you on TV. A game supporting cast, featuring Rob Lowe, Rob Corddry, Ellie Kemper and Nat Faxon, doesn't seem able to save this film, and you'd really hope that director Jake Kasdan (a long long ways from Zero Effect) would be able to pull a more interesting-looking film out of this concept and group of actors. This feels like an attempt to make This is 40 "wackier" and edgier, or Date Night with less likable characters. I'd look for a meagre $15 million opening weekend here.

Opening in 700 or so theaters, so we have to talk about it, is Persecuted, a religious-right persecution fantasy which looks incompetent as well as incoherent. Starring James Remar as a leading religious figure who is somehow the last man standing in the way of a bill that would require all faiths to be blended into one big mash (so enforced Unitarianism? Have the makers of this film ever met a Unitarian?), he's framed for murder then something something Jesus. Really, most of what you need to know about this film can be told by the fact that Gretchen Carlson plays a crucial role in the proceedings. While religious-themed films have seen a recent uptick in audience, it's usually affirmational films that get audiences, not bizarrely plotted genre films that families would have a tough time in seeing. Without a lot of marketing push, this should be stuck in the $1 to $2 million range.

The door seems wide open for Dawn of the Planet of the Apes to repeat as box office champion for the week, after a $72 million start. Reviews have continually hailed this as one the best offerings that summer has given us, and it's gratifying to see that audiences responded positively to an intelligent blockbuster. While like the first Apes film in the reboot, legs aren't that likely, the big opening weekend is reward enough. A second weekend of around $34 million should handily take the title for a second straight week.

As Transformers: Age of Extinction limps home, the weakness of some major franchise films really been made clear, at least domestically. Losing 84% of your business in two weeks is a remarkable feat, no matter how lousy your film may or may not be. Then again, this may just be the first film to crack the $1 billion mark without hitting $300 million domestic, so maybe we're all idiots. Michael Bay laughing at me from his giant pile of money makes that sound like the more likely conclusion. At any rate, it should earn about $7 million this weekend.

Tammy should compete strongly with Sex Tape for this weekend's least satisfying comedy experience, so at least it's got that going for it. Melissa McCarthy needs to find a new The Heat, and fast, or hope that St. Vincent fills that bill. It certainly does not have that giant international box office to count on. I'd look for just $6 million this weekend.