Weekend Wrap-Up
Always Darkest before the Dawn of the Planet of the Apes
By David Mumpower
July 13, 2014
BoxOfficeProphets.com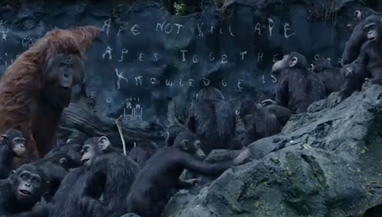 ---
After several straight weekends of overall box office disappointment, North American exhibitors finally claimed a huge win. Dawn of the Planet of the Apes, the sequel to the 2011 reboot Rise of the Planet of the Apes, entered a woeful marketplace and quickly established itself as the apex predator. Its dominance was so complete that it claimed over half of overall ticket sales this weekend, thereby making a monkey out of the competition.

With an estimated $73 million debut this frame, Dawn of the Planet of the Apes has capitalized upon the triumphant reboot of its predecessor. In the process, it spiked 33% from the $54.8 million opening weekend of Rise of the Planet of the Apes. It also demonstrated once again that even when domestic box office is trending downward as dramatically as it has been this summer, a blockbuster is still a blockbuster.

The primary question today is simple. How did Fox manage to bring relevance to the half-century old Planet of the Apes franchise? The answer, as always, is through quality movies. Consider that the popularity of Planet of the Apes has never been in question. For whatever reason, this premise and its evaluation of the value of humanity has always resonated with mainstream movie-goers.

To wit, the Tim Burton project from 2001, the one we all mock for its lackluster quality and absurd ending, inflation adjusts to an opening weekend of $96 million. Soon afterward, word spread about its flaws, which explains why its total domestic gross of $180 million barely surpasses the $176.8 million of Rise of the Planet of the Apes, a movie that opened $14 million lower while being released during an era of shorter theatrical runs. Had Burton's movie been better, there would have been many more Planet of the Apes movies already in the 2000s.

In a clever move by Fox, they eschewed more famous directors when starting from scratch after the Burton fiasco. They selected a virtual unknown named Rupert Wyatt to reboot the franchise. He rewarded their gamble with a stellar movie that is 82% fresh at Rotten Tomatoes while claiming a 7.6 rating at IMDb. Perhaps due to lowered expectations created by the Mark Wahlberg film, the universal reaction to the James Franco fell into the category of "so much better than I had expected." The respect gained by that outing played dividends this weekend.

Then again, Dawn of the Planet of the Apes was its own selling point. The advertising cleverly emphasized the growing divide between humans and their soon to be simian overlords. The tease of an evolution war created pre-release excitement. The glowing reviews sold fence sitters on their urge to watch on opening weekend.

The film is currently 91% fresh on Rotten Tomatoes, which is exceptional for any movie but especially so for an action blockbuster with a $170 million budget. Its A- Cinemascore indicates that these early adopters went home satisfied. Dawn of the Planet of the Apes is well positioned for an extended run in North America. Given the fact that Rise of the Planet of the Apes earned 70% more overseas than domestically, its sequel is also a slam dunk to become a huge global winner for Fox. It started with $31.1 million in 26 markets, avoiding some high profile debuts to avoid conflict with today's World Cup finale.

A discussion of scale is required for this weekend's second place movie, Transformers: Age of Extinction. The latest Michael Bay film crossed $200 million this weekend and has already earned more than Dawn of the Planet of the Apes will likely make during its entire domestic run. Another $16.5 million brings the running total of Age of Extinction to $209 million.

On the surface, that total sounds great. In reality, it is trending far behind the first three Transformers films. The worst of those had already grossed $242.5 million after 17 days. The trio averaged $284.4 million. Domestically, Age of Extinction is trending $75 million behind its predecessors. In terms of domestic performance, Dawn of the Planet of the Apes is a much better title in terms of meeting expectations than Age of Extinction.

The situation for Transformers 4 is all the more perplexing due to its historically unprecedented performance in China. Its $262 million in that single marketplace is closer to the pace of previous Transformers movies than its domestic return. Because of this discrepancy, Age of Extinction is already a huge winner for Paramount. It has a global take of $543 million and is a slam dunk to cross a billion. What the film does more than anything else is demonstrate the future marginalization of North American revenue as the global economy develops sounder infrastructure.

Third place goes to last weekend's top opener, Tammy. The Melissa McCarthy comedy declined an okay 40% from the July 4th holiday weekend as it made its way to a total of $12.9 million. Considering the film's dismal reviews (currently 23% fresh at Rotten Tomatoes) and hostile reception from audiences (C+ Cinemascore), it's holding up slightly better than expectations, although the fact that the 4th of July fell on Friday skews that perception a bit. So far, the Warner Bros. film has earned $57.4 million, which is very favorable compared to its $20 million budget.

Our fourth and fifth place films have been connected since the weekend they both debuted, despite that fact that in terms of audience demographic they couldn't be more different. 22 Jump Street and How to Train Your Dragon 2 continue to hold on to a spot in the top five due mostly due to the overall weakness of other new movies over the last couple of weeks. 22 Jump Street continues to be the leader, as it earned $6.7 million this weekend, down 32%. Its $172 million domestic total to date is well over the $138.4 million the original film earned, and international venues add another $70 million. How to Dragon fell 35% to $5.9 million, bringing its domestic take to $152.1 million, still well below the $217 million the first film earned. Overseas locations add another $170 million to the coffers. Like Kung Fu Panda 2 before it, this performance is absolutely baffling, as both the original film and the sequel were delightful.

Coming up in sixth place is a children's movie that was hoping to be E.T. for a new generation. Alas, you can't have a new E.T. if no one chooses to see your movie, so Earth to Echo will be all but forgotten after another week or two. It earned $5.5 million this weekend, dropping a decent 34%, and now has a running total of $24.6 million. This won't be an utter disaster for Relativity, who purchased the film from Disney, but it's not going to be regarded as anything more than a mild earner (and considering prints and marketing, the distributor will likely be looking at home video to reap those rewards).

Deliver Us from Evil, the Eric Bana horror film, is our seventh place film. With $4.7 million for the weekend, the Screen Gems production had a worst-in-the-top-10 decline of 52%, and now has increased its domestic take to $25 million. It has accrued nearly $5 million overseas, but with a fairly bloated $30 million budget for a horror flick, it's going to hover right on the edge of profitability.

Eighth goes to Maleficent, one of the leggiest films of the summer. The Walt Disney/Angelina Jolie fairy tale reimagining earned $4.2 million, down 32% from last weekend. The studio has to be thrilled with Maleficent's trajectory this summer, as it has accrued $222 million from domestic venues and nearly $450 million from overseas theaters.

Our next film is one that the Weinstein Company is expanding from limited release. Begin Again, a small project from Once director John Carney, earned $2.9 million as its venue count jumped from 175 last weekend to 939 this frame. With a terrific cast that includes Keira Knightley, Mark Ruffalo, Hailee Steinfeld, Catherine Keener and Mos Def, the film is 80% fresh at Rotten Tomatoes, though Top Critics are admittedly slightly less enamored of the project as their rating comes in at 66%. The film's current domestic total is $5.2 million, and it will hope to occupy the same spot that Chef did for a good run earlier this summer.

Closing out the top 10 is Jersey Boys, the musical miss from director Clint Eastwood. It fell 51% to $2.5 million, which brings its domestic total to $41.7 million. So far, there hasn't been much interest generated overseas as the international venues have reported about $7 million in revenue. The budget on this one was $40 million, so it's going to struggle to return much revenue for Warner Bros.

If we compare this year's top 12 to the same weekend last year, the combined films of 2014 earned $139.7 million, a big decline of from the $190.9 million of 2013. Last year, not only was Despicable Me 2 continuing its remarkable run, but Grown Ups 2 and Pacific Rim both debuted with more than $35 million apiece. Next weekend brings an interesting trifecta of new releases, including Planes: Fire and Rescue, a sequel to Disney's sellout of Pixar's Cars franchise, The Purge: Anarchy, a follow-up to the surprise horror hit from last year, and Sex Tape, a comedy that reunites the stars and director of Bad Teacher.