Weekend Wrap-Up
Sub-Par Openers Slow July 4th Box Office
By John Hamann
July 6, 2014
BoxOfficeProphets.com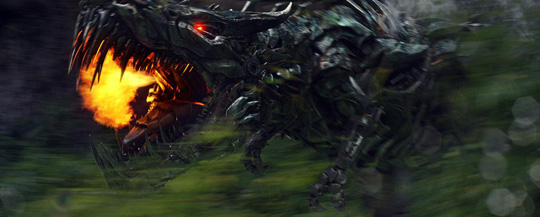 ---
The July 4th weekend is providing few fireworks at the box office, as the slower Friday - due in part to the holiday, but also impacted by Hurricane Arthur on the East Coast – did not provide much of a launching point. But is that really the problem with the box office this weekend?

If you wanted to see a good movie this weekend, you had to look pretty hard. Openers this weekend included Melissa McCarthy's Tammy, another film where the centerpiece is likely funny, but the bits don't add up to a movie; Earth to Echo, an E.T. for 2014 without the quality; and Deliver Us from Evil, a horror film that looks like it was made up of pieces from The Exorcist, Se7en and Law and Order. All of these films received poor reviews, and two of three had Cinemascores worse than a B. On top of that, we have Transformers: Age of Extinction, starring our future Chinese overlords, and America, another right wing documentary from the man who brought us 2016: Obama's America. Sounds like a fun weekend to go to the movies (not).

Finishing first amongst the dreck is the king of it, Transformers: Age of Extinction, from the ruler of the movie whores, Michael Bay. After dominating the planet last weekend with a $100 million domestic gross, and $300 million worldwide, Transformers 4 got punished this weekend. After a July 4th Friday gross of $10.6 million, the 17% fresh Paramount release could only muster $36.4 million over the weekend proper. That gives the movie that cost $210 million to make a drop from opening weekend of 64%, a small part of which is due to July 4th falling on a Friday. The previous Transformers movies didn't struggle this much in weekend two, as the first fell 48%, the second fell 61% and the third fell 52%. The second and fourth films – the two with the biggest drops – both had July 4th falling within their second weekends; the first and third did not. This is also the lowest second weekend for a Transformers movie, with the first earning $37 million in weekend two, the second earning $42.3 million, and the third $47.1 million. Transformers 4 won't cause extinction, but hopefully there's a crack showing.

The weekend take for Transformers: Age of Extinction brings the domestic total up to $174.7 million for the two hour and 45 minute film, but the domestic tally is not overly important to the folks at Paramount. The story of the week has been about how Transformers 4 made more in China over its first five days than it did in North America, and led to a great opinion piece in Variety entitled "Transformers: A Splendidly Patriotic Film, If You Happen to Be Chinese." The piece speaks to how American leaders are portrayed as "sniveling fools" and the Chinese are "assured and effective" in the film. I have said in this column many times that movies are no longer made for North Americans, but that usually is a statement about American films becoming more worldly, not more Chinese or targeted at a specific country. In the case of Transformers: Age of Extinction, the foreign take has reached $400 million after 10 days of release, and should finish as a $1 billion worldwide earner. Personally, I hope folks come out in numbers for Dawn of the Planet of the Apes next weekend, as it appears to be a very good if not great film, and leave this Transformers dreck behind.

Finishing second is Tammy, another Melissa McCarthy movie where in the marketing materials she seems to be either an angry drunk or someone with serious mental issues (or both). To some, that's funny, to others, it may make you want to rent The Heat again. Tammy did not do The Heat kind of business this weekend, and already the shine may be coming off of McCarthy. After earning $18.2 million over Wednesday and Thursday, Tammy's Friday came in at only $6.4 million, or less than half of The Heat's first Friday gross of $13.2 million, and lower than Identity Thief's first Friday of $11.1 million. Critics hated it (27% fresh at RottenTomatoes) and audiences hated it (C+ Cinemascore, or a nice way of saying FAIL). Things picked up a bit for Tammy over the rest of the weekend (but only due to the Friday July 4th), and the weekend estimate comes in at a comparatively soft $21.2 million. The Heat opened to $39 million and Identity Thief to $34.6 million, so obviously the McCarthy train has blown a tire.

The good news for Tammy is that it's reported to have only cost $20 million to make. While true on paper, it's widely known that McCarthy traded her usual salary for a back end profit percentage, so likely for every $50 million this one makes, you can add $5 million to the budget. Tammy would have also cost a fortune to advertise, as commercials and promotion seemed to be everywhere leading up to release. From Warner Bros., this one is going to have to play well for the studio to find a profit, and at this point, I think that's questionable. For now, Tammy has earned $32.9 million after five days of release.

Third is Deliver Us From Evil, our first horror flick of the summer (unless you count Age of Extinction). This one had little impact on audiences, as it earned only $5.5 million prior to the weekend, and $9.5 million over the weekend proper, for a five-day gross of $15 million. This one was made for $20 million, but with reviews at 32% fresh and a B- Cinemascore, it's going to have to work hard for Screen Gems to see a profit, despite the low budget. This one will be a memory quickly, as we have eight new releases coming over the next three weeks.

Fourth place goes to 22 Jump Street, which gets some competition from Tammy this weekend. Jump Street earned another $9.4 million, but was off 41% as the McCarthy flick stole some audience. Still, the $50 million film has lifted its domestic take to $158.9 million, and has brought its worldwide total above $225 million.

How To Train Your Dragon 2 finishes in fifth, as it finds a decent hold over the July 4th weekend. Now in its fourth weekend, the DreamWorks Animation release took in $8.8 million, and dropped only 34% compared to the previous weekend, when it earned $13.2 million. The $145 million release seems to be starting to find its legs domestically, but it may be too late for Fox and DWA. This one needs more than $400 million worldwide to see a profit, and currently has earned only $152 million from overseas theaters. Domestically, How To Train Your Dragon 2 has pulled in $140 million.

Sixth is new release Earth To Echo, Relativity Media's hope for a summer sleeper. This is The Goonies meets E.T., but unfortunately, the film isn't good enough to hold onto to those kinds of comparisons, so down it goes at the box office. Earth to Echo earned $5.3 million before the weekend hit, but earned less on Friday ($2.63 million) than it did on Wednesday ($2.65 million). Over the Friday-to-Sunday part of the weekend, Earth To Echo earned a lame $8.3 million, and will soon be forgotten by all. Who is celebrating this box office result? Disney. The mouse house sold distribution rights to Relativity, who then had to pay for the marketing.

Angelina Jolie and Maleficent continue a remarkable run at the summer box office, as the movie is now into its sixth weekend. Maleficent earned another $6.1 million this weekend, off only 27% compared to the previous frame. So far, Maleficent has earned $213.9 million domestically, and needs a couple of good holds to outgross Oz The Great and Powerful stateside, as that one earned $234.9 million. Overseas, Maleficent has earned $416 million, which means the worldwide gross is now at $630 million.

Eighth is Jersey Boys, and after a 42% drop last weekend, the target audience may be finally showing up for this one. This weekend, the Clint Eastwood film earned $5.2 million, which means it was off only 33% compared to last weekend. Unfortunately, it's all too little, too late, as this one cost $40 million to make, and has a domestic gross of $36.7 million so far.

Think Like A Man Too completes its stunning fall from grace, as this one moves from number one at $29 million to number nine with only $4.9 million in only two weekends. Following a 65% drop last weekend, the Kevin Hart comedy falls another 53% this weekend, and is going to finish with one of the lower open to total multipliers we've seen from this kind of release. So far, the Think Like A Man sequel has earned only $57.2 million.

Tenth spot goes to Edge of Tomorrow, as Tom Cruise hangs on for a top ten spot in weekend five. Edge earned another $3.6 million and declined 33%. Since its muted debut, this thriller has held well, but it's not going to be enough to make up for the $178 million production cost. So far, Edge of Tomorrow has earned $90.9 million stateside, and had $234 million overseas coming in to the weekend.

America, the latest conservative documentary from Dinesh D'Souza, didn't behave like his last documentary, 2016: Obama's America. That one earned $6.5 million when it expanded to 1,091 venues. This time, Lionsgate went wider quicker, and the film earned $2.7 million this weekend from 1,105 venues.

Overall, the box office is in a sad state of affairs, but given the slower second weekend for Transformers, the soft Tammy, and the documentary America flopping, maybe audiences are learning something. The top 12 earned only $118.5 million, off more than $100 million from last year over the same weekend, when Despicable Me 2 led the top 12 to $221.6 million. The last time July 4th landed on a Friday, the top 12 earned $153.2 million, so it can't be completely blamed on the holiday. Next weekend brings Dawn of the Planet of the Apes to theaters, and hopefully that one breathes a little life into the box office.