Weekend Forecast
By David Mumpower
July 2, 2014
BoxOfficeProphets.com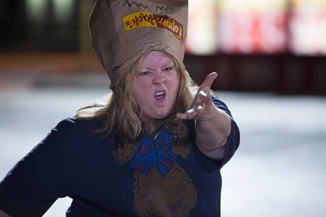 ---
The July 4th holiday is upon on us, and that means a holiday opportunity for Hollywood distributors to release their finest products. Instead, they…chose to go another way. There are four wide releases launching today; I think Vegas would lay three to one odds on whether you have heard of half of them. It's 50/50 whether you have heard of a third one unless you are a horror buff.

The final selection is a movie that feels like Melissa McCarthy's Semi-Pro even though most insiders believe it will do well. Presumably, this critically derided comedy will perform the best of the new releases, a depressing thought. In short, the next five days will continue to be about Transformers: Age of Extinction, an even more depressing thought.

Yes, Melissa McCarthy is a thing now, a notion that warms the soul of this particular Gilmore Girls fan. Alas, she has built her movie career on broad humor rather than subtlety. This decision has led to a lead actor trajectory somewhere between Chris Farley and Kevin James with maybe a touch of Jack Black thrown in for good measure. As Jonah Hill has successfully transitioned to a broader range of roles, McCarthy's movies have careened toward some cinematic black hole of obesity jokes.

McCarthy started with a scene stealing performance in the blockbuster hit, Bridesmaids. $170 million in domestic box office later, she was clearly on her path to stardom. Alas, there have been missteps on the way. She appeared in the modestly successful This Is 40 only long enough to discuss the location of her nipples. Then, she caused Jason Bateman to compare her running style of that of Kenyan marathon runners. Next, she somehow mated with a wolfpack of one in The Hangover 3. Finally, she got Sandra Bullock in a ton of trouble in The Heat. All of these films were solid to spectacular moneymakers. Because of this, McCarthy's status appears to be at an all-time high.

But have you seen the trailers for Tammy?

When Chris Farley first attained popularity in Hollywood feature films, his primary selling point was a willingness to embarrass himself at all available turns. He would do anything, literally anything, for a laugh. There is a selflessness to that behavior, but there is also an underlying issue with self-esteem. Melissa McCarthy can act. She is demonstrably better than what she is being given in Tammy.

We are talking about a movie that is currently 22% fresh among top critics at Rotten Tomatoes…and that is the HIGHER number of their two scores. Movie goers have demonstrated a willingness to watch these sorts of awful movies, as we witnessed last weekend with Transformers: Age of Extinction. I consider Tammy relatively bulletproof yet I mentioned Semi-Pro in the introduction for a specific reason. Everything was going great for Will Ferrell right up until he starred in a movie whose ads were so bad that they made religious people question the existence of a benevolent deity. The same is true of Adam Sandler with Little Nicky. Customers only provide so much benefit of the doubt before they shun a project.

Tammy could very well bomb this weekend. I am well aware that this is a distinct possibility. Still, I expect a similar situation to Along Came Polly, a 2004 "comedy" whose very existence sullies the memory of the late, truly great Philip Seymour Hoffman. In that film, his role was largely that of a shirtless, hairy dude constantly covered in flop sweat. He also fell down a lot. In fact, that was his primary responsibility in the film. It was the price he paid in order to have a number one movie that wound up earning $88 million against a $42 million budget. And he is one of the greatest actors of our generation.

Actors willingly choose these roles and when they do, customers do support them if the project looks funny. Tammy does not at all, at least in my opinion. Even so, I believe it is headed toward a five-day total in the range of $42 million. We have no one to blame but ourselves for this twisted eventuality. I preferred earlier in the summer when good movies were performing the best at the box office.

Deliver Us from Evil is the first major horror film to be released in over two months. That is an eternity of a gap in this day and age, as genre flicks like this are cheap efforts that almost always provide solid return on investment. Absence may make the heart grow fonder for teenagers already getting bored by their summer free time. It is another title using the "based on real events" tag, although it features an oddly precise wording. This particular feature is "inspired by the actual accounts of an NYPD sergeant."

Unlike the overwhelming majority of horror movies, there are legitimate celebrities in this project, beginning with Eric Bana. The star presumably woke up every morning wondering how he went from frontlining a Steven Spielberg movie to a psychological horror drama. Then again, since Munich came out in 2005, the average person attending this film would have been around 10-years-old back then. Meanwhile, Olivia Munn is still a staple of G4 re-runs, making her a recognizable face for the demographic. And Joel McHale of Community fame also appeals to the demographic. Because of the players involved, I am cautiously optimistic about its prospects. I project a $22 million five-day total for Deliver Us from Evil.

Earth to Echo somehow appeals to an even younger demographic than the film likely to edge it out for second place among openers this weekend. The film aspires to be another Super 8, but it will probably fall into the category of batteries Not Included and Small Soldiers instead. Earth to Echo does seem to provide imagination during a weekend sadly lacking in such creativity (read: Transformium). It is also currently 54% fresh, which is almost exactly the combined total of the two releases I project ahead of it. So, I would like to extend my thanks to Relativity Media on that count. I believe there are enough children out there hungry for a live action film to boost Earth to Echo to an $18 million total in five days. It should have the opposite trajectory of Deliver Us from Evil in that it should grow stronger on Saturday and Sunday whereas the horror flick should die quickly.

Finally, there is a movie named America released this weekend. If you care about it, you already know everything about it. If you do not, I envy your ignorance of the subject matter. Suffice to say that the weird guy who capitalized on a polarized political culture with 2016: Obama's America has made another film. Since his last one grossed $33.3 million, America cannot be dismissed out of hand. The odds of a second polemic performing so well are not good, though. I suspect that there will be about $10 million worth of interest from the same people who just got Eric Cantor voted out of office. I also look forward to the same guy's inevitable movie about Hilary Clinton ruining the world, conveniently timed for release in the summer of 2016. Let's all pretend to be surprised when it's announced, though.