Weekend Wrap-Up
Age of Extinction Obliterates the Competition
By David Mumpower
June 29, 2014
BoxOfficeProphets.com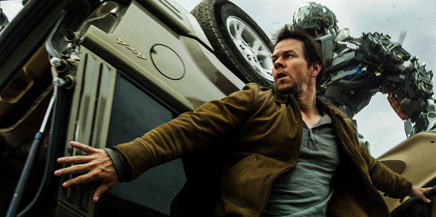 ---
Transformers: Age of Extinction exploded into theaters this weekend, and the latest tale of Autobots waging war against their enemies proved to be aptly titled. The reason is not for the unsurprisingly dominant opening weekend total in North America. Instead, it is the opening weekend in China that emphasizes the diminishing hold Hollywood's backyard claims on movie ticket sales.

Obviously, the number one film in North America is the fourth Transformers movie. The latest Michael Bay offering delivered an estimated $100 million this weekend. Presuming the estimate holds, Age of Extinction becomes the second largest opening weekend for the franchise. This total does represent a modest 9% decline from Transformers: Dark of the Moon. The third film managed $352 million during its domestic run, a total Age of Extinction is unlikely to match. Dark of the Moon had already earned $64.8 million before its opening weekend. By the end of day five, Age of Extinction should be $35 million behind the pace of its predecessor. Realistically, the goal for the latest Transformers release is a $300 million domestic take.

Will Age of Extinction reach that milestone? A lot depends on who is right and who is wrong. Critics emphatically maintain that Transformers 4 is a garbage movie. Only 17% of Rotten Tomatoes reviewers enjoy the movie enough to give it the proverbial thumbs up. That number drops to 6% (!) if we prioritize the opinions of top critics. So, everyone should hate the movie, right? Not so fast. The early adopters polled by Cinemascore awarded Age of Extinction an A- grade, a number that matches the very popular 22 Jump Street. Once again, Bay has exploited that strange loophole between quality cinema and audience satisfaction.

The real news regarding Transformers: Age of Extinction takes place across the globe. The film claimed the largest international debut of 2014, earning $201.3 million for a global take of $301.3 million. It cost only $210 million to produce. While this is not a record-setting performance, there is an explanation as to why. Paramount has staggered the film's release in several major markets due to the World Cup claiming the focus of potential international viewers. For this reason, the $201.3 million international debut is stunning. In fact, it could be revolutionary.

Transformers 4 debuted to $90 million in China, thereby almost matching its North American take. BOP has explained on several occasions the dangers in evaluating international revenue one to one with domestic income. This situation is different and not because the numbers are so similar. Instead, the $90 million Chinese debut reflects the in-roads Paramount and other industry corporations have made in China, a country whose earning potential has barely been touched thus far. The population of China is 1.35 billion, a factor of 3.83 more than the combined populations of the United States and Canada. We are now not that far away from a situation where the largest box office blockbusters open exponentially higher in China than North America. The Age of Extinction is aptly named as the first film to demonstrate this cataclysmic shift in earning power.

The distant second place film at the box office this weekend is 22 Jump Street. The Jonah Hill/Channing Tatum buddy cop sequel claimed another $15.4 million this weekend, down 44% from $27.5 million last time. The fact that a sub-$20 million performer finishes in second exemplifies how weak the rest of the top ten is right now, especially in comparison to Transformers. 22 Jump Street is still a huge hit, though. It has a running total of $139.8 million after 17 days. It has already beaten the final domestic take of 21 Jump Street, $138.4 million.

How to Train Your Dragon 2 continued its puzzling run with a third place finish this weekend. The animated sequel earned $13.1 million, bringing its 17-day take to $121.8 million. It has now fallen well behind the pace of the original movie, which had tallied $133.4 million after its third weekend in theaters. The latest adventure of Toothless and Hiccup fell 47%, a slight improvement from 50% last frame. The good news for the production is that the $145 million production has already grossed $80 million worldwide. Why it is not doing better in North America remains a mystery.

The last two spots in the top five were claimed by last weekend's number one film, Think Like a Man Too, and the leggiest summer release to date, Maleficent. Kevin Hart's second blockbuster of 2014 grabbed $10.4 million, down 64% from last week. Obviously, this comedy is dying quickly at the box office but since it has already earned $48.2 million against a $24 million budget, it is a triumph. The same is true of Maleficent, which dropped only 36% while pulling in $8.2 million. It has now grabbed $201.9 million domestically and $384 million overseas. In the process, Maleficent became the fifth 2014 release to earn at least $200 million, as well as the third release this summer after The Amazing Spider-Man 2 and X-Men: Days of Distant Future Past.

Last weekend's other new release, Jersey Boys, finished in sixth place this weekend. An $7.6 million take represents a fall of 43% from its debut. With a running total of $27.3 million, this musical is not a total bust for a $40 million film. It's going to wind up a box office draw at best, though.

Seventh and eighth place this weekend were held by a pair of titles that have been battling since day one. The Fault in Our Stars has already won the fight after a first day knockout, but Edge of Tomorrow continues to battle it for supremacy. Amusingly, Edge of Tomorrow has won for the third straight weekend, earning $5.2 million against $4.8 million for The Fault in Our Stars. Of course, a massive gap still exists between them in terms of domestic revenue. The tearjerker has now earned $109.5 million while the Tom Cruise flick stands at $8.4.2 million. Internationally, the picture is reversed as The Edge of Tomorrow has managed $218 million overseas. The John Green adaptation has actually done quite well abroad with $65 million, but it's still a significant gap.

Rounding out the top ten are a comic book adaptation and the latest film from a director who made his career via comic book adaptations. X-Men: Days of Future Past clings to its top ten placement with another $3.3 million, bringing its running total to $223.4 million domestically along with $478 million overseas. Meanwhile, Iron Man and Iron Man 2 director Jon Favreau's low scale cooking project, Chef, continues to stake a spot at the bottom of the charts. This weekend, it garnered another $1.7 million, giving it a running total of $19.4 million as it falls a tiny 3%. Chef has finished in either ninth or tenth place for six consecutive weekends now, an oddly impressive streak.

The top 12 this week earned combined revenue of $171.5 million. Despite Age of Extinction's nine-figure debut, box office is still down 6.3% compared to the same weekend last year. While no film grossed more than $45.6 million during that weekend, there were five titles that earned at least $20 million, so quantity beats quality... and yes, I feel a little dirty describing Transformers 4 as "quality."