Friday Box Office Analysis
By David Mumpower
June 28, 2014
BoxOfficeProphets.com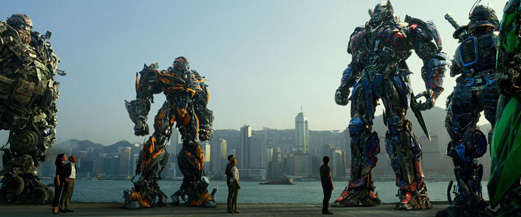 ---
Transformers: Age of Extinction is the big Hollywood story this weekend due to the majestic drawing power of the movie as well as the downward spiral of the former face of the franchise. Whether an arrest scandal and general meltdown of Shia LaBeouf helped or hurt the fourth Transformers project is up for debate. What cannot be argued is that Michael Bay continues to be bulletproof. He releases movies that critics despise but consumers passionately support by voting with their wallets.

The number one movie in North America on Friday was a foregone conclusion. Age of Extinction entered a weak marketplace and promptly destroyed all comers, earning a whopping $41.6 million. Transformers 4 effectively doubled the rest of the top ten, as the #2-#10 films managed only $22.2 million in combined revenue. To North American consumers, there was only movie that mattered yesterday. Conversely, critics despised the project. It is currently only 17% fresh at Rotten Tomatoes, meaning it is looking up at the bomb of 2014 to date, Transcendence. That film is 19% fresh. Why then did one fail to entice viewers while the other could become the biggest hit of 2014? Occam's razor applies. People love watching giant robots fight. In fact, the human actors in these films border on superfluous.

As LaBeouf was handcuffed and escorted out a building on Thursday, the project that made him famous was rebooted with a new, less volatile star. Consumers quickly decided that Mark Wahlberg was just as good as LaBeouf, if not better, because the selling point of the franchise has always been the CGI robots, not the lead actors. This idea was verified when Megan Fox was dropped from the third film, Transformers: Dark of the Moon. The third Transformers film earned $352 million while becoming the most popular franchise release thus far with $1.1 billion in total global revenue. By the end of its run, it had become one of the five most successful films ever made and still claims the #8 spot to this day.

That move gave Paramount Pictures confidence that removing LaBeouf from the equation would be the right decision. Their choice has been validated on multiple levels this weekend as the franchise has effectively matched the opening days of two of the previous three films while maintaining budget consistency. Interchangeable casting is a powerful tool for studios, as strong-arm negotiations keep potential runaway budgets in check. With a $210 million financial outlay, Age of Extinction costs the same as Revenge of the Fallen despite five years of cost inflation. The latest Transformers flick should approach if not surpass a billion dollars in global revenue. In a year with a bunch of solid hits but no true breakouts, Optimus Prime looks to drive away as box office champion of 2014. At the very least, it should be the champion of the summer.

With regards to weekend behavior, Age of Extinction is a bit of a wild card. The three previous Transformers films all debuted on weekdays. Because of this, their weekend behavior was normalized. Each one possessed a weekend multiplier (opening weekend revue divided by Friday box office) in the range of 2.96 to 3.11. That is the expected result for the average film each week. For an action title debuting on Friday, the number is frequently much lower. Also, the true Friday number for Transformers 4 is $32.8 million. The other $8.8 million was accrued during Thursday sneaks. Another $35 million today plus $24 million on Sunday would result in a weekend total of $100.6 million. The number could be as much as $10 million lower if it proves to be heavily frontloaded. I expect the weekend estimate to be in excess of $100 million, though.

Last weekend's new releases both experienced stiff falls from last Friday. Jersey Boys debuted to $4.6 million on its first day in theaters but it could manage only $2.2 million yesterday, a 53% drop. For a genre title like this, that is not a good hold. The movie is dying quicker than I had expected while claiming a modest $21.9 million after 8 days in theaters.

Think Like a Man Too was technically the better performer yesterday, as it grossed $3.4 million. In terms of Friday-to-Friday drop, it was down a massive 72% from last Friday. The sequel has earned $41.2 million thus far, 17% behind the first film's $48.4 million after the same eight days in theaters. This performance also provides an excellent demonstration of scale. Think Like a Man Too is a solid performer that will provide tremendous return on investment. Transformers: Age of Extinction beat its eight-day total in a single day of box office. Examples like this reinforce while Hollywood is all-in on big budget sequels. The potential revenue stream is exponentially larger.