Weekend Wrap-Up
Think Too Tops Box Office; Jersey Boys Soft
By John Hamann
June 22, 2014
BoxOfficeProphets.com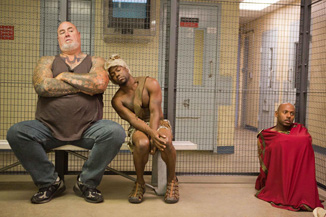 ---
Something is missing at the box office this weekend, something you might not be able to put your finger on. We've got a sequel this weekend, not to mention Kevin Hart and Clint Eastwood, but that's not what I'm getting at. What we are missing is about $70 million out of the top 12 films.

The big thing that's really missing this weekend is Pixar, as the blockbuster animation company doesn't have its usual June release for the first time in five years (Up was released May 29, 2009). Instead, we're left with the less-than-blockbuster-y Think Like A Man Too and Jersey Boys opening this weekend, and a $710 million drought at the overall box office. Last year it was Pixar's Monsters University ($82.4 million) opening on June 21st. In 2012, it was Brave, finding $66.3 million on the same weekend. On June 24, 2011, it was Cars earning $66 million; and in 2010, it was Toy Story 3 opening to a wild $110 million – and I could go on.

That means this weekend the proverbial elephant is not in the room, and the two counter-programming choices that went with it, Think Like A Man Too and Clint Eastwood's Jersey Boys have a chance to shine on their own. Alternately, audiences could use this weekend to catch up, allowing them to finally get out to see X-Men: Days of Future Past, Godzilla or Edge of Tomorrow, or last weekend's big hitters, 22 Jump Street and How To Train Your Dragon 2. What did audiences choose? None of the above.

Our number one film of the weekend is Think Like A Man Too, the sequel to the big opener from April 2012, which proved profitable after a single weekend of release, given its $12 million budget and $33.6 million opening frame. The producers hustled to get a sequel in the can, and hit the "here's Kevin Hart in anything" button as fast as they possibly could. Despite the doubling of the budget to $24 million, the push behind the film made me feel they would be happy with the same result, so they didn't blow their brains out trying to get this one to cross over. Given that the original Think grossed $91.5 million domestically without very little effort, I don't blame them for their strategy.

The sequel did what it needed to, but didn't break out. The sequel earned $30 million from 2,225 venues for Screen Gems, which is almost the same size of release the original got a few years ago (2,015 venues). Given the budget, this has to be considered a success; however, with the release date move from April to June, the fact that it's a sequel, and the fact that Kevin Hart got Ride Along to open higher in January ($41.5 million), Screen Gems might be wondering why the numbers aren't higher this morning.

Truth be told, the first Think Like A Man wasn't all that, scoring a 54% fresh rating at RottenTomatoes. The sequel received even worse reviews, coming in at only 23% fresh. Cinemascores were better, at A-, but the original came in with an A, so even general audiences weren't as enamored with the sequel as they were the original. The film may have been phoned in, but for Kevin Hart and director Tim Story, their rolls continue. Since the original Think Like a Man opened to $33.6 million, Hart has had a successful comedy film in Let Me Explain ($32.2 million total, $2.5 million budget), a supporting role in Grudge Match, Ride Along ($153 million worldwide, $25 million budget), About Last Night ($25 million opening, $12.5 million budget), and now Think Like a Man Too. Tim Story was behind the camera for both Think Like a Man films as well as Ride Along, and has ridden Kevin Hart back to directing glory after serving up two awful Fantastic Four movies. Had a Pixar film been released this weekend, I think Think Like a Man Too would have done similar business.

Finishing a close second this weekend is 22 Jump Street; however, like sequels do, the bottom fell out of this one after opening weekend. After debuting last weekend to $57.1 million (down from the $60 million estimate), 22 Jump Street could only manage $29 million this weekend, a decline of 49%. After opening to $36.3 million, the original fell 44% in its second weekend to $20.5 million, and then showed much better legs in its follow up weekends. The sequel crossed the $100 million mark on Saturday, only its eighth day of release, whereas the original took 22 days to get to the century mark. The Channing Tatum/Jonah Hill comedy has now earned $111.5 million stateside, and should see at least $150 million before all is said and done. Overseas, it has opened in only a handful of territories, but has amassed nearly $40 million over there already.

Third is How To Train Your Dragon 2, and was the film I thought would benefit the most from having a weaker crop of openers. Last weekend's opening for the Dragon sequel was somewhat soft at $49.5 million, so a drop of 34% (like the original did) seemed completely possible. While possible, it didn't happen, and Dragon 2 followed the trend we've seen this summer and fell 48% to $25.3 million in weekend two. The $145 million expended to make this one now seems like far too much, as Dragon 2 only has a gross so far of $95.2 million, compared to the original movie's 10 day total of $92.1 million. For me, this is the head scratcher of the summer so far, as there is no competition, and the original film was an instant classic. It will be interesting to see what happens with it overseas, as it needs at least $400 million worldwide to see a profit. This is Kung Fu Panda 2 all over again, but both those films made a mint overseas.

Fourth is Jersey Boys, Clint Eastwood's return to the director's chair after his Oscar bait, J. Edgar, fizzled in 2011. Based on the musical of the same name, I am a little surprised to see this one trying to capture the magic of Mamma Mia!, a July release, instead of Les Miserables, a December release. As expected, Jersey Boys opened softly this weekend, earning $13.5 million from 2,905 venues, but if any film is going to find some semblance of legs this summer, it is likely this one. The demo for this one is the grey hairs (my 70-year-old folks are going to see the live performance of this next month), so it could hold decently over the next few weekends. The decidedly mixed reviews are a curveball, though – it earned a 55% fresh rating from general critics at RottenTomatoes, but a slightly better 62% from "top critics". Unlike the Think Like a Man sequel, the Cinemascore of A- for Jersey Boys may help it going forward. Jersey Boys was made for $40 million, a number this one could see domestically for Warner Bros.

Fifth is Maleficent, one of the very few films that has shown any sign of legs this summer. Now in its fourth weekend, Maleficent earned another $13 million, and was off 30% from the previous weekend. X-Men: Days of Future Past, The Amazing Spider-Man 2 and Godzilla all opened to $20 million or more that Maleficent, but by weekend four, all were throwing below $10 million. I wouldn't be surprised if the Angelina Jolie starrer earned more than Godzilla and The Amazing Spider-Man 2, as the Disney release has now earned $186 million, and should still go strong for another few weekends. Maleficent debuted in China this weekend, and has an overseas total of $336 million. The Disney film cost $180 million to make, so it needs all the help it get to find a profit.

Sixth goes to Edge of Tomorrow, which at least has a third weekend above $10 million. The Tom Cruise science fiction/action flick earned $10.3 million and was down 37% compared to the $16.5 million it took in last weekend. The $178 million film still has a loooong way to go though, as it has earned $74.5 million domestically, and had $181 million overseas when the weekend began.

The Fault in our Stars is seventh, and my how the mighty stars have fallen. Last weekend Fault earned $14.8 million over the weekend, $6.4 million of that coming on Friday night, which means it had an internal weekend multiplier of 2.3 over its second weekend, which is unheard of. This weekend, The Fault in Our Stars earned $8.6 million, off 42% compared to last weekend, despite losing 69% last weekend. The $48 million opener has now reached $98.7 million, and should cross the $100 million plateau by next weekend. Made for $12 million, I thought this was going to be the biggest total versus budget release of the summer, but it's looking like Neighbors will retain that crown with a cost of $18 million and a gross so far of about $146 million.

X-Men: Days of Future Past lands in eighth. Now in its fifth weekend, X-Men earned another $6.2 million, and declined 37% compared to last weekend. It is the blockbuster of the summer so far, as it has pulled in $216.8 million domestically, and $461 million overseas.

Ninth is Chef, Jon Favreau's little film that is legging it out. Out for six weekends, this one has never earned more than $2.6 million, and this weekend is no different. Chef earned $1.8 million this weekend, and was off 16% compared to last weekend. It has a running total of $16.9 million.

Finally in 10th is Godzilla, which is bowing out of the race before the $90 million starter gets to $200 million. This weekend – its sixth – Godzilla earned $1.8 million and fell 45%. The $160 million film has now brought in $194.9 million on the domestic side, and $250 million overseas, with Japan still to come.

Overall this weekend, without the Pixar release, the top 12 films get hammered versus last year. A year ago, with Monsters University on top and World War Z not far behind, the top 12 came in at an amazing $232.4 million. This year, the top 12 could only find $142.6 million, the 15th consecutive weekend the top 12 has pulled in more than $100 million. Next weekend we get Transformers: Age of Extinction, a title that either makes you very happy, or extremely sad.