Weekend Wrap-Up
Deuces Wild for Jump and Dragon at Weekend Box Office
By John Hamann
June 15, 2014
BoxOfficeProphets.com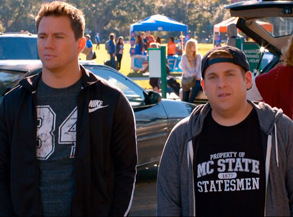 ---
"Jump" and "Train" (as in locomotive) are appropriate words to describe the box office this weekend, as both 22 Jump Street and How to Train Your Dragon 2 got off to strong starts at the box office.

Yes, it was sequel showdown, as Sony and MGM used 22 Jump Street to control the dragons in Fox and DreamWorks Animation's How to Train Your Dragon 2. Both films were at the opposite end of the demographic spectrum, with Jump Street being an R-Rated comedy, and HTTYD2 for the family audience. Stacked onto that, the box office had the second weekends of The Fault in Our Stars and Edge of Tomorrow, and Disney and Angelina Jolie still have Maleficent cooking. A year ago this weekend, Man of Steel opened to $116 million, so the box office had to combine strongly if it was to stay ahead of last year's $197 million take. This year brings some new competition into the fold, as the World Cup, a very late finishing Stanley Cup final on Friday night, the NBA finals and the US Open all threw curveballs at the box office this weekend.

The number one film of the weekend is 22 Jump Street, which is a bit of a surprise, as most thought How To Train Your Dragon 2 was the film to beat. However, with the leggy success of the first Jump Street, a couple of hot actors in Jonah Hill and Channing Tatum, and sought after directors in Phil Lord and Chris Miller (The LEGO Movie), Jump Street had what it took to win the weekend – harder-hitting marketing and a great trailer. 22 Jump Street got started on Thursday night, when preview amounts came in at a very strong $5.5 million, showing that the Sony comedy was a force to be reckoned with. Neighbors earned about half that preview amount and it went on to a $19.6 million Friday and $49 million opening frame.

The Friday for 22 Jump Street was extremely strong, coming in at $25.2 million, less the $5.5 million from Thursday, for a "true" Friday of $19.7 million. To compare, Neighbors' "true" Friday came in just shy of $17 million. Last year's This Is the End earned $20.7 million over its entire weekend. The first Hangover movie earned $16.7 million on opening day and turned that into a $45 million opening frame, while Ted earned $20.6 million on Friday on the way to a $54.4 million debut. The Saturday for 22 Jump Street came in at $18.8 million, off 26% from the preview-inflated Friday, and earned an estimated $16 million on Sunday.

The weekend estimate for 22 Jump Street came in at $60 million, giving it the second highest R-rated comedy opening ever, behind only The Hangover Part II, which opened to $85.9 million in 2011, but ahead of Sex and the City ($57 million) and Ted ($54.4 million). It is the biggest live action debut for both Channing Tatum and Jonah Hill, but oddly enough, it's also the second biggest opening for both of them, behind The LEGO Movie ($69.1 million), which also came from the directors of Jump Street.

The original Jump Street opened to $36.3 million in March of 2012, so this is a significant improvement over the original. The first film was also extremely leggy, earning an opening-to-total multiplier of 3.8, on its way toward a domestic total of $138.4 million. The original cost $42 million to produce, and the sequel was not ridiculously higher at $50 million, as we see with some sequels. Given the debut, this one is going to see profit from the domestic side alone, but with Neighbors' ($49 million opening) cost of only $18 million, Sony still might be a little enviable of the Universal result.

Reviews were much like the first – way better than expected. I think that is why both of these films have worked so well – they look stupid and the premise is shaky at best. When the first movie came came in at 85% fresh at RottenTomatoes, and the sequel is 83% fresh, we know it must be funny. This tells us that reviews helped to drive audiences to the megaplex. Even the film snobs love it, as the top critic rating at RT was even better, at 90% fresh. 22 Jump Street also earned an A- Cinemascore, so there is every reason to think that another leggy success could be in store. The original Jump Street faced off against the first Hunger Games in its second weekend, so a Transformers sequel in Jump Street's third weekend is no cause for concern. In the end, this one will be bigger domestically, and will certainly beat the original's overseas take of $63 million, as it got started with $8 million in the UK last weekend, whereas the original earned only $2.5 million in the UK over opening weekend.

Finishing second this weekend is How to Train Your Dragon 2, the sequel to the successful and very well-reviewed original. The sequel was looking to improve on the softer-than-expected open of the original, which left a few heads scratching when it opened to $43.7 million in March 2010 (it then of course went on to dominate the planet). The sequel got started on Thursday, earning $2 million from previews, a normal amount for an animated flick. The Friday amount blossomed nicely, turning into a Friday take of $18.5 million, or $16.5 million once the previews are removed. That's significantly higher than the $12.1 million the original earned on its first Friday, but nowhere near a Maleficent Friday of $24.3 million, which took it to an opening frame of $69.4 million.

How to Train Your Dragon 2 would have been looking for a lift on Saturday from the Friday result, but instead the film was down slightly, telling us that Friday had a bit of a fanboy rush. The Saturday number was $17.1 million, a decline of 7%. The Sunday was estimated at $14.3 million, which means Dragon 2 finishes the weekend with an estimated take of $50 million. While not mind-blowing, the sequel did manage to improve on the original's opening ($43.7 million). Also, the film cost $20 million less to produce, as the original cost $165 million to make, and the sequel $145 million. Despite the decrease in cost, the sequel is still going to need over $400 million worldwide for DreamWorks Animation to avoid a second consecutive writedown, after Mr. Peabody and Sherman caused a $57 million shortfall on the company's books. However, with the original Dragon earning $495 million worldwide, and a wide open schedule ahead, DreamWorks shouldn't have to worry.

Much like what 22 Jump Street did with reviews and word-of-mouth, How to Train Your Dragon 2 did even better. The original Dragon received almost perfect reviews, coming in at 98% fresh, with only three negative reviews to be found. The sequel, at this point, has eight negative reviews, giving it a 92% fresh rating. The Cinemascore is an A, so this Dragon really has the same pedigree that saw it turn a $43.7 million open into a $217.6 million blockbuster. My bet is that this Dragon is far bigger than original, easily eclipsing the half-billion mark worldwide, as it has the place to itself until July 18th when Disney sadly releases another Planes movie.

Maleficent spends weekend number three in third spot, down one rank from last weekend. The Angelina Jolie starrer earned another $19 million, off a so-so 45% compared to the previous frame. While it has had some strong weekends, it has yet to reach its lofty $180 million production budget with its domestic gross, as it current total stands at $163.5 million. Better news is the nearly $275 million it has earned overseas, but given the budget, Maleficent needs to earn more than $500 million worldwide to see a profit. At this point, I see Maleficent earning a little over $200 million stateside by the time all is said and done.

Fourth goes to the Tom Cruise miss, Edge of Tomorrow, the really-good but little-seen sci-fi action original. After a disappointing $28.8 million opening frame, things didn't improve much for Edge this weekend, as it fell 44% to $16.2 million. Remember, this one cost $180 million to bring to the screen (before marketing, and there was a lot of it), and Edge will be extremely lucky to earn half of that at the domestic box office. The good news for Warner Bros. is that Cruise's following overseas hasn't diminished, so this one has already earned over $100 million overseas. Still, this is another example of a film that has to earn more than a half-billion worldwide for the studio to see profit, and that number is miles away. On the domestic side, Edge of Tomorrow has earned $56.6 million.

The Fault in Our Stars, last weekend's number one film, finishes way down in fifth. As expected, the weeper got hammered, as all the book toting teenagers took this one in last weekend, when it earned a very strong $48 million (but had a 1.8 weekend multiplier). This weekend, reality took over, and Fault earned only $15.7 million. It was off 67%, but considering the huge previews Fault had last Thursday and the resulting multiplier, the drop could actually have been much worse. The film also had some strong weekdays last week, as it earned $18 million from Monday to Thursday. So far, the tear jerker that was produced for only $12 million has already pulled in $81.7 million for Fox after only 10 days of release, and has also outgrossed its budget overseas.


Sixth is X-Men: Days of Future Past, a film that was able to turn a huge budget ($200 million) into a worldwide winner. In its fourth weekend, Days of Future Past turned in a $9.5 million frame, off 37% from the $15.1 million it earned last weekend. In the process, X-Men became the first summer release to get past the $200 million mark domestically (shocking given the three $90 million openers), which it did on Saturday, its 23rd day of release. While it certainly doesn't set a speed record for getting to $200 million, it did move ahead of The Amazing Spider-Man 2 for biggest film so far this summer. The $200 million comic book flick has now earned $205.9 million on the domestic side, and has passed the $425 million mark from overseas theaters.

Seventh is Godzilla, which is winding down domestically, but is heating up in China and prepping for Japan. In North America, Godzilla earned $3,2 million and dropped 49%, in China, the big green lizard earned $10.9 million on opening day, and another $15 million on Saturday, as it works toward a $30 million plus debut in the world's most populous country. Domestically, Godzilla has earned $191 million, and overseas, it has earned approximately $240 million against its $160 million budget. As an aside, Godzilla has now outgrossed the worldwide total of Pacific Rim, which took in $411 million worldwide.

Eighth is Seth McFarlane's miss, A Million Ways to Die in the West. This one could have been called "a million ways to die at the box office," as it earned only $3.1 million in its third weekend of release. It drops a hurtful 58% compared to last weekend, and can only lift its domestic total to $38.9 million.

Neighbors, which had to face off against 22 Jump Street, finishes in ninth place. It earned $2.5 million and was off 53%. The $18 million Universal release has now earned $143.1 million domestically, and $230 million worldwide. Tenth is Chef, as the Jon Favreau film earns another $2.3 million, bringing its domestic tally up to $14.1 million.

Overall, thanks to a bigger top five than we've seen most of the summer, the top 12 films earned $183.9 million this weekend. That's enough to keep it at least close with last year, when Man of Steel and This Is The End led the top 12 to $197 million. Next weekend brings two cases of counter-programming working against each other, as Clint Eastwood directs the musical Jersey Boys (where is the buzz?) and Screen Gems releases the sequel Think Like A Man Too.