Weekend Forecast for June 13-15, 2014
By Reagen Sulewski
June 13, 2014
BoxOfficeProphets.com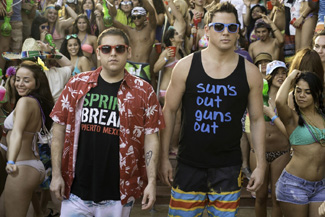 ---
A couple of unlikely franchises hook up for a June weekend that should be rather explosive in the box office department. Hollywood may be mostly out of ideas, but the ideas they're reusing, at least this weekend, are pretty strong.

In an era of "one and done", 2010's How to Train Your Dragon was a notable exception, rising from a $43 million opening weekend to finish with $217 million domestically, largely on the strength of character and some lively action sequences, in that order. In the annals of DreamWorks Animation, this is the most Pixar-like film that they've pulled off, and were handsomely and justly rewarded for it. A sequel was not only justified financially, but warranted on its own merits.

So How To Train Your Dragon 2 returns to the Scottish Highlands, with the Viking clan now happily cohabitating with their pet dragons after freeing them from the yoke of a gigantic mother dragon, and finding them to be actually splendid companions. Hiccup (voiced by Jay Baruchel), the first of the clan to master dragon taming, takes his steed out on continuing adventures and expanding their reach in territory. That is, until they run into a conquering dragon master bent on collecting a massive dragon army that will lay waste to all around him. Add into this mix some family drama, with Hiccup's long lost mother (voiced by Cate Blanchett) entering the mix, and the nascent romance between Hiccup and Astrid continuing to develop.

While a number of animated franchises have struggled in their second outing (I am looking at you, Rio), How To Train Your Dragon should be one of the few that vaults into a new tier (I am looking at you here, Despicable Me). The reason, pure and simple, is quality. That's an easy enough answer, but extremely hard to reproduce, apparently. That the second film is the equal to, or perhaps even better than the first makes this a special release. Jumps of many, many millions are possible when people actually want a sequel, and I think that's the case here. I look for a commanding win of the weekend with $78 million.

Perhaps a bigger surprise sequel is 22 Jump Street, which has little business existing if you look at the project it originally spawned from. Chris Lord and Phil Miller (here is all my money, just make more Clone High already!) took the little loved '80s teen detective show 21 Jump Street and turned it into a hilarious meta-commentary on TV adaptations, while at the same time satisfying the demands of an action buddy comedy. For the sequel, they've decided to hang the lampshade on all the things that sequels do, while still doing their best at meeting the demand for "more action, more comedy" that all sequels of this type have. It seems an impossible ask, but then these are the guys who made one of the best movies of the year about plastic toy bricks.

With Jonah Hill and secret comedy weapon Channing Tatum returning in their roles as undercover detectives, this time sent to infiltrate a college drug smuggling ring, the sequel isn't straying too far from the formula. One thematic difference that the ads have really been focusing on is the partnership between the two leads – the bromance, as it were – and how it may be falling apart, taking the investigation with it. And then they do some keg stands and jump a car through some obstacles.

There's a light, easy chemistry between the leads, which carried a lot of the first film, and combining this with the perfect amount of irony and parody in the script makes this a potentially big winner at the box office. The first opened to a then boggling $36 million, and its legend has only grown since then. Getting raunchier without getting too crude, and aiming at a just slightly older audience is amazingly savvy in terms of script and business, and should lead to a breakout to around $50 million this weekend.

The Fault in Our Stars had one of the most unusual opening weekends in history, earning almost 55% of its weekend business on "Friday", and almost a sixth of it in Thursday evening sneaks, thanks to a special $25-ticketed cast event. The teenage weepie struck a blow for emotionally-bent YA adaptations and won an easy victory on the weekend over the once largest box office star in the world, but seems headed for one of the briefest runs in cinema history of a hit, thanks to all that early anticipation. Now, at $12 million to make, there is no reasonable way to spin this as anything but a massive hit and a massive story. It just managed to front-load all of its business and make studios sit up and take notice. What was once likely seen as a throwaway film blew up into one of the biggest business stories of the year. That it'll drop to about $18 million this weekend is, again, almost immaterial.

The fractured fairy tale Maleficent dropped a little over 50% in its second weekend after a massive opening weekend near $70 million. That's simply the style of the times, and it's difficult to find fault with the $130 million it has earned so far. I'm looking for a final total of right around $200 million domestic and about $17 million this weekend.

Edge of Tomorrow was the disappointment last weekend in box office terms, if not quality, managing just $28 million, throwing under even the shiny, but mediocre Oblivion in the Tom Cruise canon. Solid word-of-mouth might help it, but the die is usually cast for sci-fi in its opening weekend. Even a $15 million second weekend seems a bit optimistic.

X-Men: Days of Future Past will cross the $200 million milestone this weekend, perhaps as early as Friday becoming, remarkably, just the third film in the franchise to do so and the first in eight years. It's been an interesting run for this franchise, never really creating a massive groundswell audience but never outright failing either. It should earn about $7 million this weekend.