Weekend Wrap-Up
Fault in Our Stars Goes Supernova; Tomorrow Implodes
By John Hamann
June 8, 2014
BoxOfficeProphets.com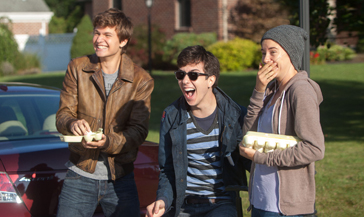 ---
The summer has been nothing short of magnificent so far at the box office this year, and now we get one of those once in a generation performances - like Love Story from 1970 – where heads turn to see The Fault in our Stars.

The term "the fault in our stars" comes from Shakespeare, a quote from Julius Caesar: "The fault, dear Brutus, is not in our stars, / But in ourselves, that we are underlings." If this were a bad movie, like all of the Twilight series, I would compare moviegoers to "the underlings" or the ravenous Twi-hards that lit up the Kristen Stewart/Robert Pattison uber-franchise. The Fault in our Stars appears to be a very different movie, a softer, more thought-out piece about two young people who meet at a cancer support group, and their journey going forward. Melodrama – check, manipulation – check, but packaged into a good film that is already a cultural phenomenon, and has only been out for three and a half days.

Tom Cruise also opened Edge of Tomorrow this weekend, but got buried, as The Fault in our Stars almost beat its weekend after a single day of release (plus previews). Those previews got started Thursday night, where The Fault in Our Stars earned an out-of-hand $8.2 million, blowing apart already inflated expectations. Its Thursday night was right on target with what two of our $90 million plus openers did via previews, as X-Men: Days of Future Past turned in an $8.1 million Thursday ($90.8 million weekend) and The Amazing Spider-Man 2 took in $8.7 million en route to a $91.6 million opening frame. While the $8.2 million figure for Thursday caused some hysteria, we need to remember today's book-loving youth and their "activeness" when it comes to the movie adaptation, whether considering the Harry Potter books, the Twilight series, or The Hunger Games. These youngsters show up for the Thursday previews, books in hand, to check out the translation - and the financial result is front-loading for the movies. I often bash these YA novel adaptions, but so often the films are not very good (Mortal Instruments, The Host etc). This one is different.

The Friday number for The Fault in our Stars came in at $26.1 million, astounding if it were on its own. Once the Thursday number is removed, however, the "true" Friday is $17.9 million, and lower than the Seth Rogen/Zac Efron recent #1 film Neighbors ($19.6 million Friday). Divergent, Shailene Woodley's last film, had a Thursday of $4.9 million, and a true Friday of $17.9 million, so you can see how similarly these two films performed. Divergent finished its weekend with $54.6 million, so it would be interesting to see how Fault would perform over the rest of the weekend. Also keep in mind that Divergent cost $84 million to make, whereas Fault cost only $12 million. So, no matter what happened yesterday and today, The Fault in Our Stars is a much stronger performer relative to investment.

Like Maleficent last weekend, we needed to see the Saturday number for The Fault in our Stars, as the data from Thursday and Friday were not enough to peg the weekend. If Fault become more than an opening day sensation – if word-of-mouth spread through social media like wildfire – the Saturday would have held better than a Twilight film. After all, that series was notorious for low weekend multipliers. A weekend multiplier (weekend box office divided by Friday box office) gives an indication of how front-loaded a film is, and how the Saturday and Sunday did compared to the Friday. We knew that the Fox release was going to be front-loaded, but the question was exactly how much, and if those popular Thursday screenings would suck up some of the effect. The result for Fault in our Stars was a drop off on Saturday of 52% (compared to previews and Friday), as it picked up another $12.5 million, and Sunday was estimated at $9.6 million (off 23% from Saturday).

That gives The Fault in our Stars a sizzling weekend total of $48.2 million from 3,173 venues for 20th Century Fox. Fault had a historically low weekend multiplier of 1.85, which indicates that it was as front-loaded as anything we've ever seen, at least on opening weekend. Still, it becomes one of the biggest openers ever for a no-action, little-comedy drama. For Shailene Woodley, this is another feather in her cap, as she takes another step toward becoming the next Jennifer Lawrence. She got started in the George Clooney/Alexander Payne drama The Descendants (89% fresh, $82.6 million domestic total), went on to The Spectacular Now (93% fresh, $6.9 million domestic total), and then did Divergent (41% fresh, $148 million domestic, $267 million worldwide). The Fault in our Stars earned an 82% fresh rating, and an A rating at Cinemascore. Whereas Woodley's The Descendants was akin to Lawrence's The Winter's Bone and Divergent is analagous to The Hunger Games, Woodley now has a comparison to Silver Linings Playbook. Also, she has three Divergent sequels in the queue, a la Catching Fire and Mockingjay. The girl is going to be huge.

The real winner with The Fault in our Stars is 20th Century Fox and a production company called Temple Hill Entertainment. Temple Hill was a production company on the Twilight Saga, has produced some Nicolas Sparks offerings (Dear John, Safe Haven), and the popular TV show Revenge. One can see how their first two offerings led to The Fault in our Stars, as it borrows the teen angst from Twilight and puts it into a Sparks-type weeper. Made for only $12 million, The Fault in our Stars was profitable by Saturday afternoon – this is not a case where its gross matched its budget amount or even where it doubled the budget, leaving only the marketing costs. Fault tripled its budget by Saturday afternoon, and by the end of day on Sunday had likely paid for every expense associated with it. Should the manipulative nature of it feed word-of-mouth – like The Notebook ($13.5 million opening, $81 million finish) or Love Story ($106.4 million domestic total in 1970), The Fault in our Stars could become a story for the box office ages. The dramatic front loading on opening weekend creates a great deal of doubt about that possibility, though.

Finishing second is Maleficent, as Tom Cruise gets powered down by nerdfighters AND Disney family moviegoers. After debuting to a powerful $69.4 million last weekend, Maleficent held well this weekend (considering the size of the opening). The Angelina Jolie Disney flick earned $33.5 million in its second weekend, off a not bad 52% compared to the opening frame. I think it's important to remember that females were busy with The Fault in our Stars, so this kind of sophomore weekend shows that Maleficent is working with families, and that the film is not too dark for kids. Maleficent followed the success of Oz the Great and Powerful, as it fell 48% after opening to $79 million, and Maleficent's hold was better than Snow White and the Huntsmen, which after opening to $56.2 million, fell 59% to $23 million. Maleficent crossed the $100 million mark on Friday night, its eighth day of release, and joins Men in Black, Twilight, and Brad Pitt's World War Z as other films that earned $100 million in eight days. The Disney film, with the $180 million price tag, has now earned $127.4 million domestically, and should touch $200 million stateside. Overseas, Maleficent has earned $208 million, and while these numbers are good, the movie will need to earn a half-billion worldwide for the studio to see a profit.

Third is Edge of Tomorrow, the Tom Cruise Groundhog Day film that takes place on the battlefield. Despite strong reviews and an interesting premise, Edge of Tomorrow got buried, but that was likely due to unfortunate scheduling rather than Cruise himself. Edge earned $1.8 million from Thursday previews, which were included in the opening day total of $10.7 million. That Friday amount is simply too low for a film that cost $178 million to make, but with good reviews and a global presence, it is too early to hammer it on it (many will regardless, a la Pacific Rim). The weekend for Edge of Tomorrow came in at $29.1 million, lower than Oblivion ($37.1 million open), but higher than anything else Cruise has released since 2006 (remember that the first weekend of Mission: Impossible - Ghost Protocol was IMAX only).

Tom Cruise will need his global audience to come out in force if Edge of Tomorrow even hopes to see a profit. However, I connect Edge of Tomorrow with the Cruise/Spielberg collaboration Minority Report. That one had a budget of $102 million, and opened to $35.7 million on the domestic side. It was as well received as Edge of Tomorrow (91% for Minority Report, 89% for Edge of Tomorrow), and also had to tussle with a different demographic on opening weekend, as it was against Lilo and Stitch, and beat the kids flick by less than half a million. Minority Report went on to earn $132 million domestically and $358 million worldwide, and that was in 2002. I would not at all be surprised if a decade later, Edge of Tomorrow does better overseas than Minority Report, but like Maleficent, it needs to earn a half-billion worldwide, which is going to be stretch for this one, no matter how you slice it. I like a comeback story, though, so I'll wait until next weekend to dig the grave.

Fourth spot goes to X-Men: Days of Future Past, which is swooning in a very similar way to that of Godzilla and The Amazing Spider-Man 2. In its third weekend, X-Men earned $14.7 million, which means it was off by 55% compared to last weekend, and follows a 64% drop last weekend. As a comparison, Godzilla fell 67% and 61% over its second and third weekends, and Spider-Man 2 fell 61% and 53%. With its huge $200 million budget, X-Men need $600 million worldwide to prove profitable for Fox, and it looks like it will get there. It has a domestic tally so far of $189.1 million, and had pulled in $345 million overseas at the time of this writing, so it is still on the track to success.

Fifth is A Million Ways to Die in the West, which is opened softly last weekend to $16.8 million. Things didn't improve for the Seth MacFarlane flick, as it fell 57% to $7.2 million. Still, with a budget of only $40 million and a total so far of $30.1 million, no one will get hurt too much by A Million Ways, but it will mark the first big screen failure for MacFarlane after the success of Ted.

Sixth is Godzilla, which earned another $6 million this weekend, giving it a drop of 51%. It has a running total of $185 million on the domestic side, and will be our second $90 million plus opener that struggles to get to $200 million plus at the domestic box office. The $160 million creature feature has already earned $200 million overseas, and still has yet to open in what could be its biggest markets (China and Japan). The worldwide gross has reached $385 million so far.

Neighbors, the low budget comedy, is seventh this weekend. The Seth Rogen flick earned another $5.2 million and fell 36% compared to the previous frame. The $18 million budgeted release from Universal has now earned $137.8 million domestically, and another $80 million from overseas cinemas.

Eighth is Blended, the Adam Sandler miss from Sony. Blended earned only $4 million and declined 50%. It has a total so far of $36.5 million against a $40 million budget. Ninth place goes to Chef from Jon Favreau and Open Road Films. Chef added 674 runs to its platform release, and took in $2.6 million, up 36% from last weekend. It has earned $10.4 million so far. Tenth goes to Million Dollar Arm, which picked up another $1.8 million this weekend. The Disney film slid 49% this weekend and has a running total of $31.3 million.

Overall this weekend, the box office keeps humming along nicely. The top 12 films this weekend grossed a powerful $156.3 million, well ahead of last year's top 12, when The Purge led the box office to $143.4 million, as The Internship flopped. Next weekend should also be huge. Fox takes the reins of How to Train Your Dragon away from Paramount for the sequel, and Sony releases 22 Jump Street, re-teaming Jonah Hill and Channing Tatum. Add to that second weekends for The Fault in our Stars and Edge of Tomorrow, and we should have a significant showdown.