Friday Box Office Analysis
By David Mumpower
June 7, 2014
BoxOfficeProphets.com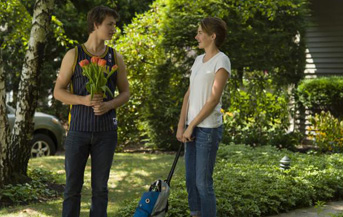 ---
Nerdfighters 1, Tom Cruise 0.

Yes, the Internet is celebrating today as one of its favorite sons has translated his YouTube popularity into a #1 movie at the box office. The theatrical adaptation of John Green's The Fault in Our Stars has become the movie story of the moment, and while it will not open as high as such recent blockbusters as Godzilla, Maleficent and X-Men: Days of Future Past, its performance relative to expectations is one of the most shocking in recent memory.

A month ago, industry forecasters believed that Tom Cruise's film Edge of Tomorrow would be the #1 film this weekend, while The Fault in Our Stars would be the more profitable project. The key here is that Edge of Tomorrow is saddled with a $178 million budget versus a mere $12 million for The Fault in Our Stars. In the weeks leading up to the release of both films, Internet buzz began to grow for Green's project; however, we've seen this happen before for projects such as Snakes on a Plane and Scott Pilgrim vs. the World. Both of those movies received ardent support from a passionate echo chamber of fans, but disappointed in terms of actual box office performance.

Few realized that The Fault in Our Stars would be a different story until John Green embarked on the most successful mall tour since the days of Tiffany and Debbie Gibson. By the time that Fandango reported that The Fault in Our Stars had broken presales records, film industry experts began to realize that David was going to beat Goliath. In fact, Goliath did not even put up a fight.

The Fault in Our Stars tallied $26.1 million on Friday, with $8.2 million of that accrued from Thursday night previews plus a special engagement event. It is the latter aspect that reflects zealous support for the latest Hollywood tearjerker. Fans were provided the opportunity to pay $25 in order to be the very first ones to watch the film and interact live with the people involved in the project. The shocking success of this glorified sneak preview leaves Hollywood executives with dollar signs in their eyes, as they envision a new way to boost the opening weekend box office of fan-driven movies. The popularity of this movie has effectively debuted a new business model.

The explanation for the movie's success is simple. Doomed romance has always been one of the favorite themes for female audiences. Whether we discuss 1970's Love Story, 1991's Dying Young, 1996's Romeo + Juliet, 2001's Moulin Rouge! or the 800 pound gorilla of them all, Titanic, the selling point is still the same. Justified or not, The Fault in Our Stars has become accepted as the most popular romance since 2004's The Notebook.

Obviously, this is rare air for any project, much less one with a paltry $12 million budget. The commonality all the movies above experienced was an extended box office run. That is not to say that The Fault in Our Stars will hold well over opening weekend. Excluding sneaks, the film earned $17.9 million on Friday. Anything over $18 million today would be very impressive. A reasonable expectation is a slight drop to $16.5 million, followed by a better-than-usual Sunday of $11.5 million. This weekend total effectively matches star Shailene Woodley's much more heralded 2014 release Divergent. That movie grossed $54.6 million in its opening weekend; more important, it cost $85 million to produce. Divergent may be Woodley's franchise, but The Fault in Our Stars instantly becomes her seminal film. Independent of what happens on opening weekend, I will be shocked if The Fault in Our Stars fails to reach $150 million domestically.

Meanwhile, Tom Cruise's inscrutable career in the 21st century continues to bemuse. By all accounts, Edge of Tomorrow is one of the best science fiction/action movies in recent memory. Some are going so far as to say it's one of the best of all-time. Unfortunately for Cruise, he starred in a mediocre science fiction movie last year called Oblivion, and the lackluster quality of that project seems to be dampening the enthusiasm for his latest offering. Oblivion opened to $37.1 million, $13.3 million of which came on its opening day. Edge of Tomorrow managed only $10.6 million yesterday, which is simply not good enough for a $178 million production.

The positives for Edge of Tomorrow are obviously glowing word-of-mouth and Cruise's terrific overseas box office appeal. Will that be enough to allow the film to be profitable? Almost certainly not. Edge of Tomorrow is probably looking at a $30.5 million weekend and it may not manage even that amount if it proves to be frontloaded. Last weekend's #1 film, Maleficent, is actually likely to beat it for second place this weekend, which says everything about the struggles of Edge of Tomorrow.