Weekend Wrap-Up
Maleficent is Magical at Weekend Box Office
By John Hamann
June 1, 2014
BoxOfficeProphets.com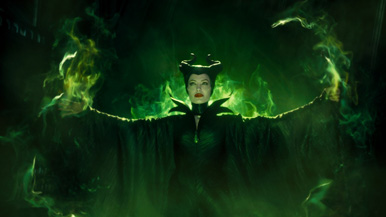 ---
Despite not appearing on screen since 2010's The Tourist (which was invisible to domestic audiences), Angelina Jolie proves with Maleficent that she can still draw a crowd. Whether Maleficent over-performed this weekend due to the star or the concept is an interesting argument.

The concept film has ruled the month of May at the box office, first with The Amazing Spider-Man 2, then with Godzilla, and further with X-Men: Days of Future Past. All of these "concept" films opened to more than $90 million. Neighbors was star-driven and opened to $50 million, and this weekend we have Angelina Jolie and Maleficent, the story of Sleeping Beauty, told through the eyes of the villain. From Disney, Maleficent was costly to bring to the screen at $180 million, which means Disney had a lot on the line, as this one would likely need $175-$200 million on the domestic side to get to a worldwide profit against that budget. Snow White and the Huntsman set the template, as it cost $170 million and grossed $397 million worldwide. Despite the big number, it likely failed to bring much of a profit to those at Universal, at least from the theatrical release.

With big expectations and much on the line, Maleficent got started on Thursday, and earned a surprisingly large $4.2 million. I had expected that figure to be about half of what it was, as Oz the Great and Powerful earned approximately $2 million from its previews, while Snow White and the Huntsman took in $1.9 million. Again, there are so many factors around these previews, from start times to season (Oz opened in early March), so there isn't too much weight to put into that figure. The Friday figure is different, though, and for Maleficent that figure came in at $24.2 million, an extremely solid start for a very expensive picture. Oz had an opening day of $24.1 million, but its "true" Friday was higher due to lower Thursday previews. Oz had a "true" Friday of $22.1 million, where the actual Friday for Maleficent was $20.1 million. Snow White opened in similar fashion, earning $20.5 million on its first day, but its "true" Friday was $18.6 million once the $1.9 million in previews are removed. These number show how important the Saturday and Sundays are for films like these, as Oz finished the weekend at $79.1 million, and Snow White finished with $56.2 million, a difference of $23 million.

On the Saturday, Oz increased over its Friday by a powerful 37%, earning $33 million. Snow White was flat, increasing only 3% from its Friday number, earning $21 million. This showed that Oz was more kid-friendly than Snow White and the Huntsman. The test is now out to Maleficent to see how kid-friendly it is perceived to be, despite the darkness put forward in the marketing materials. Normally, I consider studio executives drawing all box office meaning from the Friday gross, but with Maleficent, many eyes would be on the Saturday increase from Friday. Maleficent's Saturday came in at $25.6 million, up 6% from Friday, and the Sunday was estimated at $20.1 million. The weekend multiplier was 2.9, which tells us it somewhat played as a movie for families.

That gives the $170 million Disney release a weekend estimate of $70 million, a very solid total for a non-sequel release. It was released to 3,948 venues, many of them of the 3D or IMAX variety, and it earned a venue average of $17,730. The debut is in the same ball park as big hitters like The Chronicles of Narnia: The Lion, Witch and Wardrobe, which opened to $65.5 million, Frozen at $67.4 million, and Brad Pitt's World War Z, which opened to $66.4 million. Disney will be pleased with the strong start, as it almost guarantees a $200 million plus finish, given the A Cinemascore it received this weekend. Reviews weren't as strong and were in fact split almost exactly down the middle, with a Rotten Tomatoes score of 50% from both general reviews and those from "top critics". Reviews were very similar to that of Johnny Depp's Alice in Wonderland, where critics were also split, with that film's score currently at 51%.

For Angelina Jolie, Maleficent brings the biggest opening weekend of her career. Her live action best came with Mr. & Mrs. Smith, which opened to $50.3 million and went on to earn $186.3 million domestically and almost a half-billion worldwide. Her biggest debut came from Kung Fu Panda, where she had a supporting voice role. Panda opened to $60 million, and brought a worldwide cumulative total of $630 million; Jolie is also attached to Kung Fu Panda 3.

Overseas grosses are also likely to be very big for Maleficent, thanks in large part to Jolie. All of her films since 2004's Sky Captain and the World of Tomorrow have grossed significantly more overseas than they have domestic, so $200 million in North America should equal $300 million at least overseas, which would be more than enough to put Maleficent into the black. It already has over $100 million from international venues, so it's off to a fine start.

Finishing second is X-Men: Days of Future Past, and after a $90.8 million three-day/$110.6 million four-day Memorial Day weekend splash, those X-Men are coming back to earth in a hurry. X-Men could only pull in $32.6 million this weekend, after a 73.5% decline when comparing Fridays. The weekend-to-weekend drop was a bit better at 64%, and compared to X-Men: The Last Stand, which dropped 67%, this result isn't all bad. The last X-Men release, First Class, dropped 56%, but was falling from a $55 million opening weekend (First Class didn't earn what Days of Future Past did in four days until its 16th days of release). Before anyone hits the panic button on this $200 million film, let's remember that Days of Future Past will finish with more than $225 million domestically, and has already earned $220 million at the overseas box office. Future Past has a domestic gross so far of $162.1 million.

Seth MacFarlane laid his first turd since hosting the Oscars with this weekend's release of A Million Ways to Die in the West. The comedic western (why?) earned only $6.1 million on Friday night, and was able to turn that into a weekend estimate of $17.1 million, a weekend number that is lower than the opening night of his last film, Ted (it earned $20.6 million on its first day). With MacFarlane, I always think that he's trying to see what he can get away with, whether it be what goes on on Family Guy, or having a Teddy Bear sit on the couch with a bunch of hookers smoking pot. This time around, it seemed that he wanted to prove that he could make a comedic-western, and have it make money. It might make some money given its $40 million budget, but this film was marketed incessantly, and I can only begin to imagine the cost of Universal's campaign. Ted did very well overseas as well, so MacFarlane might be a known quantity over there; however, if Rango, an animated comedic western starring international superstar Johnny Depp didn't work overseas, will this? It didn't receive good reviews, and the Cinemascore was only a B, so Universal will need to be lucky to see a profit on this one.

Fourth spot goes to Godzilla, but the big guy is starting to look tired. After a 67% tumble during the long weekend (where it still fell 59% if we include the Memorial Day Monday), Godzilla continues to fall this weekend, earning $12.2 million and dropping 61%. There is now a possibility that the $160 million Warner Bros. release won't make it to $200 million stateside, but with $166 million in the overseas till already, and China and Japan still to come, Legendary and Warner Bros. have a strong first film in their franchise. Domestically, Godzilla has cleared the $160 million budget amount as it has a total of $174.7 million.

Fifth is the floppish Adam Sandler comedy Blended. It would appear the Rhino poop jokes are not going over well, as last weekend's loser didn't improve on anything this weekend. Blended earned $8.4 million and dropped 41%. Thankfully for Warner Bros., this one cost only $40 million to make, so a gross so far of $29.6 million doesn't hurt too much.

Sixth spot goes to Neighbors, which will likely pass Godzilla next weekend in terms of ranking. The ultra-successful Neighbors earned another $7.7 million, dropping a not terrible 45% compared to its three-day Memorial Day take from last weekend. Remember, Neighbors cost Universal only $18 million to make, and has earned $128.6 million domestically so far, along with another $79 million overseas. That's almost 11 times its production budget, and is easily the big expense-versus-profit winner through the early portion of the summer.

Seventh is The Amazing Spider-Man 2, which, like Godzilla, had its very bright moment in the sun before fading quickly. After earning $7.8 million last weekend, Spider-Man dropped 52% this weekend, picking up another $3.8 million. The film, which likely cost $230 million to make, now has a domestic cume of $192.7 million, and is going to need a couple of more weekends just to make it to $200 million, despite opening to $91.6 million. Thank goodness Spidey has a lot of fans overseas, as the film has picked up almost $500 million overseas to put the Sony picture into a better position against that budget.

Million Dollar Arm is eighth, and while it hasn't proved to be the breakout hit that Disney thought it had, it's still done decently. This weekend, Million Dollar Arm earned another $3.7 million, off 47% from the previous weekend. The small, $25 million film now has a running total of $28.1 million, and will likely top out domestically with about $40 million.

Ninth is Chef, Jon Favreau's art house food picture with a bevy of stars. Chef earned $2 million, giving it a decline of 11%, and bringing its total up to $6.9 million. Tenth is The Other Woman, which quietly turned into a big hit for Fox. The Cameron Diaz starrer earned $1.4 million, dropping 62%, but lifting its domestic cume to $81.1 million. Overseas, it has earned $86 million, putting this $40 million picture into the profit.

Overall, the top 12 films at the box office did decent business, earning $161.3 million. Last year, Fast & Furious 6 was coming off its huge Memorial Day weekend and was joined by the flop After Earth and the surprise hit Now You See Me. The same weekend last year earned $160.8 million from its top 12, leaving this year just slightly ahead. Next weekend, we'll have more fireworks at the box office, as Tom Cruise opens Edge of Tomorrow, the very well reviewed sci-fi action pic from Warner Bros., and Fox opens what could be the sleeper of the summer in The Fault in our Stars.