Weekend Forecast for May 30-June 1, 2014
By Reagen Sulewski
May 29, 2014
BoxOfficeProphets.com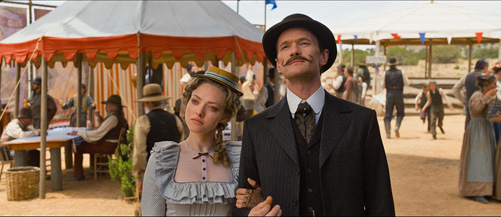 ---
With the possible exception of replacing one of this week's films with a Pixar production, it's difficult to come up with two more opposingly minded films than the pair that are hitting wide release this weekend. There's family entertainment and there's ...not ... family entertainment, and very little in between.

Few companies are better at leveraging their existing properties than Disney, who bring a reworked version of their classic Sleeping Beauty to the screen in Maleficent, told from the point of view of the villain, one of the most frightening in animation, if not cinematic history. Angelina Jolie plays the title role, costumed up to the edge of recognizability, with Elle Fanning, Sharlto Copley and a few other recognizable faces, if not names, in the film, though there's no mistaking the notion that it's Jolie's film to win or lose with.

Disney has tried the live action fairy tale route before to some success with Enchanted, and this looks a bit like a hybrid of that and Pirates of the Caribbean - a big-budget, effects-driven family extravaganza played for some humor. There are moments that make it look like it's been made simply for the sets, and indeed, it's a long-time special effects coordinator and art director being given his first chance at helming a movie. Given that it's one of Disney's key properties, you can bet his leash was not long.

Aside from Disney's attempts, live action fairy tales have been tried by other studios recently as well, and their approaches are illustrative to their success or lack thereof. Snow White and the Huntsman went as serious as could be with the bit, turning it practically into an action movie and opening to $56 million. Mirror Mirror played cutesy with it and opened to just $18 million. These days, audiences embrace ultra-serious, while tongue-in-cheek gets you slaughtered. Letting Jolie run amok with the villain role, which she seems to be having an absolute delight with, combined with Disney's ability to market this kind of family and quasi-family entertainment, is a license to print money. I look for an opening weekend of $70 million here.

Sitting opposite this film is A Million Ways to Die in the West, which seems to be marketed on the basis of "Hey, it's Seth MacFarlane! And he's doin' stuff!" Sadly for some, this may just be enough. Directing, writing and starring in the hard-R comedy western, he plays a cowardly farmer who becomes smitten with Charlize Theron, allying with her against her husband (played by Liam Neeson), a villainous marauder who's not likely to take kindly to being cuckolded. And then of course, there's the title idea, in which every kind of violent end might happen anyway, just because.

Also starring Giovanni Ribisi, Amanda Seyfried, Neil Patrick Harris and Sarah Silverman, it's seems to be just a clearing house for all the weird ideas that MacFarlane had that he couldn't use for Family Guy and could get made without spending too much money on, say, production values. Acting is of the "hey, let's put on a show" quality, and the sets have a distinct "dinner theater" vibe to them. Reviews are fairly miserable, but this may be review-proof to some extent. He's picked up a number of fans from the "proof-of-concept" of Ted, which showed that he can make a marketable real really for-real motion picture. That this isn't Ted 2 diminishes its potential somewhat, and it's not like he's Adam Sandler in his prime, with a legion of fans ready to support his every move. I mean, okay, he probably does have a legion, it's just not that large. But whereas Ted looked like a real movie with plot and character and everything, A Million Ways to Die in the West is a gag-heavy wisp of a movie that will appeal only to his die hard fans. I'd look for a $26 million weekend.

Second weekends haven't been kind to tentpole pictures so far this summer, even ones with good word-of-mouth. X-Men Days of Future Past will likely follow this script even as it works on its good reviews and a great $90 million opening. Fox will have to be content with merely reviving its biggest franchise, and possibly giving them hope for the Fantastic Four reboot. Give this a $37 million second frame.

Godzilla is the case study for the one-and-done blockbuster phenomenon in its most recent invention, surprising everyone with nearly $100 million, then hacking off two-thirds of its business in the second go-round, a holiday weekend at that. Even if it "only" hits $225 million domestic after a $13 million weekend, that is still a pretty tremendous win, and nothing I think many would have predicted prior to May.

Adam Sandler's latest fail pile, Blended, opened to just $14 million, barely beating That's My Boy for his lowest comedy opening since the days of Happy Gilmore. Where once Little Nicky was just an aberration in his career, it appears that Sandler's ability to open a movie simply on his name may have disappeared for good. Grown Ups 3 anyone? *shudder* Look for about $6 million this weekend.

That should slip it behind Neighbors, which seems headed for a little over $150 million, a massive return on a tiny budget, and Zac Efron's first real hit in ages, even if he has to piggyback on Seth Rogen to do it (and don't tell me some of you aren't imagining that right now). Give it $8 million this weekend.