Weekend Wrap-Up
X-Men Sizzles as Box Office Enjoys another $90m+ Opener
By John Hamann
May 25, 2014
BoxOfficeProphets.com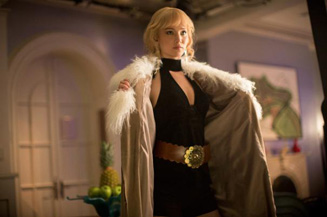 ---
The star-studded cast of X-Men stormed into summer frame #4 at the box office this weekend, on the heels of a humongous Godzilla at $93.2 million, an amazing $92 million opening for Spider-Man 2, and leader of the current pack, Captain America: The Winter Solider, at $95 million. X-Men: Days of Future Past debuted with more than $90 million over the Friday-to-Sunday portion of the Memorial Day weekend, and becomes the fourth film to do so over an eight-week period.

Sony should takes notes this weekend, as 20th Century Fox, Bryan Singer and the X-Men demonstrate perfectly how to reboot a comic series franchise. Spider-Man this is not. Following the out-of-hand good X-Men: First Class, where Fox and the franchise took a risk and introduced about a dozen new faces to its canon at a cost of $160 million, that investment pays off this weekend, as X-Men: Days of Future Past explodes at the box office over the Memorial Day frame. The reboot may have faced a loss for 20th Century Fox, as it earned $353 million worldwide against that monstrous $160 million budget, as it likely needed at least $400 million to be in the black. What it did do was make some great casting decisions, specifically Michael Fassbender in the Magneto role, and Jennifer Lawrence as Mystique.

Since First Class, Fassbender made Shame, Prometheus and 12 Years a Slave. Lawrence made a little film called The Hunger Games and its sequel, won an Oscar for Silver Linings Playbook and was nominated for the $100 million plus winner American Hustle. Days of Future Past brings a great predecessor to the table, maybe one of the best casts ever assembled, is 91% fresh, and opens on Memorial Day Weekend – how did you think it was going to do?

X-Men: Days of Future Past got started on Thursday night with a bang, earning a powerful $8.1 million. Why is that a strong number when Godzilla did $9.3 million and Spider-Man 2 did $8.7 million? Because Days of Future Past didn't start on Thursday until 10 p.m., compared to Godzilla's 7 p.m. start, and The Amazing Spider-Man 2's debut at 8 p.m.. Both Godzilla and The Amazing Spider-Man 2 had the benefit of two screenings on Thursday night, whereas X-Men only had one. Additionally, the latest incarnation of Wolverine had a Thursday preview of $4 million – also starting at 10 p.m. – and earned $53.1 million over its opening weekend. The Friday number (with Thursday previews included) came in at $36 million, right in the neighborhood of Godzilla ($38.4 million), Spider-Man 2 ($35.2 million) and Captain America: The Winter Soldier ($36.9 million). Knowing that both Godzilla and Spidey 2 had higher Thursdays, and that X-Men was going to have a solid Sunday given the long weekend, corks would have been popping at Fox, as the writing for a huge debut was on the wall. It took the previous X-Men movie until Saturday night to earn the same amount as this one did on Friday, as it finished Saturday with $41.1 million.

The concern for Fox had to be front-loading. When X-Men: The Last Stand opened to $102.8 million over the three-day portion of the Memorial Day weekend in 2006, the Thursday preview was $5.9 million and the Friday number was $45.1 million, before dropping 29% on Saturday to $32 million. Fox would have been hoping for the Captain America trend (off only 6.1% on Saturday) but was more likely looking for the Godzilla trend, where the big green lizard dropped 16% on Saturday from the huge Friday. The result for X-Men: Days of Future Past was a Saturday number at $29.6 million, or a drop from Friday of 18%. This is an okay number, but did provide our first indication that there was a Friday fanboy rush. The weekend multiplier came in at 2.5, which is low considering that Sunday should have behaved like another weekend day due to the holiday Monday.

The weekend number for Days of Future Past came in at an awesome $90.7 million, pulling that amount from 3,996 venues, with many of those 3D screens, but fewer IMAX, because Godzilla is still roaring on those screens. Days of Future Past had a venue average of $22,698, and keeps the box office hot, hot, hot as the month of May wears on. This incarnation of X-Men becomes the fourth $90 million plus opener over a space of eight weekends, and given that only 37 films have opened to $90 million plus, to have four films do it over such a short period surely sets a record. It will happen again when the next Transformers comes out (although I won't be celebrating that release – enough already).

As I said above, Fox has issued a master class in rebooting a franchise, by making good movies and not releasing them on top of each other. Days of Future Past is 91% fresh overall, but is 98% fresh from top critics, with 40 top critics coming in positive, and only one coming in negative. It pleased fans of the franchise by turning one of the most beloved story lines from the comics into a film, earning an A Cinemascore. They really couldn't have done anything better as the film approached its release date. Next up for X-Men is an even more popular comic storyline in X-Men: Apocalypse, a film I would show up for on opening day, and if good, will probably see twice that day.

Finishing second this weekend is Godzilla, last weekend's $90 million plus opener (it happens all the time these days). The big green lizard knew it was going to get squeezed this weekend by the X-Men, as the humanoid mutants did more damage to Godzilla than the alien ones do in the film. Godzilla earned $8.8 million on Friday, and by all accounts was off 77% from the previous Friday. However, if we remove the $9.3 million Thursday figure, the true Friday for Godzilla was $29.1 million, which makes the Friday-to-Friday drop more like 69%. Using the Memorial Day weekend to its advantage, Godzilla was able to storm back somewhat, and finished the weekend with a 3-day total of $31.4 million, off 66% from its monstrous opening weekend of $93.2 million.

Despite the drop-off, all things still look healthy for our friend from Japan. Godzilla should finish with $225 million plus at the domestic box office, before destroying box office records in South Asia and finishing with a worldwide total of $500 million at the extreme minimum. The film will not debut in China and Japan until June and July respectively, so we will have to wait to understand the full impact on Godzilla's wrath across the globe. Before heading into the weekend, the $160 million Warner Bros. production had already pulled in $103 million overseas; thus, it is already halfway to being in the black on a global basis. Domestically, Godzilla has stomped $148.8 million worth of tickets, and Warner Bros. and Legendary's Thomas Tull have to be extremely pleased. It's nothing like Pacific Rim domestically.

Third place goes to Blended, as we see how far Adam Sandler's stock has fallen with horrible films like Jack and Jill and That's My Boy. Blended could only find $14.2 million from 3,555 venues, as it suffered from bad reviews and a scattered marketing campaign. It cost $40 million to make (down from the $70 million for That's My Boy and $79 million for Jack and Jill). Will someone PLEASE give Sandler something to work with? Despite also starring Drew Barrymore, Blended is just 16% fresh at RottenTomatoes, but the fanbase did give it an A- Cinemascore.

Neighbors finishes fourth, coming in just a smidgen behind Blended. After finishing last weekend with $25 million and a 49% drop, Neighbors improves a little on the percentage decline, coming in at 44% as it earns $13.9 million. Neighbors got beyond the $100 million mark on Friday, its 15th day of release, the same amount of time it took last year's The Heat to meet the same mark. The difference is the budget, as The Heat cost $43 million to make, but Neighbors only cost $18 million. It has a domestic gross now of $113.6 million, along with $67 million in overseas sales. When comparing budget to worldwide gross, this one has earned 10 times its production budget.

The Amazing Spider-Man 2 falls to fifth, and continues to have near 50% drops or worse. The $225 million plus production earned only $7.8 million in weekend four, down 54% compared to last weekend. As a comparison, the Captain America sequel earned $16.2 million in its fourth weekend. It's a different story overseas, as Spidey has already racked up $489 million in overseas grosses, where The Winter Soldier has $453 million.

Disney's Million Dollar Arm is sixth, as it has a decent but not spectacular second frame. The Jon Hamm starrer earned $7.1 million in weekend two, and was off 33% compared to its $10.5 million opening. This one cost $25 million to make, but I imagine the marketing spend on this one was huge. Unfortunately, the advertising hasn't yielded a huge result, as it would seem Neighbors is the counter-programming choice so far. The Disney flick has a total so far of $20.6 million.

The rest of the top ten are the also-rans, and include The Other Woman earning $3.7 million and seeing a 42% drop. The Fox product cost $75 million to make, has a domestic total of $77.8 million, and has earned $80 million overseas, becoming a worldwide hit. Rio 2 is eighth, earning $2.5 million. This is another Fox release that cost the studio $103 million to bring to the screen. It has earned $121.6 million domestically, and about $320 million overseas.

Platforming release Chef cracks the top ten this weekend, despite being out to only 455 screens. The Jon Favreau foodie release earned $2.3 million this weekend, giving it a venue average of $4.538. It has earned $3.5 million so far.

Tenth is Heaven is for Real, which took in $2 million and brings its total up to $85.8 million. Eleventh is Captain America: The Winter Soldier, which is likely having its last weekend in the top 12. It earned another $1.7 million this weekend, but brings its total up to $253.6 million on the domestic side. It has a worldwide gross of $707 million so far, against a budget of $170 million.

Overall, the box office had an almost insurmountable task of beating last year's top 12, when Fast & Furious 6 debuted to $97.4 million, and three other films finished above $30 million. That weekend, the top 12 hit $249.3 million. This Memorial Day weekend, the top 12 earned $179 million. Next weekend brings a very interesting showdown between Disney's Maleficent, featuring Angelina Jolie, and the currently hot Universal and Seth MacFarlane with A Million Ways to Die in the West.