Weekend Wrap-Up
Neighbors Exterminate Spider-Man 2
By John Hamann
May 11, 2014
BoxOfficeProphets.com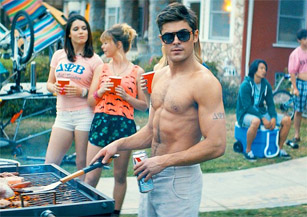 ---
It is only the second weekend of the summer box office season, and we already have our first surprise, as the $18 million Seth Rogen and Zac Efron flick Neighbors put the boot to the $235 million The Amazing Spider-Man 2.

After a solid weekend where Sony's rebooted Spider-Man sequel improved over the original's opening weekend by $30 million, things are back to normal this weekend, as the web slinger could only match the second weekend of its predecessor. The bigger news, though, is Neighbors, the frat vs family face-off, as it had a bigger opening weekend than films like The Hangover, The Hangover Part III and Bridesmaids. On the softer side of the box office, new films included Legends of Oz: Dorothy's Return and (another) faith-based comedy in Mom's Night Out. Let's just say that Dorothy didn't get to the lows of Oogieloves ($443,901 opening from 2,160 screens) but the carnage is similar, as it cost $70 million to make.

Yes, our number one film of the weekend is not The Amazing Spider-Man 2. Instead, it is Neighbors, the new R-rated comedy starring Seth Rogen, Zac Efron and Rose Byrne, and directed by Nick Stoller (Forgetting Sarah Marshall, Get Him to the Greek). We knew Neighbors was going to do decent business this weekend, as it had a trailer that rocked and all kinds of media coverage. Neighbors earned $2.6 million via Thursday previews and then blew up on Friday, earning an amazing $19.6 million with those Thursday previews included. That means that Neighbors did almost as much on Friday as Seth Rogen's last film, This Is the End, did over its opening weekend ($20.7 million). This Is the End went on to earn over $100 million at the domestic box office. Neighbors proved to be a date film, a girls night out film, and bro film, and it would appear all segments came out on Friday night.

Over the weekend proper, Neighbors earned an amazing $51.1 million from 3,297 venues, giving it a fantastic venue average of $15,575, and leaving Spider-Man 2 in the dirt. The second weekend in May is proving to be a popular spot, as last year, The Great Gatsby surprised with $50 million as well, and in 2011, it was the weekend that Bridesmaids opened. The debut for Neighbors is Rogen's best in a live-action comedy, and for Efron, it even beats High School Musical 3, which opened to $42 million in 2008.

Reviews were strong for Neighbors, as Rotten Tomatoes has it at 74% fresh, with 124 reviews out of a possible 168 coming in on the good side. The family vs frat comedy didn't even wash out on the "top critics" side of Rotten Tomatoes, as that score is currently 74% as well. Somewhat of a surprise was the Cinemascore, which came in at a B, but This is the End scored a B+, which isn't a world away.

Not only does it help to start the summer off with a bang, but Neighbors was also a good financial decision and another huge win for the folks at Universal, a distributor that is simply white hot right now. Neighbors cost only $18 million to make, a number the comedy had earned after its first day of release. This is not a sentence I get to write very much over the summer months, but Neighbors likely paid for its production cost in real dollars this weekend, and will have the marketing paid for by the end of next weekend. The scheduling for Neighbors was perfect, which went hand in hand with a strong, funny, marketing campaign.

For Universal, the studio has released four films in 2014, three of which have been huge. They got started with Lone Survivor, which debuted to $37.8 million and went on to earn $125 million domestically along with $25 million overseas, all against a budget of $40 million. They then released Ride Along, which opened to $40 million plus, earned $134 million domestically and another $20 million overseas and growing – versus a $25 million production budget. Next was their miss, Endless Love, which grossed only $23.5 million domestically and $10 million overseas, but cost only $20 million. Then came Non-Stop, which cost $50 million to make but earned just short of $200 million worldwide. Prior to Neighbors, Universal had spent $135 million and earned about $535 million worldwide. Now they have another $100 million plus earner on the domestic side alone, against a cost of $18 million.

With Neighbors, The Amazing Spider-Man 2 lost the fight on Friday night, but given its target demographic, had the rest of weekend to get back in the game. The gap after Friday was too much, however, leaving Sony to stew over a second weekend gross of $37.2 million from 4,324 venues. The second weekend, Friday night gross for Spidey 2 was almost exactly the same as the second weekend Friday gross for the original, as it earned $10.2 million, where the sequel earned $10.1 million. So, after all that celebrating over the opening coming in $30 million higher came to a screeching halt in the second weekend, as the weekend scores are just about flat after the original earned $34.6 million in weekend two.

It's also important to keep in mind how amazingly expensive it is to bring these Spider-Man films to the screen. Both the original and the sequel cost in the area of $230 million, which indicates to me they need a worldwide haul of at least $650 million to see a profit. The original did $752 million worldwide, and the sequel should do better, as it already has more than a half-billion in its web thus far. They don't shine like the Marvel/Disney films, and aren't as good (Spidey 2 is 54% fresh, Captain America 2 is 89% fresh), and I often feel that Sony leaves money on the table as they rush to get this product out. On the domestic side, The Amazing Spider-Man 2 has earned $147.9 million so far.

Fox's The Other Woman is quietly doing some decent business so far, not just on the domestic side but internationally as well. In its third weekend, against two giants, The Other Woman earned another $9.2 million from 3,306 venues. It was off a respectable 36%, given that the two films above it combined for $80 million. Cameron Diaz puts another strong comedy title onto her impressive comedic resume, which includes Bad Teacher ($100.3 million domestic), What Happens in Vegas ($80 million domestic) and of course, There's Something About Mary ($176 million domestic). The Other Woman cost only $40 million to make, and has grossed $61.7 million at the domestic box office already. Overseas it's earned $60 million plus and counting.

Heaven Is for Real finishes in fourth place as it spends its fourth weekend in theaters. Heaven earned another $7 million and held amazingly well, dropping just 18% in weekend four. The $12 million film from Tri-Star has now earned $75.2 million, and will pay for losses incurred by Moms' Night Out.

Still in the top five is Captain America: The Winter Soldier, despite being in release for six weekends. This weekend, the Marvel/Disney release earned another $5.6 million, dropping only 28% compared to last weekend, when it fell 52% against the debut of Spidey sequel. The Winter Soldier has now earned $245 million, making it the top film of the Marvel Universe that doesn't involve Iron Man or Avengers, and is approaching the half-billion mark overseas.

Sixth is Rio 2, the Fox/Blue Sky Studios presentation. In its fifth weekend, Rio 2 earned another $5.1 million, off 34% from last weekend. The original Rio earned $8.3 million in its fifth weekend, so you can see that the sequel doesn't have the legs of the first film. On the overseas side, Rio 2 is close on the heels of the original, as its earned over $300 million so far, compared to the original's overseas take of $341 million. Stateside, the $103 million release has amassed $113.2 million.

In seventh we have Moms' Night Out, which looks something like a Tyler Perry release with stars who only look like they are cross-dressing. This failed attempt at faith-based comedy earned only $4.2 million this weekend from 1,044 venues, which indicates that Tri-Star gave it the perfunctory release before sending it off to home video. Moms' Night Out cost only $4.5 million to make, so no one except audiences will be hurt by seeing this one, as it is 17% fresh at RottenTomatoes.

Legends of Oz: Dorothy's Return was the film I thought would match the dreaded Oogieloves for ineptness, both quality-wise and at the box office. Dorothy's Return was able to do better with both, but not by much. Dorothy earned $3.7 million from 2,575 venues, which puts in the top 50 of worst wide releases. The studio's website lists the production budget at $70 million, though, which will make it one of the bigger flops in history. Then again there is always The Adventures of Pluto Nash, which cost $100 million to make and earned $4.4 million, and Delgo, the $40 million animated feature than made less than a million.

The teen-targeted film Divergent hangs around for one more weekend in the top 10 as it finishes in ninth place. Now in its eighth weekend, the Lionsgate release $1.7 million, down 22% from the previous frame. Thus far, Divergent has a domestic total of $145 million, and adds over $100 million in overseas revenues to its total.

Tenth is Brick Mansions, one of Paul Walker's last films. Brick Mansions earned $1.5 million this weekend and declined 60%. The $28 million film has now earned $18.3 million domestically, and is approaching $10 million overseas.

Virtually tied for 10th is The Grand Budapest Hotel, which has spent seven weekends in wide release. The Wes Anderson film earned another $1.47 million this weekend and fell 18%. It has moved ahead of The Royal Tenenbaums to become Anderson's biggest film with a domestic gross of $53.7 million, and has also earned $90 million overseas.

Overall this weekend, the top 12 films at the box office earned $129.1 million, well back of last year when Iron Man 3 and The Great Gatsby led the top 12 to $152.1 million. Next weekend brings the return of Godzilla, and the marketing so far has been strong. Million Dollar Arm also gets a 3,000 plus screen debut next weekend, so things should get even more interesting in the third weekend of summer movie madness.