Weekend Wrap-Up
By David Mumpower
May 4, 2014
BoxOfficeProphets.com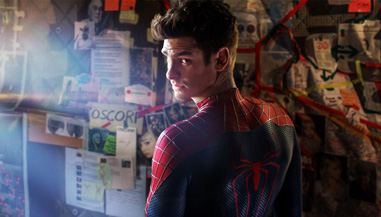 ---
Welcome to our favorite time of the movie calendar - the summer box office season. People went back to the future as everything old was new again. The #1 movie character of the same weekend in 2002 once again dominated the box office, as Spider-Man earned almost twice as much as the rest of the top 10 in combination. Suffice to say this weekend's performance was amazing.

In 2002, Spider-Man became the flag-bearer for the current generation of mega-openers. By earning $114.8 million during the first weekend of May, the Marvel character became the first $100 million opener in box office history. Twelve years later, only 17 other films have reached that milestone. Between that film's landmark debut and this weekend, three other Spider-Man films were released, and only one of them was able to exceed the $100 million barrier. In the interest of fairness, I would note that the two films that did not were both pre-Friday releases, and that does impinge upon a film's ability to sustain momentum during the Friday-to-Sunday portion of the weekend. The point here is simple. Earning $100 million on opening weekend is difficult and should only rarely be used as a gauge for the debut of a new release.

The Amazing Spider-Man 2 won this weekend with a debut of $92 million. In addition, it has now earned $277 million from overseas venues, giving it a global take of $369 million after three days of domestic and 17 days of international release. Suffice to say that for all of the arguments about product saturation and eroding quality, consumers still love Spider-Man devoutly.

If The Amazing Spider-Man 2 just dominated the weekend box office, why has the buzz about the movie been so predominantly negative? The answer is that the Spider-Man franchise competes against itself as much as it is compared to other mega blockbusters. Movies from the Spider-Man franchise have shattered the opening weekend box office record twice. Due to its illustrious history, a lot of people compare every new title to Spider-Man and Spider-Man 3 in terms of box office and Spider-Man 2 in terms of quality. Let's be realistic. Any movie faced with those expectations will fail. For years, Spider-Man 2 was the obvious selection as the best comic book movie ever made. Spider-Man 3 opened to $151.1 million. It is simply unreasonable to expect a movie to be praised by 96% of Top Critics on Rotten Tomatoes while grossing in excess of $150 million on opening weekend.

The Amazing Spider-Man 2 is more akin to The Bourne Legacy than it is to the Jason Bourne trilogy. Once Tobey Maguire, Kirsten Dunst and Sam Raimi abandoned plans for Spider-Man 4, the primary selling points for the franchise all vanished save for the obvious one: kids love Spider-Man. The primary-colored web slinger is a high school student by day, hero by night. That is a wonderful concept in theory. In execution, there are only so many interesting tales that can be created without the character growing older. In fact, The Amazing Spider-Man reboot combined strong story elements of Spider-Man and Spider-Man 2, and it did not tell those stories anywhere near as well. The fact that The Amazing Spider-Man earned $750 million worldwide, the seventh largest total of any 2012 release, is a reflection of the character's popularity as well as the increased emphasis on overseas revenue. Since The Amazing Spider-Man 2 is a sequel to an unwelcome reboot that was only marginally tolerated by most consumers, we should view its opening, one that is in the same range as Captain America: The Winter Soldier, as extraordinary rather than cause for negativity.

Where does The Amazing Spider-Man 2 go from here? This topic is subjective, as ardent fans of Spidey wear rose-colored glasses on the subject. The people who are not in love with the character, well, their spidey senses are tingling. The Amazing Spider-Man 2 is only 54% fresh at Rotten Tomatoes; the grim news is that it's only 37% fresh amongst Top Critics. Its Cinemascore grade was only a B+, and while a B+ is a decent grade on your report card, it is not the score a $200 million production needs to survive in the marketplace. To wit, The Amazing Spider-Man received an A- Cinemascore, yet it grossed only $125 million after opening weekend. I would note that this number is artificially deflated by its release during the week of July 4th, so it is not quite as bad as it sounds on the surface. Spider-Man 3, unquestionably the least popular of the Spider-Man movies to date, received... a B+. I'm not suggesting you should read a lot into that analogy, because Spider-Man 3 still managed a 2.2 final multiplier after its record-shattering weekend of $151.1 million. Unfortunately, if The Amazing Spider-Man 2 achieves the same ratio, it barely crosses the $200 million mark. To date, no Spider-Man movie has earned less than $262 million domestically. In order to demonstrate its viability in the early summer marketplace, The Amazing Spider-Man 2 will have to behave like a family film, similar to what Captain America 2: The Winter Soldier has done thus far. If not, the only number Sony will ever acknowledge about the fifth Spider-Man movie is its global take.

The Other Woman is way back in second place, as Spidey's web proved too much even for counter-programming to take hold. The poorly reviewed revenge comedy featuring Cameron Diaz, Leslie Mann and Kate Upton earned $14.2 million this weekend, a hefty decline of 43%. Since it is the primary choice for the female demographic, it may see a bit of a recovery next weekend, but even if it does not, The Other Woman has already proven to be a solid success for the folks at Fox. It has earned $47.3 million in 10 days, already surpassing its budget. By the time it leaves theaters, it will easily have covered its marketing and print costs, and that's not even taking into consideration that it has already earned $20 million overseas. Even if the quality of the film might be lacking, the success of The Other Woman should remind studios that this audience is hungry for product.

Third place goes to Heaven Is for Real, the most recent faith-based release to see success in 2014. Now in its third weekend, the TriStar film declined 39% to $8.7 million, thereby bringing its domestic total to $65.6 million. This amount is well in excess of the film's $12 million budget, and ensures that this quickly growing genre will continue to be a big story in 2014. Depending on how you see Noah, Heaven Is for Real is either the third or fourth faith-based movie in just four months, and another one is coming as soon as next weekend.

Finishing in fourth place this weekend is the film that set the table for Spider-Man, Captain America: The Winter Soldier. The satisfying Marvel blockbuster imbued customers with confidence that comic book movies are worth the cost of a ticket, which paid dividends for a non-Disney distributor releasing a title starring a Disney-owned character. Even as this transpired, plenty of people continued to support the de facto leader of The Avengers as Cappy's fifth weekend still managed $7.8 million, still good enough for fourth place. It was down 52% from last frame, so it is starting to lose a bit of steam. After exactly one month in release, The Winter Soldier has grossed $237.1 million domestically. It is roughly $16 million behind The Lego Movie, the number one North American title of 2014 to date. Worldwide, the referee has stopped the bout as The Lego Movie has managed "only" $455 million in total. The Winter Soldier has grossed $443 million in overseas revenue alone. Its global take of $680 million makes it the 29th largest global performer of the last five years.

Speaking of global brands, the original Rio is the 52nd largest earner during that same timeframe. That tidbit explains why there is a Rio sequel in theaters. That film, the creatively named Rio 2, garnered another $7.6 million this weekend, good enough for fifth place. Its 45% decline and $7.6 million are right in line with expectations relative to what the first film did during the same time frame. The original Rio fell 42% to $8.5 million, and had a running total of $115.2 million after 24 days in release. As is ordinary for a sequel, Rio 2 is a bit behind with $106.5 million. The real target for the latest Rio release is the overseas market, as is the case for all Blue Sky Studios creations. Rio grossed $344 million abroad, meaning its domestic income represented only 30% of its overall gross. Rio 2 has already attained over $250 million internationally, meaning it stands a decent chance of surpassing its predecessor in terms of total global revenue.

Brick Mansions, the parkour action film featuring the late Paul Walker, finished in sixth place. After debuting just under $10 million with $9.5 million last weekend, the Relativity release declined a hefty 63% to $3.5 million this frame. It was never going to be easy to tastefully market this movie, and the distributor has done about as well as it could have hoped thus far. The domestic total for Brick Mansions is $15.5, which means it's going to struggle even to earn back its relatively small $28 million budget, but at least the financial outlay wasn't significant to start with.

Seventh place goes to Divergent, the most recent attempt to capture the audience that so greedily consumes novels from the Young Adult genre. Now in its seventh week in theaters, the Lionsgate property earned $2.2 million this weekend, down 41% from the previous frame. Anyone who tries to paint this film as a disappointment is just silly, as Divergent has now earned a solid $142.7 million domestically. This number compares quite favorably to the $85 million budget, and when you tack on an additional $100 million plus in overseas revenue, this project has established a responsive fan base.

Rounding out the top ten this week are a trio of performers that grossed $2 million or less. Last weekend's horror dud, The Quiet Ones, softly whimpered its way to another $2 million, a 48% drop from last weekend. After 10 days in theaters, it has grossed an atrocious $6.8 million. The other two titles hanging around the bottom of the charts are much more popular. God's Not Dead grossed just under $1.8 million, bringing the $2 million production's domestic total to $55.6 million. It is already one of the most profitable ventures relative to investment in the 2000s. The Grand Budapest Hotel grossed another $1.7 million this weekend, falling only 29% from last frame. With $51.5 million in North American revenue, the movie is only a few days away from surpassing The Royal Tenenbaums to become the most popular movie of Wes Anderson's career.

Now that Spider-Man has launched the summer box office season, we will start enjoying a lot more new releases each week. To wit, next Friday will feature the debuts of the Zac Efron vs. Seth Rogen comedy (whoever loses, we all win) entitled Neighbors, a low rent animated adventure in Oz called Legends of Oz: Dorothy's Return and the latest 2014 faith-based release, Moms' Night Out. Think of it as the gentle version of Date Night. Obviously, the Marvel movie will crush all comers next weekend to defend its box office crown but the smorgasbord of new titles reflects what is best about the summer movie season: ample freedom of choice.