The Amazing Race 24: All-Stars - Episode 9 Power Rankings
By Daron Aldridge
April 27, 2014
BoxOfficeProphets.com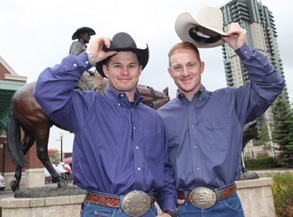 ---
The Harlem Globetrotters' globe trotting came to a screeching halt in Italy last week. This is likely the last time we will have Flight Time & Big Easy grace our TVs on the Race. Unfortunately, the last time was also there worst showing for the professional winners.

Five teams and three episodes remain. It doesn't take a mathemagician to deduce that either this week or next will be yet another non-elimination.

Before that happens let's take another look at the power rankings for this week:

Jet & Cord, cowboys/brothers: Earlier this season, the guys referred to themselves as the Lone Rangers but the throwaway line seems particularly fitting for how they are racing, especially the last leg or so. The brothers have prided themselves on competing on their own terms and without being encumbered by alliances, which we all know don't typically translate into Race success. Jet & Cord had a reputation and solid track record of being strong racers heading into the season but miraculously, the other teams have gone all amnesiac about that. First, Brendon & Rachel got so antsy and so fixated on winning the last leg that they wasted a U-Turn on David & Connor and any goodwill from Team Murphy's Law's pals. That might seem out of place when discussing the cowboys but shows how a clearly dominant team has somehow flown under the radar. The only team that really understood the potential threat of the cowboys on the Race are now gone with the Globetrotters eliminated. Add in the formation of a new alliance of the other teams solely targeting the Big Brothers, and Jet & Cord should be able to stay on top.

Brendon & Rachel, Team Fetch: Oh, short-sighted reality show vets. The only leg that you absolutely should be dead set in getting first on is the last one. You might be able to argue that even though they initially talked about U-Turning the cowboys, they realIzed the boys would use their Pass on one of the tasks. But since they were pretty much in the lead the entire leg, why use the U-Turn at all? The only answer is greed. They wanted first place's prize and that was their goal. I believe that is will ultimately work against them because they are public enemy number one with the three teams that don't have ten-gallon hat wearing brothers on them. Weighing the newlyweds' foolish Racing against the spite-driven alliance of Afghanimals, singers and dad/son, I am giving the edge to Team Fetch here. The odds just seem to be against the others to successfully pull off getting Brendon & Rachel eliminated, who should finish ahead of...

Leo & Jamal, cousins/Afghanimals: The latest addition to the unspoken alliance of David & Connor and Jennifer & Caroline are the ones I peg as the most secure in their place. I give them third over the other two for a few reasons. Mainly, they want to win. So while the cousins showed a deeper sense of loyalty (and decency for that matter) than ever before with how David & Connor handled the U-Turn, I think that when push comes to shove, Leo & Jamal won't let their competitive side be extinguished. They will outrun as many teams as possible, regardless of an alliance. The Afghanimals know that only one team can win the Amazing Race and they want to be that team. Plus, they aren't as enraged or blinded by contempt toward Team Fetch as...

David & Connor, Team Murphy's Law/father-son: Don't mistake the placement here for a lack of faith in their ability or their likability. But just like Brendon & Rachel weren't keeping their eye on the actual prize of a million bucks, Team Murphy's Law also has gone astray. Because of the perceived slight against them with last leg's U-Turn, they appear to think their goal in the Race is to get Team Fetch eliminated. First, the U-Turn is not dirty playing or underhanded, so let's just abandon that way of thinking about it. Second, David pretty much lost the right to claim "I'm a 60-year-old man" as a detriment when he and Connor kept racking up first places finishes. I don't want to see them stray too far off course because I'd love for them to be the first parent/child winning team but that's my fear. Either way, they should be able to stay ahead of...

Jennifer & Caroline, singers: Blonde leading the blonde being led by...well...whoever will let them follow. The winds of change blow through their partnerships pretty strong this season. First, they aligned with the Sri Lankan twins but that only lasted a leg. Then, they were quick to proclaim fanatic status of the cowboys and wanting to Race with them when the brothers had the Express Pass to give away. Lately, they have saddled up with Murphy's Law and the newly acquired Afghanimals. It seems with each passing task, people are literally carrying them through it. See last week's donkey assembly that David & Connor actually helped carry their finished product to Geppetto. This gravy train of a free ride will come to an end and likely before the final couple legs. I just hope that the others don't allow Jennifer & Caroline to coast anymore on the Race.

I have to admit that I have struggled with the lower rankings because I think the argument could be made for any of the three allied teams being on the bottom. So we will find out in a short while if my second-guessing was accurate.

We are off to the Races.