Weekend Wrap-Up
By David Mumpower
April 27, 2014
BoxOfficeProphets.com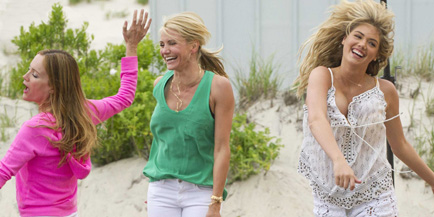 ---
In the immortal words of Ray Parker Jr., audiences fell in love with The Other Woman this weekend. Specifically, they fell in love with three women blessed with the beauty of Kate Upton and Cameron Diaz and the personality of Leslie Mann (or some combination therein). The three charismatic leads proved to be a stronger draw than the defending champion the last three weeks, Captain America: The Winter Soldier.

Yes, The Other Woman is the box office champion of North America this weekend. It grossed $24.7 million from 3,205 locations, a respectable per-location average of $7,707. After starting out on Friday with $9.3 million, The Other Woman's weekend finished smack dab in the middle of the female-targeted barometers we mentioned in yesterday's box office analysis, Sex and the City and Bridesmaids. Whereas Sex and the City had a mad rush on Friday night, leading to only a 2.1 multiplier, Bridesmaids was able to pull in a 3.35 multiplier (weekend box office divided by Friday box office).

By comparison, The Other Woman's Friday-to-Sunday multiplier was a 2.65, indicating that there was less rush to see it right away, but that it lacks the enthusiastic word-of-mouth of Bridesmaids. The proof of this statement lies in both critical and audience reaction to the film. At Rotten Tomatoes, The Other Woman was the worst(!) reviewed of the three new releases with only a 25% fresh rating. Its Cinemascore is a B+, which is actually a somewhat lukewarm response (for comparison, The Monuments Men, Need for Speed and Muppets Most Wanted also came in with a B+).

Still, with a dearth of recent films truly aimed at females and yet another superhero movie as our lone new release next weekend, The Other Woman stands to continue as a viable alternative for women who are tired of watching yet another costumed crusader saving the world. The production budget on this Nick Cassavetes-directed film was a relatively slight $40 million, so it should be a decently profitable venture for Fox even before ancillary home video revenues are factored in.

Winning three straight weekends of domestic box office has become a rare achievement in the industry. As such, Captain America: The Winter Soldier, like The Lego Movie before it, is an unqualified success story. A fourth weekend as box office ruler would have given the Marvel release bragging rights over its toy story opponent as the two battle for supremacy as the biggest film of 2014 to date. That victory proved elusive as The Winter Soldier fell 37% to $16 million this weekend, sliding to second place in the process. After only 24 days in theaters, the latest Disney comic book movie has already grossed $224.9 million domestically. With $645 million in the bank worldwide, it has surpassed Thor: The Dark World and Iron Man 2 to become the second most popular standalone title featuring an Avengers character.

Heaven Is for Real continued its run of box office positivity. The religiously themed title grossed $13.8 million this weekend, a respectable 39% drop. I would also note that its box office last Sunday was $6.4 million, enough to make it the number one movie in North America on that day. This tidbit is important because there was an Easter bump for the project that inflated its opening weekend total. As such, its weekly decline is even better once we remove the Easter boost. Heaven Is for Real is definitely not a one week wonder. Its current box office of $51.9 million against a $12 million financial outlay is already extremely impressive, and there is still room to grow.

The crown jewel of Brazil, Rio de Janeiro, continues to be a popular vacation spot for families. Last weekend's third place film drops a spot to fourth, but it still held well from week to week. Rio 2 attained another $13.6 million worth of box office, a 39% drop from last weekend's $22.2 million. It has a running total of $96.2 million after 17 days in theaters. For comparison, Rio had earned $104 million at the same point in its release phase, including $14.8 million during its third frame. Ergo, Rio 2 is a touch behind the pace of its predecessor but it is still performing satisfactorily overall.

The producers of Brick Mansions were in a no-win situation this weekend. The film's star, Paul Walker, died in a car wreck late last year, thereby placing them in a tragic as well as awkward position. Films featuring deceased stars are difficult to market because any mention of the late celebrity seems tawdry, thereby dissuading consumers from giving the movie a chance. Conversely, any movie without a strong advertising campaign is doomed to fail. I believe that the marketing team did as good a job as was possible here. They crafted a strong trailer featuring action sequences sans dialogue. In that way, they demonstrated that the movie starred Paul Walker without appearing tasteless. The box office results were still mediocre as Brick Mansions debuted to $9.6 million in 2,647 locations, a per-venue average of $3,627. Realistically, this $28 million production from Luc Besson is a Raid: The Redemption wannabe and not a good movie. It is only 28% fresh on Rotten Tomatoes with a B+ Cinemascore. So the frustrating aspect of the film is that Paul Walker is dead, not that the movie deserved a better fate.

Johnny Depp's box office flame is waning into a wisp of smoke. The actor with a recent claim to being the largest draw in the world is suffering through another massive bomb with Transcendence. The science fiction "thriller" has disappointed at every turn thus far. First, it earned less than $5 million on opening day. Then, its weekend estimate was a modest $11.1 million; sadly, even that pathetic expectation proved unreasonable. The actual opening weekend tally for Transcendence was a shade under $10.9 million. Given such a tiny debut, its second weekend decline should have been lower than normal for a genre flick. Instead, Transcendence dropped 62% to $4.1 million. After only 10 days in theaters, this ill-fated project is already a box office non-factor. Its running total of $18.4 million and current downward trajectory is indicative of a title that may not earn $30 million domestically. A pertinent reminder at this moment is that Transcendence cost $100 million to produce. It will need to triple that total overseas to avoid being an abject disaster from a financial perspective.

I am of the opinion that a movie with a meek title oftentimes becomes self-fulfilling prophecy. That belief was reinforced once again this weekend as The Quiet Ones opened…well, you know. Exhibited in 2,027 locations, the latest Lionsgate horror flick grossed a meager $4 million. That total reflects a per-venue average of $1,973. Everybody reading this column should know the rule here. Any opener that garners less than $2,000 per playdate is a dud. The slasher slick is 39% fresh at Rotten Tomatoes, and I won't lie about the fact that its score is at least double what I had imagined. The C+ Cinemascore is more in line with my expectations. The Quiet Ones features a rising star (at least theoretically) in Sam Claflin, the once and future Finnick Odair in The Hunger Games franchise. His agent probably wishes that people such as me would stop reminding people of this fact. Claflin may prove to be a box office draw at some point after The Hunger Games franchise has boosted his presence. If so, this becomes his House at the End of the Street. Hey, if it can happen to Jennifer Lawrence, it can happen to anybody.

Rounding out the top ten this week are a trio of holdovers. Disneynature's Bears disappointed last weekend, but recovered a bit this frame, declining only 25%. It earned $3.6 million and has garnered $11.2 million after 10 days. Divergent, Lionsgate's mediocre attempt at another Hunger Games-esque franchise, fell 36% to $3.6 million and has now grossed $139.5 million domestically. The $85 million production has also accrued $93.2 million overseas, which means the first one is profitable. I am wildly skeptical about future sequels, though. Finally, A Haunted House 2 proved once again that it is no A Haunted House. The unwelcome sequel fell 64% to $3.2 million and is already about to fall out of the top 10. It has attained $14.2 million worth of box office against a $4 million budget, though. So we will probably see another one of these as well. My only request: make this one funny for a change.

Next weekend's big debut, The Amazing Spider-Man 2, is already an overseas revenue machine. It earned another $67.2 million abroad, giving it a running total of $132 million. It will have next weekend to itself, so we have 96 hours of "It looks terrible!"/"Shut up, it looks great!" internet arguments to enjoy (?).