Weekend Forecast for April 25-27, 2014
By Reagen Sulewski
April 25, 2014
BoxOfficeProphets.com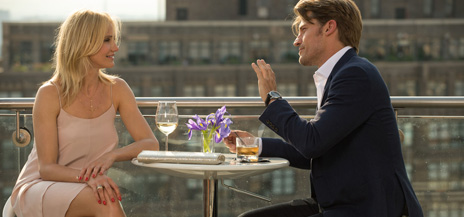 ---
One week before the start of the summer season is the traditional time for Hollywood to punt, not wanting any movies with any real potential to bump up into the ensuing blockbusters. As such, we have a trio of fairly underwhelming films to finish off April. And so it goes.

The Other Woman is the most promising of these, both from an overall perspective, as well as from a possible counter-programming one, even though there's really nothing to indicate that this has ever really happened. A gal pal drama, the film stars Cameron Diaz as a woman who discovers that the guy she's been running around with (Nikolaj Costau-Walder, Jaime Lannister from Game of Thrones) is actually married, after stumbling onto his wife (Leslie Mann) at his house during a surprise visit. Rather than devolve into catfights, they both realize that he's the problem and set out to destroy him. In the process, they discover a *third* woman (Kate Upton, here for bouncy bouncy), who joins their plot.

While entirely female led films are still a bit of a rarity, they're also a bit of a tough sell when they're marketed entirely at that gender. It's still a general rule that while women will see "male" films, men will typically avoid "female" films like the plague. Make what sociological observations you will of that fact, but it's what's held back female leading ladies for ages. Films like The Heat and Bridesmaids have had some success in recent years, but not without some initial struggle, and also through copying established genre tropes. The Other Woman does not appear to work towards this, and will likely suffer as a result.

It's also apparently not any good either, and will suffer a lot more for that. I'm reminded some of another Cameron Diaz comedy, The Sweetest Thing, which attempted to go gross-out for gross-out with other comedies of the time and failed to break out of a narrowly defined demographic. Quality comes first, and without any particular draw, it should be limited to about $13 million this weekend.

Horror is answered for this week by The Quiet Ones, the latest from the venerable horror studio Hammer. The studio is known for its old-school approach to horror, based more on psychological thrills than gore or things that go boo, and this seems to be in that tradition. Jared Harris plays a professor taking a scientific approach to a girl that may or may not be possessed, and as we well know, a demon's greatest enemy is peer review. With a cast of young British actors that you've never heard of to keep the costs down, it is unlikely to make a big impact, but also is virtually guaranteed to be profitable. We have a decent comparison from just three weeks ago with Oculus, which opened to just $12 million. This film is getting fewer screens and has less marketable star power. With little ad support, I'd expect this to earn just $8 million for its debut.

Lastly, we have Brick Mansions, the last film that Paul Walker completed before his death. A Luc Besson production, it has Walker as an undercover cop in Detroit who teams up with an ex-con to take down a crime lord (RZA) through the power of parkour. While Besson has had better luck with getting his lower budget films into theaters lately, this has all the look of one that really would have been straight to DVD, and might have were it not for the situation surrounding Walker.

Besides being a few years too late to really capitalize on the whole parkour thing, Walker has never been much of a box office draw. Outside of the Fast and Furious films, few of Walker's films can really be said to have succeeded because of him, and in many cases have been outright flops. Whatever magic there is in that series has yet to be distilled and recaptured into any other form. With that in mind, I'd look for about $6 million this weekend for Brick Mansions.

First spot should be neck and neck this weekend, as Captain America: Winter Soldier tries to win for the fourth (and last) time. With over $200 million in the bank and a long way to run still, it has continued Marvel's unblemished run of success, particularly when it comes to the Avengers quasi-franchise. This weekend should bring it about $14 million and bring it very close to $225 million, on its way to around $260 million total.

Following this should be the surprisingly strong Heaven Is For Real, which earned $22 million in its debut. A slightly more in-depth treatment of the idea of faith, the Greg Kinnear movie was the latest in the line of religiously themed movies to hit. Legs for these films have depended on expansion, and while it's getting a few hundred more venues this weekend, that's probably not enough to make the difference. Give it $12 million this frame.

Rio 2 should earn about the same in its third weekend, as the animated sequel closes in on $100 million despite no one really wanting it all that much.

Better that, though, than Transcendence, which audiences actively avoided to the tune of just a $10 million opening, an embarrassing total for the once heavily-hyped sci-fi film. Depp's star has definitely been damaged by The Lone Ranger, though his non-Pirates movies have lacked a lot of appeal. It will be lucky to stay above the $5 million mark this weekend.