Weekend Wrap-Up
Transcendence Bombs; Marvel Is For Real
By John Hamann
April 20, 2014
BoxOfficeProphets.com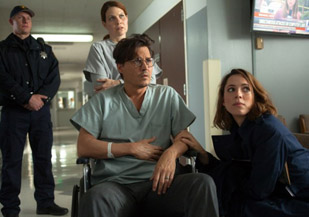 ---
Welcome to Easter at the box office, where Johnny Depp tries to rise from the grave that was built with the dirt from Dark Shadows, The Rum Diary and The Lone Ranger. Alas, his career is only buried deeper with Transcendence, a bad film whose title belies its box office and quality.

What a wild and wacky Easter weekend it is at the box office. For new openers we have Transcendence, the poorly marketed and poorly written sci-fi flick with Johnny Depp. Also debuting is Heaven Is for Real, the bland, faith-based film that is selling an Easter weekend product to an audience that has already bought in. Finally, our other two openers include A Haunted House 2, another cheaply-made creation from the Wayans family, and Bears, another nature documentary from Disney. This weekend should have been an easy win this weekend for Johnny Depp and Transcendence, but when your title is defined as "having continuing existence outside the created world" or "exceeding or surpassing in degree or excellence," your film better be pretty damn good. Let's just say it isn't The Matrix.

With the movie theater Easter egg hunt for new films only turning up bunny turds, audiences relied on the old faithful for their movie fix over the holiday weekend. Captain America: The Winter Soldier took the #1 spot for a third consecutive weekend, as it has completely dominated the month of April. The Marvel release earned another $26.6 million over the Friday-to-Sunday portion of the weekend, dropping only 36%. Considering the sequel is in its third frame, and is already over $200 million domestic, this is a seriously good hold, Easter weekend or not. Thor: The Dark World earned $14.2 million in its third weekend, and the original Captain America earned $13 million in weekend three. The third weekend for The Winter Soldier was actually quite close to Iron Man 2, which earned $26.4 in its third weekend, but opened $33 million higher at $128.1 million than Captain America 2 at $95 million. On a percentage basis, every Marvel release except the original Iron Man dropped more than 46% in their respective third weekends (Iron Man fell 38%).

Now the question becomes where The Winter Soldier is going to finish. Domestically, the good Captain crossed the $200 million mark today, its 17th day of release. That's the same amount of time it took Fast & Furious 6, and one day slower than the original Iron Man, but both of those films had summer release dates. The Winter Soldier has now pulled in $201.5 million domestically, and looks to be on its way to at least $250 million at the North American box office. With another good hold, it could approach $275 million. Also , it appears another Captain America repeat could be in the cards next weekend, as the main competition will be the Cameron Diaz comedy The Other Woman. Then, The Amazing Spider-Man 2 opens on May 2nd, and will easily push the five-weekend-old Captain America to the side. Still, superhero movies could finish one-two that weekend.

Internationally, it is always tough to tell where these things are going to finish. The Winter Soldier has already amassed $385 million, compared to Thor 2, which had an overseas take of $438 million, so an extrapolation to $600 million is possible, which would mean a worldwide gross of possibly $850 million.

Finishing second for the second straight weekend is Rio 2. After a strange opening frame where it had a strong opening day but faded as the weekend went on, Rio 2 doesn't have an Easter weekend like the original film did. The original Rio also opened the weekend before Easter. Over the holiday frame – its second weekend – Rio actually had a higher second Friday than its opening day, due to the Good Friday holiday with kids out of school. Over the rest of the original's Easter weekend, it faded hard following that Friday, finishing with a gross of $26.3 million and a drop of 33%.

The sequel wasn't as strong on Good Friday as the original ($12 million first Friday, $9.2 million second,-23%), and faded as the weekend went on. The result for Rio 2 is a second weekend take of $22.5 million, and a drop compared to the $39.3 million open of 43%. It has a running domestic total of $75 million after 10 days. For a kid's film, the decline is a concern, but as I stated last weekend, Rio 2 isn't concentrating on domestic audiences. Overseas is where it's at for Rio 2, as it had already amassed $124.3 million overseas prior to the start of Easter weekend. This one cost $100 million to make, and will earn $125+ million domestically, plus another $350+ million overseas.

That puts our first opener into third this weekend, and it's not the $100 million Johnny Depp starrer. The faith-based film Heaven Is for Real is our top opener of the weekend, despite costing $88 million less than the supposed Depp blockbuster. Heaven got started on Wednesday, where it earned an okay $3.7 million, finishing a couple of hundred thousand better than Captain America. On Thursday, it dropped (as is typical for Wednesday openers) down to $3.3 million. The unexpected then happened on Friday, where it earned $7.9 million, better than the combined Wednesday/Thursday, but keep in mind that it was Good Friday. The Saturday number came in at an even better $8.2 million, and the Sunday is estimated at $5.4 million. That gives Heaven is for Real a three-day gross of $21.5 million, a five-day gross of $28.5 million, and likely leaves it with a good earning day on Easter Monday. All of a sudden, this $12 million film is profitable after less than a week of release.

Reviews for the Christian film were mixed, but much better than God's Not Dead and Son of God. At the time of this writing, Heaven Is for Real had collected 59 reviews at Rotten Tomatoes, with 31 positive and 28 negative for a rating of 53% fresh. Cinemascores were expectedly good with an overall A and an A+ coming from audiences under 35. Cinemascores for films like these aren't overly helpful, as the audience is comprised of the already-converted. I would imagine if the Cinemascore people had polled only atheists, the score would have been different. It's tough to determine how things will go for Heaven Is for Real in the future. Son of God has a current opening-to-total multiplier of less than 2.5, but God's Not Dead is over 4.0. A film like this could become a grandma movie, where it finds legs due to an older audience that didn't come out on opening weekend.

Johnny Depp's Transcendence manages only fourth place and is an unmitigated disaster in terms of its domestic box office. The film's final domestic take will equal the amount it actually needed for opening weekend - and may even turn out to be less. Distributed in North America by Warner Bros., but financed by Alcon Entertainment and China's DMG Entertainment, who is also distributing there, Transcendence got off to a slow start on Friday, earning only $4.8 million. Transcendence was a distant fourth on opening day, as it finished $3 million below Heaven Is for Real on Friday alone. Transcendence finished the weekend with only $11.1 million, Depp's worst debut since The Rum Diaries, and significantly lower than other expensive domestic Depp troublemakers like The Tourist, which opened to $16.5 million. The Tourist finished with $67.6 million domestically, but did manage $210 million in overseas earnings.

The same domestic/overseas split could happen for Transcendence. It opened day and date in China, and will need to find huge success there to turn a profit. The last Pirates of the Caribbean movie earned $70 million in China, and even The Lone Ranger managed to earn $13 million there, so the producers of Transcendence will have to hope for a bundle in overseas earnings. So far, it has earned $17.4 million from international markets, with $11.4 million from China alone.

No matter what, keeping Transcendence afloat will be a tough task. Word-of-mouth on the movie borders on hostile as demonstrated by its C+ Cinemascore. Remember that anything lower than a B+ Cinemascore represents the equivalent of torches and pitchforks.

Fifth goes to A Haunted House 2, the sequel to the fourth biggest earner ever for Open Road Films, albeit at only $40 million. The original opened to $18.1 million, but the sequel wasn't as lucky. A Haunted House 2 opened to a lower $9.1 million, but that's still much more than its $4 million production budget. From Marlon Wayans, this sequel was tough not to greenlight considering the $60 million worldwide the original earned against a $2.5 million budget. Look for this one to disappear VERY quickly, given its 7% fresh rating at RottenTomatoes.

Sixth is Kevin Costner's Draft Day. The football drama earned another $5.9 million this weekend, and fell 40% compared to the opening weekend take of $9.8 million. Draft Day cost about $25 million to make, and has a gross so far of $19.6 million.

Seventh is Divergent, the first film of Lionsgate's manufactured franchise. Divergent earned another $5.7 million and held well, dropping 22%. The total now for the $85 million film is $134 million and will finish with less than $150 million domestic.

Oculus, last weekend's #3 film, drops all the way to eighth in its second weekend. After opening to $12 million last weekend, the Relativity release dived to just $5.2 million in weekend two. That's a drop of 57%, but remember, this film cost only $5 million to make. So far, Oculus has picked up $21.2 million.

Ninth and 10th spots are a duel between religious films Noah and God's Not Dead. Noah took in $5 million this weekend and declined 34%. God's Not Dead earned $4.8 million, and dropped 13%. The $125 million Noah has now earned $93.3 million domestically for Paramount (and $197 million overseas), and the $2 million God's Not Dead has a cumulative total of $48.3 million.

Bears, the new nature documentary from Disney, finished in 11th place. It opened to $4.8 million this weekend from 1,720 venues. As is usual for these Disney nature films, it had a good reviews (88% fresh) and a solid Cinemascore (A). The debut was in line with other Disney nature docs, like African Cats and Oceans, which both opened to $6 million.

Overall, the box office continues its nine-weekend winning streak of $100 million plus top 12s. The top 12 took in $125.7 million this weekend, whereas last year, Oblivion led the top 12 to $100.3 million. Next weekend should be quiet, as The Other Woman looks to be the biggest earner of the new films, with Paul Walker's Brick Mansions also debuting, as well as the horror flick The Quiet Ones.