Friday Box Office Analysis
By David Mumpower
April 19, 2014
BoxOfficeProphets.com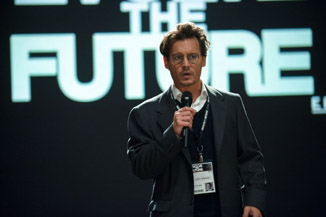 ---
A $100 million movie was released worldwide yesterday, yet last weekend's top two films are still poised to headline the box office charts again this week. How did that happen? Suffice to say that Johnny Depp no longer has the Midas touch.

Transcendence is the would-be blockbuster with the hefty price tag that disappointed yesterday. The Warner Bros. release has been battling negative buzz for months now. Still, most industry observers believed the sci-fi release would enjoy a few days of glory in North America before everyone starts pretending as if its global revenue is good enough to justify its financial outlay. Alas, even those conservative expectations were not matched.

Transcendence was limited to a paltry $4.8 million on Friday. How lousy is this performance? Have you ever heard of Heaven Is For Real? Only the most diehard of box office fans and/or people of faith and/or Greg Kinnear fans (and we know from Rake's ratings that there are virtually none of those) can honestly state that they have. Yesterday, Greg Kinnear's movie grossed $7.8 million, a full $3 million better than the film starring his much more highly paid celebrity counterpart, Mr. Depp.

How pathetic is Transcendence's debut? Here is a list of 2014 releases, none of which are perceived as huge hits, which bested the nine-figure release's first day: Oculus, Need for Speed, Endless Love, The Monuments Men, and Jack Ryan: Shadow Recruit. Three of those movies are considered disappointments, while the other two had fledgling movie leads. Stating the obvious, Transcendence is the leader in the clubhouse for biggest bomb of 2014.

How did Transcendence fail so completely? A cigar is just a cigar here. Transcendence is a terrible movie. It is currently 19% fresh at RottenTomatoes, a total that represents a SURGE from yesterday's low point of 13%. The consensus is that the people who wrote, produced and directed Transcendence have never used a computer, tablet or smartphone in their entire lives. They seem to have built their technological foundation on the teachings of 1995's The Net, stolen some of the visuals from The Matrix Revolutions and assumed that the presence of Johnny Depp would be enough to carry the day. About that strategy…

There was a time in the aftermath of Dancing with Wolves and The Bodyguard when Kevin Costner was the greatest movie star in the world. The perception existed that he could do no wrong at the box office. One ill-fated water project later, Costner experienced a reversal of fortune the likes of which had not been seen in the industry since the days of Charlie Chaplin. A similar repetition of the behavior occurred more recently with Tom Cruise after an ignoble couch jump; I think a lot of people were expecting that meltdown for years, though. The much-loved Johnny Depp's sudden cold streak is genuinely shocking.

Depp has now achieved a box office poison trifecta for the ages. With Dark Shadows, The Lone Ranger and Transcendence, the actor is poised to frontline one of the biggest bombs of the year for three consecutive years. BOP's research team probably won't sleep tonight as we try to determine whether this has ever happened before. Costner probably came the closest of anyone recently with the four-year trifecta of Wyatt Earp, Waterworld and The Postman. Overall, those are much worse financial investments than what we are discussing with Depp's trio of failure. Then again, international revenue was nowhere near as advanced in the 1990s so the recent titles include artificially inflated global box office.

Where does Transcendence go from here? A $4.8 million Friday probably leads to a $13 million weekend. That will not be the story that the distributor pushes. Because Warner Bros. recognized that the tracking for Transcendence was shaky, they deftly determined to perform a day and date global release. The rest of the world has proven time and again to be less discriminating in their movie taste. Even if it proves much more popular abroad, this project will be remembered as an abject disaster domestically.

With regards to Heaven Is for Real, faith-based cinema wins yet again. We know from Rake's ratings that people are not watching because they love Greg Kinnear. The final two episodes of that Fox program received 2.02 million viewers. In total. Yes, Rake was an eyelash away from becoming the rare network television new episode to garner fewer than one million viewers. Because faith-based cinema is on a hot streak, however, this film has muscled its way to about a $20.3 million weekend. Yowza.

BOP occasionally discusses the positive reinforcement nature of box office. When a consumer is rewarded with a great product, they are enticed to watch another movie sooner than would have been the case otherwise. We are witnessing such a phenomenon here as Son of God, God's Not Dead and (arguably) Noah have effectively targeted an audience that has been too often ignored by Hollywood. Given the four consecutive hits (Noah is over $250 million worldwide already), we will see more of the same as upstarts continue to mine big data to micro-target under-served consumers.

The other new release of the weekend, A Haunted House 2, is also a cost-effective hit. Costing only $3 million to produce, the latest Wayans family satire grossed $4 million yesterday and is headed toward a $10 million weekend. On the downside, the first film garnered $6.8 million on its first day in theaters. The weak quality of the original clearly damaged its successor. Still, there are not a lot of movies that have already grossed a factor of three more than their production budget after opening weekend. A Haunted House 2 should be profitable, making it the envy of Johnny Depp.

The battle for first place on Friday was tightly contested. Captain America: The Winter Soldier bested Rio 2 by the slimmest of margins. Each title effectively grossed $9.7 million, meaning that the weekend champion will be determined by which film experiences a stronger hold on Saturday and Sunday. Comparing last weekend's hold for Captain America against Rio 2 and also Rio, the dude with the shield is clearly the favorite. For whatever reason, Rio movies have a bit of Friday rush early in their release and then develop stronger holds in later weeks. As such, I project The Winter Soldier to win. Remember that Sunday is Easter, and that holiday does have a tendency to impact the box office negatively. Expect about $26.5 million for Captain America: The Winter Soldier and $25.2 million for Rio 2.