Weekend Wrap-Up
The Winter Soldier Freezes Rio 2
By John Hamann
April 13, 2014
BoxOfficeProphets.com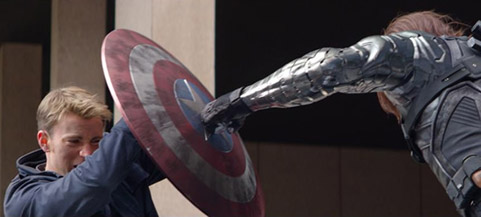 ---
Three new movies debuted this weekend, and for a time it looked like one of them would unseat the reigning champion. Alas, the weekend hold of Friday's #1 film was for the birds. Because of that, Captain America: The Winter Soldier remains the number one theater in North America this weekend, as well as the rest of the world.

There was definitely cause for excitement heading into the second weekend of April. The box office weekend provided no respite from Captain America's stunning $95 million opening frame; instead, studios unleashed an animated sequel in Rio 2, a low-budget but well reviewed horror flick in Oculus, and what seems like the 15th Kevin Costner movie released in the last year, Draft Day. Normally, I would assume the weekend would belong to the Captain America sequel, but without an animated product since March 7th's Mr. Peabody & Sherman, the market was ripe for a kids' domination-type weekend. Fox was smart to release Rio 2 now, as the film is now in prime position to take advantage of Good Friday and the rest of Easter weekend.

While Rio 2 won the battle on Friday, Marvel's marvelous Captain America: The Winter Soldier wins the war. That means Marvel's marvelous Captain America: Winter Soldier repeats as winner for the second time domestically and the third weekend internationally. The blockbuster actually held decently this weekend, earning $41.4 million and dropping 56%. I call that drop decent because the follow-up weekend had to compete against a three and a half day weekend in the last frame. Remember that Captain America enjoyed $10.2 million in ticket sales on its first Thursday night. The Winter Soldier crossed the $100 million mark on Monday, its fourth day of release, the same amount of time it took films like Spider-Man 2 and Despicable Me 2 to reach the same mark.

The news for Captain America: The Winter Soldier is amazing across the board. After 10 days of release, it has already grossed $159 million domestically. Consider that Captain America: The First Avenger grossed $176 million during its entire domestic run. The Winter Soldier will have reached that total by next Friday, its 15th day in theaters. Globally, the numbers are even more stunning. The Captain America sequel has garnered $317 million overseas, a total that not only dwarfs the original Captain America's $194 million international take, but is also better than each of the first two Iron Man movies. After only 10 days in domestic release, The Winter Soldier is already within $170 million of the final worldwide box office total of Thor: The Dark World. It should match that total by the end of June. Despite the massive success of The LEGO Movie, Captain America: The Winter Soldier is already the #1 global release of 2014 by $60 million and growing.

Rio 2, the sequel to the 2011 release from Fox and Blue Sky Studios, will make these companies fairly happy this weekend. Despite the massiveness of Captain America: The Winter Soldier, Rio 2 was still able to effectively match the original Rio's $39.2 million opening weekend. The original had a first Friday gross of $10.3 million, so to achieve a $12 million first Friday for the sequel seemed like good news. The original Rio had an internal weekend multiplier (weekend gross divided by Friday gross) of 3.8, which indicates the audience was young, and the animated film had a larger gross on Sunday than it did on Friday. The same did not hold true for the sequel. Both films were released over the same weekend in April. Rio 2 pulled in $39 million for the weekend, giving it an internal multiplier of 3.25. The multiplier is alarming news for the studio, as the sequel effect was in full force here. This effect is defined by a sequel doing big business on Friday (due to pre-awareness), and then the box office declines as the weekend goes on.

While I am sure the studio is satisfied that their film opened to $39 million, the reality is that the news was a lot better yesterday than today. Still, North America is NOT the market Fox is concentrating on for Rio 2. The original Rio earned a decent $143.6 million stateside versus its $90 million budget, but in today's movie world that is simply not enough to see a profit. A film like Rio - with its massive marketing spend - would need $250 million in North America alone for Fox to realize a profit, once marketing and other costs not associated with the production budget are included. Instead, the majority of the audience seeing the original film was not in North America, as it earned almost 2.5 times more overseas than it did in domestically. Overseas, Rio earned $341 million versus $143 million in the US and Canada. Rio earned $33.5 million in Brazil alone, and $26.6 million in Mexico.

Rio 2 fits the Fox/Blue Sky mold perfectly. These two companies worked on the Ice Age franchise together, and realized HUGE profits by catering to a worldwide audience. The original Ice Age earned $176 million domestically, and $206 million overseas, amounts that are fairly standard. The sequel, Ice Age: The Meltdown, popped overseas by earning a somewhat flat $195 million domestically, but $460 million abroad – more than double that of the original. The third Ice Age film, Dawn of the Dinosaurs, was exactly flat domestically with $196 million, but it earned $690 million internationally (more than three times the original's overseas take). Ice Age 3 claimed a staggering worldwide gross of $886 million. Dawn of the Dinosaurs was the third biggest film globally in 2009. Finally in 2012, Continental Drift opened to $161 million stateside (its lowest domestic take in the franchise), but earned $716 million overseas. There is no reason to think that the Rio franchise will work differently. Overseas, Rio 2 has already earned $125 million over what should be an extended run of excellence.

Rio 2 cost $103 million to make, up about $10 million from the original. It didn't receive great reviews for an animated product, coming in with a 49% score at Rotten Tomatoes. Critics call it too busy, but they aren't 10-years-old. It received an A from the Cinemascore people, so word-of-mouth shouldn't be an issue. Domestically, it has forever until real competition arrives in theaters. How To Train Your Dragon 2 isn't out until June 13th, and I think Legends of Oz: Dorothy's Return will only have an Oogiegloves experience on May 9th.

Third spot this weekend goes to the spooker Oculus, the low budget pick up being released domestically by Relativity Media. Made for $5 million but acquired up by Relativity for only $1.5 million (plus marketing), Oculus earned a decent $4.9 million on Friday and turned that into a weekend take of $12 million. While not a huge gross, given the pickup cost it should be a decent entry for the studio. Oculus had the best reviews for new films heading into the weekend at 70% fresh; however, it had a dreadful Cinemascore, as the company handed it a dismal C rating. I don't see a franchise built out of this one, only a quick filler in the schedule.

Fourth is Draft Day, Kevin Costner's fourth role since Man of Steel debuted last summer. Draft Day earned $9.7 million from 2,781 venues, a score that definitely isn't a breakout, but isn't a wild disaster either. From Montecito Pictures and OddLot Entertainment and distributed by Lionsgate, Draft Day cost $25 million to bring to the screen, an amount it will likely make at the domestic box office. The question is whether a film like Draft Day can play overseas. Costner now moves from the football field to track for his next film, McFarland, from the writer/director of Whale Rider, Niki Caro.

Divergent is fifth this weekend, as the Lionsgate wannabe franchise moves ahead of Noah, despite trailing the Russell Crowe biblical epic by $4.1 million last weekend. Divergent earned another $7.5 million, dropping a better 42% compared to the $13 million it earned last weekend. The $85 million release has now found $124.9 million so far on the domestic front and has earned $50 million in overseas venues. Lionsgate continues to manufacture a franchise out of Divergent, as they have announced that the third book will be split into two movies (greedy much?). You have to give Lionsgate credit for at least having some serious balls around manufacturing this one.

Noah is drowning as the biblical epic falls to sixth. After falling 61% last weekend to $17 million, the badly mangled Paramount release gets hammered again in its third weekend. This time around, the $125 million film earned only $7.4 million, giving it a nasty drop of 56%. At this rate, the $43 million opener is going to struggle to earn $100 million domestically unless it gets an Eater bump, but has already pulled in $162 million overseas to soften the blow. If I am Fox and holding the keys to Exodus: Gods and Kings, I am getting seriously nervous right now, as that one must have a similar budget to that of Noah. Domestically, Noah has picked up $84.9 million.

God's Not Dead continues to be a top ten film somehow. This weekend, it earned another $5.5 million and fell 29% compared to last weekend. It has now earned $40.7 million, money that could have gone to the hungry. Maybe they will do that with the profits (stop laughing – you never know) as this one cost only $2 million or so to make.

The Grand Budapest Hotel falls to eighth, as it has seen a solid ride up, and a quick ride down. The Wes Anderson film peaked at $8.5 million two weekends ago, as it earned $6.1 million last weekend, and $4.1 million this weekend. That gives the film a drop of 34%, and a total so far of $39.5 million. The Grand Budapest has also been remarkably strong overseas, where its picked up $54 million prior to the start of the weekend.

Ninth is Muppets Most Wanted, as this version of the Muppets is coming to a close. The Muppets earned another $2.2 million, declining 64% from the previous frame. The $50 million Disney release has now earned $45.7 million stateside, and is still just getting started overseas.

Finally in 10th is Mr. Peabody and Sherman, as the kids' movies get chased to the bottom of the list due to Rio 2. This Fox release earned $1.8 million, off 64% compared to last weekend. The $145 million film has earned $105.2 million stateside, and $137 million overseas.

Overall, the box office is way up over last year, thanks to a top three that pulled in $92.4 million. The top 12 films this weekend earned a remarkable $132.4 million, well ahead of last year when the top 12 earned only $108.8 million. Next weekend brings Johnny Depp back to the screen for the first time since The Lone Ranger in Transcendence. Also, Tri-Star (Sony) releases Heaven is for Real (there is truth in advertising!) and Disney issues a nature doc called Bears. Finally, Open Road Films unleashes A Haunted House 2 on unsuspecting audiences who have chosen to forget the first one.