Weekend Forecast for April 11-13, 2014
By Reagen Sulewski
April 11, 2014
BoxOfficeProphets.com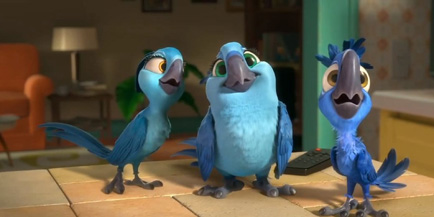 ---
With the veritable bonanza that animation has become in the last decade or so, any reasonable successful property immediately gets sequelized whether there's a particular demand or not. That explains this weekend's top release, which is as much of a "yeah, I suppose" film as any in recent memory.

You may vaguely remember Rio, the 2011 animated film about blue macaws in Brazil, which is most notable for someone deciding that the dulcet tones of Jesse Eisenberg was exactly what family audiences craved in their entertainment. As an endangered species, the propagation of his line was paramount in the first film. Now that that's handled with the bird version of Anne Hathaway, it turns out that they weren't quite as endangered as they thought, and it's off to the rainforest to find Hathaway's lost parents. That's right, it's the hoariest of movie tropes, meeting the in-laws.

Rio 2 adds the voices of Andy Garcia, Bruno Mars, Jamie Foxx, Kristen Chenowith and Miguel Ferrer among others, along with the returning Jemaine Clement as the antagonist cockatoo of the first film, and Leslie Mann and Rodrigo Santoro as the human handlers, presumably in as irrelevant a role to the film as the first time. Assaulting us once again with the entire Pantone color library, the themes of the film have moved away from letting go of anxiety about growing up, to the joys of parenthood and the evils of habitat destruction. A bit heavy-handed, that one is.

Fox is likely banking on a Madagascar like boost in the performance of this film, particularly with the wide range of star voices added to the production, but that's always seemed like a specious idea at best. The first Rio film didn't make much of an impact domestically (though it made nearly $350 million overseas), and it's probably better known from the Angry Birds spinoff than as an actual movie. Family films have been running strongly this year, which is probably the only real reason to feel optimism for this film over and above the audience it's already built, but a weekend of $35 million seems fair here.

The first horror film since January makes its way into theaters this weekend in the form of Oculus. The film stars Karen Gillan (of Doctor Who fame) and Brendon Thwaites as a sister and brother in possession of a possibly supernatural mirror, which may in fact be a portal to hell or possessed by the Devil or something, and may have caused their father to murder their mother (played by Katee Sackhoff). While this casting has lots of nerd cred, to horror fans, the bigger deal is likely the tenuous connection it has to the Paranormal Activity and Insidious franchises, which is probably good for a few million.

It seems to rely largely on shots "turn around and AHHH", which seems to be what horror audiences are asking for lately, and with the combination of mid-level lead and spooky family related subject matter reminds me a bit of last year's Mama, which was a January surprise hit. Unusually strong reviews open the door for a potential breakout, but its studio, Relativity, isn't pushing it all that hard, or doesn't have the juice to do so. A weekend of $13 million wouldn't be out of place here.

Finally, we have Draft Day, step three in the Kevin Costner rehabilitation project of the last year. Seemingly made only to promote the upcoming NFL draft, Costner stars in this as the GM of the Cleveland Browns, who acquires the number one pick in the draft from the Seattle Seahawks (so already we're in the realm of science fiction). Taking place over 12 hours right before the pick has to be made, it purports to go behind the scenes of the decision makers of a running NFL concern, and seems to play a bit like an anti-Moneyball, prizing the gut feelings and poker-playing instincts of old-school GMs (and we see where that's gotten Cleveland, so...).

Directed by Ivan Reitman and co-starring Jennifer Garner, Dennis Leary and Frank Langella, it has all the feel of a film that's trying to be really important, but about something that's ridiculously overblown as a subject. As well, it's difficult to imagine exactly who the audience for this film is, since football fans like watching football, not behind the scenes decisions. It's almost like Sports Radio: The Movie. Given that Costner still seems to be a bit of box office poison, it also has to fight its way up that hill. I'd look for about $9 million this weekend.

This leaves Captain America: Winter Soldier ready to take the top spot at the box office for a second straight weekend. Debuting with $95 million, it fell right in line with the increased box office for all of the Phase Two films, and representing an almost 50 per cent increase over the first Captain America. The combination of international espionage and high-concept action seems to have struck a chord with comic book movie fans, and it's an unmitigated hit. These films have all seen strong drop-offs in the second weekend, but that's part and parcel of their high demand. It should see about $44 million this frame.

Noah saw a rather significant drop in its second weekend after a surprisingly strong debut, to $17 million. It remains headed for at least $100 million domestic, which is not a thing you might have thought several months ago. That drop should continue, but it'll find itself at about $8 million this weekend still.

Teen audiences prove fickle time and time again, and Divergent dropped by half once again this past weekend, to $12 million, though it's well over $100 million now. I'd expect about $135 million domestic as a final total, after $6 million this weekend.