Weekend Wrap-Up
Captain America: A Strong Spring Solider at the Box Office
By John Hamann
April 6, 2014
BoxOfficeProphets.com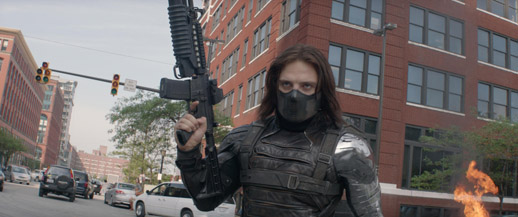 ---
What do you do when the last three films in your franchise have grossed $3.4 billion at the box office? You release a critically-acclaimed, buzz-worthy effort for your weakest financial link to your cinematic universe, Captain America. Then, you sit back and watch him hit a home run in April. Marvel, you never cease to amaze me.

Pow! Marvel Studios is back this weekend with Captain America: The Winter Soldier, the film that appears to be the link between Marvel's Avengers and their Avengers: Age of Ultron. Like usual, glowing reviews met another Marvel release this weekend, as the studio continues to combine strong film-making (and maybe more important, solid writing) with a cinematic universe that crosses moviegoer demographics and keeps fans and even high-level observers eager for more (panting may be more appropriate). Captain America: The Winter Soldier turned an 89% fresh rating at RottenTomatoes and an A from Cinemascore into a record breaking box office weekend.

Captain America: The Winter Soldier got started on Thursday night, taking in a very strong $10.2 million from Thursday night showings. In comparison, Divergent earned $4.9 million from its Thursday night screenings, Noah earned $1.6 million, Marvel's The Avengers earned $18.7 million and Iron Man 3 earned $15.6 million on Thursday nights. Of course, all of these films had different release patterns, so predicting a weekend gross based simply on a Thursday preview remains an extremely dangerous practice. Just because Captain America: The Winter Soldier earned about 65% of Iron Man 3's Thursday, but that doesn't mean it will open to 65% of Iron Man 3's $174 million (or about $113 million). The difference in opening a film in the first weekend in May versus the first weekend of April is still vast, but with Fast and Furious earning $71 million over this weekend in '09, and now Winter Soldier, we can expect this weekend to be dueled over for years to come, as the spring box office continues to expand.

After that fat $10.2 million on Thursday, expectations got a little out of control on the Friday number, with some anticipating a $100 million plus opening frame. While extremely strong, that was unlikely for the Captain America sequel, regardless of the Thursday preview amount. Outside of the November and the summer, the only films that have opened to $100 million plus are The Hunger Games and Alice in Wonderland. The Friday number for Captain America: Winter Soldier came in at $37 million, but includes the $10.2 million earned on Thursday night. That breaks the single biggest day record for an April release, taking down Fast Five's $34.4 million, which it earned on April 29, 2011. That film was arguably a May release, so going further down the April opening day chart is Fast & Furious, which earned $30.6 million on April 3, 2009.

The $37 million for The Winter Soldier was $5.1 million better than what Thor: The Dark World opened to in November of last year, which shows the consistent growth of the Marvel cinematic universe. There is no analogy or comparison to make, folks, this is box office history. The films released since Iron Man and the following trend line will be drooled over for decades to come. What Marvel is doing over the last five years is what Jaws did to movies (and box office) in 1975.

If we strip out the Thursday preview amount from the Friday figure, we get a truer Friday number of $26.8 million. That true Friday number helps set the baseline for the rest of the weekend. The Saturday number for Captain America 2 came in at a very impressive $34.6 million. Marvel and Disney would have been hoping for a number on Saturday that matched the combined Thursday/Friday number. Thor: The Dark World had a combined Thursday/Friday of $31.9 million and then earned $32.1 million on Saturday, on its way to an $85.7 million opening weekend. Thor: The Dark World had an internal weekend multiplier – with the Thursday night showings included – of 2.7. If - and it was a big "if" due to the apparent front-loading of the Thursday night screenings - Captain America: The Winter Soldier could match that multiplier, the weekend take would come in just shy of $100 million.

Captain America: The Winter Soldier finished the weekend with an absolutely fantastic three-day gross of $96.2 million from 3,938 venues for Disney and Marvel. It had a venue average of $24,429, which makes exhibitors very happy in April, and had a weekend multiplier (Thursday included) of 2.6. Thor, Captain America and The Hulk were once considered the weaker sisters in the Marvel lineup, but now with a $85.7 million opening for Thor: The Dark World, and $96.2 million for the Captain America sequel, one has to wonder just where Avengers: Age of Ultron will open. The trend says bigger, but one has to wonder where the limit is. The first Avengers opened to $207.4 million, and at the time, the second biggest opener ever was way back at $169.2 million. Can Age of Ultron open to 30% more than the original? Does my head explode when I think about the possibility? Almost.

The Winter Solider cost Disney and Marvel $170 million to bring to the screen. I often think that a film needs to make three times that amount – in this case a half billion – worldwide, to recoup the production budget and worldwide marketing costs. That may be a little high in this scenario - $400 million is likely a more apt figure. Thor: The Dark World earned $645 million worldwide, but, like Thor, the first Captain America wasn't as popular overseas, with $176.7 million domestically and $194 million from international venues. While true, I think the trend upwards is much steeper for these lesser-known Marvel characters, thanks to the huge popularity of the Avengers. We know that Thor went from $268.3 million overseas to $438.4 million for the sequel. Already, The Winter Solider has already beaten the original overseas with $207 million so far ($107 million this weekend alone), and I am going to assume that this sequel matches or beats that of The Dark World overseas. I see it making at least $450 million overseas, and at least another $275 million stateside. Kudos again to Marvel for making great original films, and following those movies up with great sequels. This is the golden age of the comic book movie, and is a great time indeed.

There were other movies in release this weekend. Second spot goes to Noah, last weekend's number one at an okay $43.7 million. With the good Captain on board, Noah got pushed out of the big theaters and into the shadows - and gets kicked in the pocket book in the process. Noah earned only $17 million and dropped an alarming 61% compared to its debut frame. Given the C Cinemascore and the fact that curious audiences showed up over opening weekend, Noah was destined to fall heavily. Positioning it behind a Marvel release wasn't smart. Other studios shied away from releasing anything this weekend against Captain America, but that strategy should change to not releasing $125 million films the weekend before a Marvel release.

Recently, the $120 million Tom Cruise pic Oblivion opened two weekends behind Iron Man 3. It fell 52% in its second weekend, and then fell 68% against Iron Man 3. If your film is intended a blockbuster, and is being released ahead of a Marvel release, it needs about three weekends of room or it is going to get smoked and lose a ton of money. At this point I see Noah making about $100 million domestically, which means it will need at least $200 million for Paramount (who was formerly associated with Marvel), if they hope to see a profit. The good news is that Noah had already earned half that amount internationally. Domestically, Noah has pulled in $72 million.

Divergent is a close third due to the collapse of Noah. The Lionsgate film, which smartly went into theaters two weekends prior to the Marvel release, fares better, but it didn't have Noah's C Cinemascore to deal with. Divergent earned $13 million, off 49% compared to last weekend when it earned $25.6 million. Divergent may have even played as counter-programming to the Marvel behemoth. The YA franchise hopeful crossed the $100 million mark on Thursday, its 14th day, the same amount of time it took The Great Gatsby to reach the same mark. So far, Divergent has earned $114 million, and is still just getting started overseas. These numbers don't scream franchise to me, but book sales have risen, in what may be curiosity from the core demographic.

God's Not Dead is fourth as it moves up a spot from its fifth place finish last weekend. Obviously, God wants his flock to see poorly made movies, because God's Not Dead pulled in another $7.7 million, a decline of only 13% compared to last weekend. It has a gross so far of $32.5 million. Paramount should have made Noah in a bathtub with Kirk Cameron in the lead (and no rock people) for about $10,000. It would have been huge.

Fifth is The Grand Budapest Hotel, which may have peaked last weekend on 977 screens, when it earned $8.5 million. This weekend, Fox Searchlight expanded to 1,263 venues, and the film earned another $6.3 million, off 26% despite a venue increase of 286. The Wes Anderson release will be with us for a while, and has earned $33.4 million so far. It is already Anderson's third biggest, behind only The Royal Tenenbaums and Moonrise Kingdom.

Muppets Most Wanted finishes in sixth as the bottom continues to fall out of its box office. This weekend, The Muppets earned only $6.3 million and dropped 44% from the previous frame. The $50 million Disney release has now earned $42.1 million stateside, and was under $10 million from overseas theaters, prior to the start of the weekend.

Mr. Peabody & Sherman fall to seventh after five weekends of release. The Fox feature, which cost $145 million to bring to the screen, earned only $5.3 million, off 42% compared to last weekend. It has crossed the $100 million mark at the domestic box office with a cumulative total of $102.2 million, as well as another $123 million coming from overseas.

Eighth is Arnold's Sabotage, which after becoming his lowest opening ever last weekend, gets beat up further. Sabotage earned only $1.9 million and dropped 64%. The Open Road release has a gross so far of only $8.8 million.

Need for Speed finishes in ninth. A domestic flop, Need for Speed earned only $1.8 million to bring its total up to $40.8 million. In China, though, it's a hit, where it has earned $60 million. Worldwide, Need for Speed has earned $172 million against a budget of $66 million.

Tenth goes to Non-Stop with Liam Neeson. In its sixth weekend, Non-Stop earned another $1.8 million and fell 54%. The $50 million Universal release has now pulled in $88.1 million stateside, and almost $100 million from overseas.

Overall, the box office his hot thanks to Captain America. The top 12 this weekend earned a healthy $160.5 million, well ahead of last year when the Evil Dead remake topped the box office. That weekend, the top 12 had six films finish the weekend with $10 million or more, and earned a combined $126.8 million. Next weekend, Fox releases Rio 2, Lionsgate puts up Kevin Costner in Draft Day, and Relativity releases Oculus, which has seen some strong early reviews.